Electronic Arts (Nasdaq: ERTS), one of the largest game software and mobile gaming companies in the world, is said to be considering an acquisition of cross town rival Glu Mobile (Nasdaq: GLUU). While this is not the first time such talk has surfaced, the timing and concurrent market action have added some air of possibility to the rumors.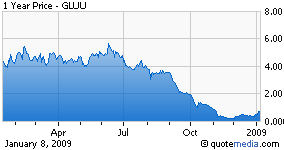 Glu Mobile is the third largest mobile gaming company behind Electronic Arts and Gameloft, but unlike ERTS and Gameloft, Glu is 100% mobile gaming focused while the other two have significant console based game software offerings. Prior to going public almost two years ago, it was rumored that several firms including ERTS, Activision (Nasdaq: ATVI) and even Apple (Nasdaq: AAPL) were looking to buy Glu prior to the IPO. No such takeover materialized and GLUU came to market at a price of $11.50 per share, giving the company a market cap of approximately $327 million. In the 20 months since going public, GLUU has completed several acquisitions of its own, the most significant of which was its purchase of MIG Entertainment, the largest mobile gaming company in China. Despite showing significant gains in revenues, the company has struggled to reach profitability and its stock has cratered as a result, falling to a market cap below $10 million at one point as worries about its declining cash position and future earn out payments owed to the founders of MIG Entertainment caused investors to punish the shares. As is often the case in a down market, year end tax loss selling begat more selling and before long the stock was trading well below the value of the cash on its books.
Over the past week, rumors again began to surface that Electronic Arts management was considering an acquisition to bolster their mobile gaming presence in Asia. Around the same time, money apparently started to flow into Glu stock. During a week (last week) that saw the Nasdaq fall substantially, Glu Mobile's stock traded 65% higher on more than double its normal trading volume, including a Glu move 15% higher during the Nasdaq's big sell off on Friday while trading more than 200% of normal daily trading volume. Is there any substance to the rumors or is it just conjecture based on the fact that the parent company (Glu) of the largest mobile gaming player in China is now headquartered just across town from Electronic Arts? With ERTS' enormous cash hoard of nearly $2.5 billion with no debt, its desperate need for a new growth story and its stated intention of getting deeper into mobile gaming, it's not too hard to connect the dots and come up with an ERTS / GLUU combination. Even if ERTS offered a premium of 400% to the current market price of GLUU's shares, they would still be taking down the number 3 player in mobile gaming for around one third of the valuation awarded the company's shares following its IPO just over a year ago.
The timing here is key as it appears that mobile gaming is going through a transition from traditional cell phones as the platform to new smart phones that have significantly greater gaming functionality and potential, the worldwide economy seems to be slowing dramatically and there is an expectation that there will be a low double digit contraction in revenues for Glu next year. We believe that this is the exact timing that ERTS or another deep pocketed player would be looking to make an acquisition. ERTS, Gameloft, Activision and the other big well funded players in the broader gaming space recognize and appreciate the lull that is currently expected - they have traditionally experienced this same type scenario when new console platforms are being introduced. These larger players also have the cash cushion to weather a downturn in revenues for a few years and have a keen ability to appreciate the upside that can be experienced when that transition period has passed.
It does appear that the upside potential for mobile gaming could be enormous and the introduction of the Apple's iPhone "App Store" may turn out to be a watershed event for mobile gaming. The App Store creates a new approach to distribution that should prove to be quite favorable to mobile gaming companies due to its potential to significantly lower distribution costs and allow profitable mobile gaming company offerings at lower price points, which should further stoke demand for mobile gaming. Not surprisingly, early results following the opening of Apple's app store indicated that nearly 70% of the paid apps downloaded were games and nearly 30% of the free apps were games.
Similarly, early results for Google's (Nasdaq: GOOG) Android based phone App Store showed games to be the leading category, with Glu Mobile's "Bonsai Blast" among the top 10 downloads. We believe the App Stores will have a huge impact on the development of the Mobile gaming market going forward and note that Google is just beginning to allow developers to charge for downloads from their App store over the next few weeks.
Early sales results for Apple's iPhone and Google's Android suggest that these new smart phones have the potential to become a mass market sensation. We note that WalMart began selling iPhones just a couple of weeks ago and that Best Buy announced last week that it will begin selling refurbished iPhones at price points starting at $149. If you believe as we do that we will see a $99 price point for either the iPhone and/or one of the Android based phones before next Christmas, it's not a huge leap to see how these smart phones could start to be perceived as a replacement for handheld gaming consoles, taking market share from the likes of Nintendo's (OTCPK:NTDOY) DS and Sony's (NYSE:SNE) PSP and becoming the new "must have" gaming apparatus among the gaming demographic. In the midst of an economic downturn, it's not too hard to imagine how many consumers might be able to justify the purchase of a $149 Android based phone or iPhone vs. the prospect of paying that much or more for a handheld game console that is more social (email, social networking, etc.), has more content/applications and cheaper content. This becomes an even easier sell if iPhone and Android phones drop below that psychological $100 barrier. In any scenario where we begin to see millions of iPhones and Android based phones in the hands of their target demographic, we expect that mobile gaming will be among the biggest beneficiaries.
Further, we believe that Glu Mobile will be among the biggest winners and that revenue and profit forecasts will begin to move upward from the current "worst case scenario, recession driven, let's set the bar as low as possible" forecasts given by management in the fourth quarter. As this occurs, we would expect to see significant investment flows into the space and no one will be better positioned than Glu Mobile to benefit from that shift in sentiment.
Analysts are already predicting that 50 million consumers will own iPhones by the end of 2009 and early sales results for the Google Android based phones suggest they could exceed that number. When over 100 million Americans are carrying either iPhones or Google Android based phones, how big of an impact will that have on the sales of mobile games? Certainly, the larger audience and ease of access (due to App Stores) to the games will result in significantly higher sales across the industry. It's hard to imagine that Glu Mobile would not be one of the biggest beneficiaries of this development. While it's too early to predict with any specificity what kind of market penetration the gaming apps will make with this enormous audience, it is irrefutable that the economics of the mobile gaming business are about to undergo a dramatic shift in ways that should cut costs of production and distribution while providing a major boost in the number of potential customers.
In spite of the near term challenges that we can all recognize and appreciate, we think the recent developments with the iPhone and Android will prove to cause mobile game sales to trend higher than any current models would suggest, particularly in the latter half of '09. As such, we think EA, Activision and possibly others are (and should be) taking a hard look at the possibility of taking down Glu mobile while investors are still fretting about near term issues. Neither can build what Glu Mobile offers in less than two years and its entirely possible that Glu Mobile will cost several hundred million more if they wait that long.
GLUU's current market cap of $23 million (as of close on Friday) still values the company only slightly higher than its projected year end cash balance of $17 million, leaving the value of the remaining assets in the $6 million range. We believe this is a ridiculous valuation when you consider that the company still owns all the assets that led to its $327 million market cap a little over a year ago, but it has since acquired even more valuable gaming IP and the leading mobile gaming company in China. We believe this makes Glu's cash adjusted market cap of $6 million pretty attractive for any number of potential acquirers, not to mention value/growth seeking investors.
Disclosure: Long GLUU, AAPL and GOOG.