By Rajesh Patel, Ph.D.
With the approval of Kynamro, we believe that Isis Pharmaceuticals (ISIS) is a compelling long-term investment due to its additional pipeline candidates, multiple drug development partnerships, validated technology platform, and attractiveness as a potential buyout candidate. ISIS has staked its future on the development of anti-sense/RNAi drugs. Until now, their anti-sense platform was filled with promise, but relatively unproven (one drug - vitravene - approved 15 years ago). With the approval of Kynamro, ISIS has now silenced remaining critics and has shown that the platform can deliver approvable drugs that treat unmet needs with significant revenue potential.
Kynamro has an ultra-small patient population in Homozygous Familial Hypercholesterolemia (HFH). According to the strict genetic test, the US patient population is about 400 patients, and according to laboratory tests for hypercholesterolemia, the population may be 5 to 10 times that size. In either case, Kynamro is expected to generate revenues of a few hundred million after full ramp-up. The drug benefits from the marketing muscle of Sanofi's (NYSE:SNY) Genzyme unit, but also faces competition from Aegerion Pharmaceuticals' (AEGR) recently approved drug Juxtapid.
Putting aside the revenue potential of Kynamro, the larger story is that ISIS has 4 other phase III ready drug candidates in the clinic and will potentially have 5 drugs up for approval in the next 5 years. On top of this, according to CEO Stan Crooke's presentation at the 2013 JP Morgan Global Healthcare conference, ISIS has "nine drugs in 2013 that will encounter important Phase II or Phase III data points. And [the company will] move at least two, probably three new programs into Phase III in 2013 as well." All told, between clinical and preclinical development, ISIS has 28 drugs under development. It's extremely rare to find a development stage company with such a deep pipeline of mid- and late-stage candidates, hence multiple value creating shots on goal.
One Phase III and Eight Phase II Data Events in 2013
ISIS has up to 9 clinical trials that will report data, according to the company, in 2013 or early 2014 as tabulated below (click to enlarge):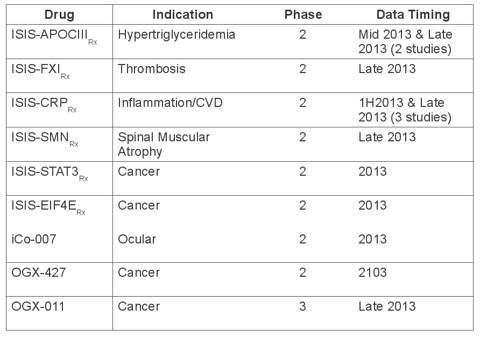 Data for the table above was gathered from company presentations, press releases, and SEC filings. In cases where we could not find more specific timing guidance, we have simply indicated '2013.'
Of these programs, ISIS anticipates that the CRP, FXI, EIf4E and APOCIII programs will be ready to be partnered after phase II data are unblinded. Mr. Crooke stated at JPM13 that, "...these are the drugs that we want to keep to the end of Phase II, because we think their value will inflect, because the results will be positive."
Technical Considerations
Below is the 1-year chart for ISIS (data from TD Ameritrade). In April of 2012 the stock began a run-up ahead of the anticipated Kynamro Advisory committee vote, peaking in the third week of September. From September through the third week of January 2013, the stock sank from the $15 level to as low as $7.47 before making a solid recovery. In the last 7 days, however, the stock has begun a pullback, due mainly to traders booking gains ahead of the PDUFA decision.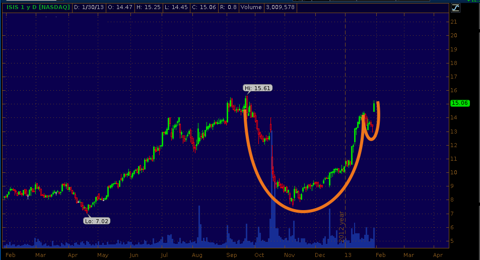 Traders will recognize the familiar cup-and-handle trading pattern developing on the ISIS chart. The cup and handle pattern is a continuation pattern indicating that a previous bullish move in a stock will resume. In order for this pattern to be confirmed for ISIS, the current pullback must be reversed and the stock price needs to break out above the previous high of $15.61.
Clearly, post-PDUFA trading will strongly affect the short-term movement of the stock. If the majority of investors who bought at the recent lows seek to book gains, a sell-the-news event will break the pattern if the stock price dips significantly below $12. On the other hand, with detailed data on the company's phase I trial of ISIS-SMN due in March at the American Academy of Neurology, and 9 data events this year, ISIS has many potential value driving catalysts in store for 2013
Conclusion
While a binary event such as the Kynamro PDUFA decision tends to capture investors' attention and cause fixation on the short-term story, we believe that ISIS has a compelling long-term investment thesis for 2013. Nine data events and up to 4 partnership deals promise to build significant value for ISIS while sales of Kynamro ramp-up and while the company and Sanofi work through issues with the EU submission.
In addition to the value creating events mentioned above, it's notable that ISIS has partnerships with several major pharmaceutical companies including GlaxoSmithKline (NYSE:GSK), Sanofi, Biogen Idec (NASDAQ:BIIB), AstraZeneca (NYSE:AZN), and Pfizer (NYSE:PFE). In other words, all of these companies have done deep due diligence on ISIS as part of their partnership negotiations, further validating the technology platform. This diligence must have included a valuation analysis for a takeout of the entire firm, given the economics that any one of these partners would have to give up to ISIS if their program is successful, plus the benefit of owning the platform and future royalty streams. It would not be surprising to see ISIS talked about as a takeout candidate in the near future. Several buy-side analysts we spoke with suggested that if anti-sense technology was truly a hot space for potential acquisition, ISIS would already have been acquired. While this line of reasoning has some validity, we see a Kynamro approval as an incremental de-risking of the entire ISIS anti-sense technology platform that may cause some potential partners to re-think the acquisition value of ISIS. Our long term thesis here does not factor in potential acquisitions. We note, however, that a $1.4B market cap company with 28 drugs in development and potentially 5 drug approvals in the next 5 years is the kind of development stage company where factoring in potential M&A value may be a worthwhile exercise. Let's remember that major drug companies are hurting for pipeline candidates, and the breadth and depth of ISIS's drug pipeline represents a relatively inexpensive one-stop shop for long term value and significant intellectual property on the anti-sense opportunity.
Disclosure: I have no positions in any stocks mentioned, and no plans to initiate any positions within the next 72 hours. I wrote this article myself, and it expresses my own opinions. I am not receiving compensation for it. I have no business relationship with any company whose stock is mentioned in this article.
Additional disclosure: PropThink is a team of editors, analysts, and writers. This article was written by Rajesh Patel. We did not receive compensation for this article, and we have no business relationship with any company whose stock is mentioned in this article. Use of PropThink's research is at your own risk. You should do your own research and due diligence before making any investment decision with respect to securities covered herein.You should assume that as of the publication date of any report or letter, PropThink, LLC and persons or entities with whom it has relation ships (collectively referred to as "PropThink") has a position in all stocks (and/or options of the stock) covered herein that is consistent with the position set forth in our research report. Following publication of any report or letter, PropThink intends to continue transacting in the securities covered herein, and we may be long, short, or neutral at any time hereafter regardless of our initial recommendation. To the best of our knowledge and belief, all information contained herein is accurate and reliable, and has been obtained from public sources we believe to be accurate and reliable, and not from company insiders or persons who have a relationship with company insiders. Our full disclaimer is available at www.propthink.com/disclaimer.