Ford (NYSE:F) is between the proverbial rock and a hard place. It enjoyed greats sales and new product launches in 2012 but the auto industry is about to peak and its stock does not have any juice left in it. If you did not buy into Ford in 2008 when the stock was really low you could buy it today for dividends or for an option play.
Ford's swagger out of the recession was boosted by some choices it made. These choices may have seemed serendipitous to some but I believe that luck is made not random so let me go ahead and give it credit for:
Being in a position not to need a bail out from the government.
Being brave enough to start on the One Ford path, which allowed Ford to align European and North American operations and to launch global products
While these strategic options may have worked very well for Ford, Ford is moving into a phase where it will have to make new choices. Ford's current CEO, the proponent of the One Ford strategy appears to be on his last lap. The European market is in complete disarray with all types of issues ranging from overcapacity, declining sales to an overall challenging economic climate. New growth opportunities are in China, Russia, Brazil, India, and other emerging markets, which require more differentiation by market and adaptation to local tastes. This article will cover Ford's resurgence but also highlight the fact that there are significant headwinds for the company going forward. It will establish that Ford is a better dividend than capital gains stock going forward.
Strategic Choices and Impacts
If the One Ford strategy was meant to optimize operations it has worked well for Ford. Total revenue grew by 11% from 2009-2010 and an additional 6% from 2010-2011. This strategy was very well timed and addressed the operational inefficiencies of inflexible production lines, too many products, over production, and an inability to quickly adjust to changes in the market place like higher gas prices. The semi convergence of European and American tastes boosted this strategy and allowed Ford to offer similar products - Fusion/Mondeo, Focus, Escape/Kuga, Fiesta, C-Max and Transit Connect - in both markets. Successful product launches boosted sales and to an extent boosted the stock price, which did fairly well as the auto industry rebounded from 2010 onward. From 01/28/10 to 01/29/13 Ford has returned about 15.16% and it is trading above its 50- and 200-day moving averages of $10.88 and $12.92 respectively. Within this timeframe it peaked at an adjusted close of $18.31 and dropped as low as $8.80. It has recently traded as high as $14 but has fluctuated as well with frequent bullish sentiments fueled by positive sales results and an improved credit rating.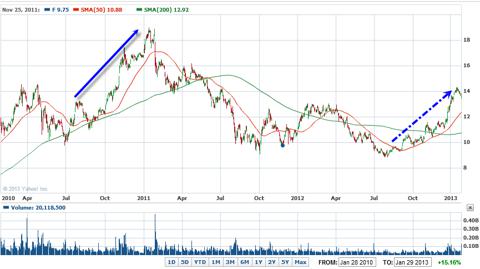 Source: Yahoo Finance
The Challenge:
North America was a bright spot for Ford in 2012 with sales that lifted the overall company to profitability. Europe was an anticlimax as predicted and per Q4 earnings transcript "incurred a substantial loss in line with guidance." South America was "profitable for the ninth consecutive year." With these markets being the known quantities the fight for market share and growth is in China, India, Russia, ASEAN (Indonesia, Malaysia, Philippines and Vietnam), and to an extent Brazil.
The data below show that market share in China is 2.7%, India - 2.9%, Russia - 4.9%, ASEAN -2.7%, and Brazil at 9.8%. These are the areas of new opportunity for Ford. For "One Ford" to continue to anchor Ford's global strategy these markets need to become a part of or the starting point. These markets pose many issues to Ford including: need for unique designs to suit local tastes, need for lower cost entry cars due to lower income levels, premium cars for the affluent portions of these countries, administrative issues, which hinder rapid execution and most significantly the need to play catch up to early entrants like GM and VW (OTCPK:VLKAY)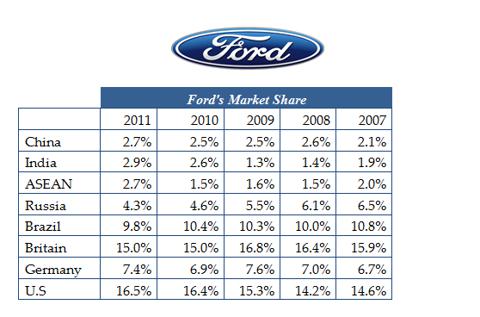 Source: Ford's 2011 10K
To put these challenges in perspective consider the Chinese market where Ford had only one model in the top 30 models through Q1 2012. GM had three models in the top five and VW had two with only one of the three GM models, the Chevrolet Cruze, available in the U.S. GM and VW have strong market positions in China with Tata and Suzuki strong in India. While these competitors have different brands that they can throw into these markets at different price points and with unique designs, Ford divested its other luxury brands except for, uh hum, Lincoln. Ford does not own any other brands outside of the U.S. that it could use in these markets and it has to be careful with the brand equity in the Ford name. It also has the herculean task of growing Lincoln, first in the U.S. and then trying to penetrate these markets. Ford is, therefore, forced to sell the Focus in China even though GM and VW can offer unique models for the Chinese market. If these customers would buy the global models the same that would not be a problem but they don't especially for non-premium brands.
Add these challenges to the unique challenges in Brazil and then India and it quickly becomes evident that One Ford is at its elastic limits. This might partially explain why the stock has not trended similarly with the results that Ford has been able to report for 2012. It also explains why the stock is not ready to takeoff quite yet.
The Auto Industry and its Cycles:
The auto industry is historically cyclical. With an average replacement rate of about five years for cars there is only so much available demand before the auto market cools off. This and the fact that cars are not routine purchases limit the size of the pie for automakers, forcing them to have to win the sales race. When the race is won the industry usually resets and starts again on another race to the top. The U.S. auto industry hit a five-year high in 2012, marking a third consecutive year of annual increases of at least 10%. Per Ford's Q4 earnings call:
"Our outlook for industry volume this year has deteriorated. It's now expected to be at the lower end of the range of 13 to 14 million units. In addition, we are being affected adversely by higher pension cost due to lower discount rates and a strong euro. For 2013, we expect total company operating profit to be about equal to 2012, automotive operating margin to be about equal to or lower than last year and automotive operating related cash flow to be higher as we implement our ONE Ford plan."
If these statements are true, and I have no reason to believe they are not, it is quite possible that auto sales will peak in 2013 and initiate a declining pattern in 2014. This would be particularly disturbing because previous peaks were followed by rather drastic drops per the table below unless there is a little bubble as in 2003, which I don't think is a similar economic environment.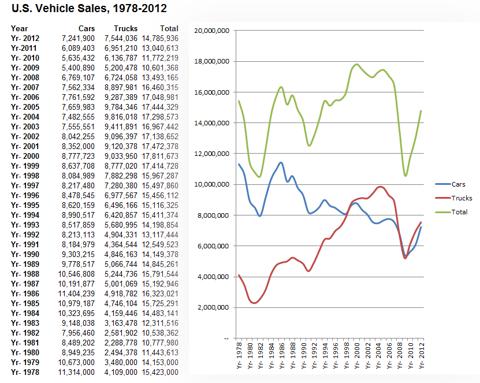 Source: Wards Auto
It also means that the month-over-month gains that Ford was able to enjoy in 2012 over 2011 would not repeat and Ford might need to spend more on incentives to attain flat sales for 2013. If that were to happen margins and profitability would be squeezed and there will be a bearish squeeze on the stock.
I used the month-over-month sales and stock price changes to correlate how the stock price might behave with flat changes next year and it was ominous. Despite very favorable sales gains in the U.S. in 2012 the stock prices over similar periods in 2012 were mostly negative. There was only one with a positive percentage change in the stock price occurring between March and April.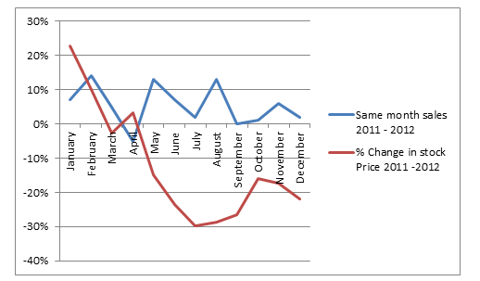 Sources: Yahoo Finance (change in stock price)
Automobilemag.com and media.ford.com (monthly sales changes)
Conclusion
Ford recently doubled its dividend and its yield is at about 3.00%. GM does not pay a dividend and Toyota's (NYSE:TM) yield is at 1.40%. For all the progress in design, quality and the aggressive restructuring in Europe I cannot see Ford getting out of first gear in 2013. China and India will show impressive percentage changes in sales mostly because current sales levels are very low compared with the market leaders in these markets. Ford will not be able to garner enough bullish sentiment around its stock to hold it at or above its current price. I would not buy Ford at this time if I were looking for a growth stock.
My suggestion going forward to Ford and the other U.S manufacturers is to strongly review how they define themselves as a business. I would suggest they consider redefining to become mobility and automotive technology companies. If they insist on remaining automotive companies I am scared that in the near future Chinese manufacturers will complete with cars what the South Koreans started and already did to TVs.
Disclosure: I have no positions in any stocks mentioned, and no plans to initiate any positions within the next 72 hours. I wrote this article myself, and it expresses my own opinions. I am not receiving compensation for it (other than from Seeking Alpha). I have no business relationship with any company whose stock is mentioned in this article.
Additional disclosure: Completed in collaboration with Mpro Nyamushanya