In the restaurant sector there are many varieties of restaurants that cater to the demographics of people in the Unites States. Whether one likes fast food, casual or upscale dining; the United States has many choices to choose from. One particular casual dining restaurant that I want to focus on is Buffalo Wild Wings (BWLD).
Buffalo Wild Wings was founded in 1982 by James Disbrow and Scott Lowery when they opened up a restaurant on the campus of Ohio State University. Twenty-one years later in 2003 the company launched their ipo and has sense been successful at providing a compelling atmosphere along with affordable priced food.
McDonald's (NYSE:MCD), Yum Brands (NYSE:YUM) and Darden Restaurants (NYSE:DRI) (just to name a few) have all been able to capitalize on certain types of food that appeal to a mass audience. For those of you thinking why didn't these restaurants branch out into specializing into chicken wing restaurants earlier? There are many reasons for this, but in my opinion Buffalo Wild Wings has been able to capitalize on a void that wasn't being filled in the market. The void was providing a sports bar themed restaurant that appeals to a variety of sports bar enthusiasts, families and people in 18-40 range.
For investors unfamiliar with Buffalo Wild Wings the business model is fairly easy to understand. The company sells their guests three recession-resistant components that are all equally crucial for Buffalo Wild Wings success. Sports, alcohol and food are three (in my opinion) recession (not economic) resistant components that most Americans enjoy. While guests don't necessary have to like all three components, this strategy has helped Buffalo Wild Wings go from a chicken wing shack to a owner, operator and franchiser of over 800 restaurants in the United States and Canada.
2012 has been a mixed year for Buffalo Wild Wings as Q2 and Q3 earnings both reported negative earnings surprises. Both Q2 and Q3 2012 earnings accounted for almost a 10.5% drop in share prices, but shares of Buffalo Wild Wings have been able to find support in the low $70's range. With the current stock price at $73.50 (at the time I am writing this) investors may wonder if the growth story is still intact and if there more upside to the stock price.
Challenges Ahead
As a company continues to grow and expand, so does managing the obstacles that confront the company. In the restaurant industry food costs are usually an important item to consider as they can have an effect on profit, revenue and margins. For Buffalo Wild Wings traditional wings represent around 21% of restaurant sales and chicken wing prices according to the USDA Georgia Dock Chicken Ready To Cook Wings Spot price has been rising since November 9, 2012.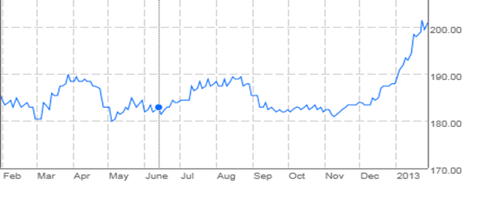 Major sporting events can certainly add demand to the price of chicken and according to The National Chicken Council more than 1.23 billion chicken wings will be consumed this Super Bowl. Besides the Super Bowl, there is also the upcoming NCAA March Madness, NHL Stanley Cup and NBA Playoffs (and other sporting events) that contribute to driving traffic to Buffalo Wild Wings. During this quarter it's typical for chicken Wing prices to go higher, before stabilizing due to increased demand. When taking a further look at chicken wing prices one important component to pay attention to is the price of corn. Due to last summer's drought the price of corn went higher near the end of July 2012 and mostly traded within a range for 2012. Currently, USDA Broiler Market News Report is reporting that Chicken prices are steady with demand being moderate.
To combat higher chicken wing prices Buffalo Wild Wings has differentiated their menu over time to focus on other items while still keeping chicken wings the main focus. Diversifying a menu, but staying within the core concept is nothing new to the restaurant industry. Over the last couple of years every publicly traded restaurant has had to deal with rising food costs and diversifying (if done correctly) can help expand market share and attract new customers.
Another challenge for Buffalo Wild Wings is labor. Buffalo Wild Wings is still a solid growth story with the company planning to add 105 new stores in 2013. As the company continues to grow and expand outside the United States; how management controls labor will be more important. On Buffalo Wild Wings last earnings report the company's cost of labor were about 30.1% of restaurant sales. With the aggressive growth of new stores across the United States labor can tend to run at the high end for the first couple of months as a new restaurants first impression is vital to the community. Pre-opening costs on new restaurants for Buffalo Wild Wings have slightly decreased, but are about $274,000 per restaurant.
Restaurant costs have increased for Buffalo Wild Wings during their last quarter. I would expect in the future for restaurant operating costs to slowly go down as newer stores settle in to their respected areas. After a period of time restaurants will be able to adapt to local business and sports trends to better predict traffic flows and adjust accordingly.
Looking ahead competition is also an important consideration as Buffalo Wild Wings market share continues to expand. During the last couple of years there has been a trend in the restaurant industry to focus on concepts that sit in the middle of a casual dining/ fast food themed restaurants. Panera Bread (NASDAQ:PNRA) and Chipotle (NYSE:CMG) are two restaurants that have experienced some of the same rapid growth that Buffalo Wild Wings has had. These hybrid restaurants have been able to take market share from casual dining and fast food restaurants on the backs of an improving economy and consumer discretionary income. While the concepts are different when comparing Chipotle and Panera Bread to Buffalo Wild Wings, but the price point that these restaurants aim to cater for are generally in the same range.
Buffalo Wild Wings trades at a p/e around 26 and has no debt. Despite the p/e being above the industry mean the stock still has an attractive peg ration below the industry average. Buffalo Wild Wings will reporting Q4 earnings on February 12, 2013 as the company is estimated to earn 0.95 with an estimated range of 0.89 to 1.00
During the last two earnings releases for Buffalo Wild Wings the negative earnings misses accounted for over an $8.00 drop in the stock on both misses. I believe Q4 will be an important quarter for Buffalo Wild Wings to pay attention to as shareholders may be wondering if Buffalo Wild Wings needs to more time to get through short term challenges or if the stock is a buy now. If Buffalo Wild Wings can deliver solid expectations I would expect Buffalo Wild Wings to creep up back in the mid 80's range. If Buffalo Wild Wings misses earnings, I wouldn't be surprised for Buffalo Wild Wings to test support at the $70 level. With the growth in new markets I would pay attention to the conference call to see how much new restaurants are impacting sales.
In conclusion, I still like the growth story behind Buffalo Wild Wings and for about twelve to fifteen dollars one can enjoy wings, beer and a great sports game. Even though the stock may not be screaming buy, I would be patient going into earnings and consider buying shares below $70.
Thanks For Reading.
Disclosure: I have no positions in any stocks mentioned, and no plans to initiate any positions within the next 72 hours. I wrote this article myself, and it expresses my own opinions. I am not receiving compensation for it (other than from Seeking Alpha). I have no business relationship with any company whose stock is mentioned in this article.