In reference to his company's results, Daniel Fulton, CEO of Weyerhauser (NYSE:WY), said: "This year is a bit of an anomaly. We're seeing prices moving up in every single market for similar-type products."
All 4 timber REITS beat analyst consensus estimates for both 4Q12 and FY12.
| | | | | |
| --- | --- | --- | --- | --- |
| Company | Actual 4Q12 EPS | Actual FY12 EPS | Estimated 4Q12 EPS | Estimated FY12 EPS |
| Weyerhauser | $0.26 | $0.71 | $0.20 | $0.53 |
| Plum Creek (NYSE:PCL) | $0.49 | $1.25 | $0.29 | $1.05 |
| Rayonier (NYSE:RYN) | $0.59 | $2.17 | $$0.57 | $2.15 |
| Potlatch (NASDAQ:PCH) | $0.34 | $1.05 | $0.32 | $1.04 |
The various factors which led to their success in 2012 are detailed in each of their earnings press releases, but I am more interested in what they can accomplish in 2013. We will begin by examining 4 catalysts, then discuss which companies are best positioned to take advantage.
Catalyst # 1: The domestic housing recovery
It seems strange that the term recovery is still being used as it implies improvement despite weakness. The market may be improving, but it is anything but weak. In fact, the US index shows home prices only 15.2% below the April 2007 peak. Such pricing is indicative of demand which bodes well for new home construction as was the case in the first 3 weeks of 2013, during which home sales have risen 125% yoy.
The latency of new construction followed by the sudden surge is thought to be consequent to formerly vacated supply becoming absorbed.
Catalyst # 2: Rising local property values
Timber REITs can usually grab up large swathes of land for very low prices in the vicinity of $800-$1500 per acre. At the time of purchase these areas tend to have low value for any other purpose. However, over the course of decades, things change and areas which used to be underutilized are now in demand. For example, the explosive growth of the Bakken Shale region. Prior to it becoming a resource hot-spot, it was in the middle of nowhere with very low property values, but it has now become quite valuable.
I have no insight to be able to predict where property levels will rise, but given that these companies own millions of acres, values increase frequently in portions of their land. Rayonier has had particular success at selling cheaply purchased land at prices in the $7000/acre range for what is deemed "Higher Better Use." At these prices, the sale represents an extremely low cap-rate relative to the revenue it would have generated through timber production.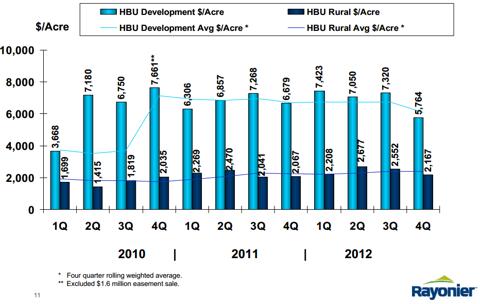 Catalyst # 3: Natural resources
As new technology is developed for harvesting the earth's natural resources, areas which were previously considered barren may become unlocked. Certain types of sand that were previously considered just sand are now fracking sand. Horizontal drilling may provide access to undiscovered natural gas or oil deposits.
Once again, I have no insight as to when or where such resource locations would come about, but the millions of acres of land hold potential.
Catalyst # 4: Double-dipping
Thus far, timber REITs have only lightly engaged in double-dipping, but it can come in a plethora of forms.
An external company wishes to build a connecting structure through an intermediary stretch of land owned by the REIT. Examples would be railroads, pipelines, power lines, communication cables, etcetera.
The sale or rental of a very small portion of land for residential use.
I refer to this as double-dipping because the land around the rented portion can still be farmed for timber. As each of the potential structures takes up a minimal amount of space, the amount of timberland lost is minuscule compared to potential rental rates.
As time goes on, I believe this sort of land monetization will become both more prevalent and more lucrative.
The timber REIT sector has an excellent outlook for 2013. We will show the timberland assets of each company individually and follow with a comparison to determine the advantages of each.
Rayonier
Rayonier has over 2.287mm acres concentrated mostly in the southeast.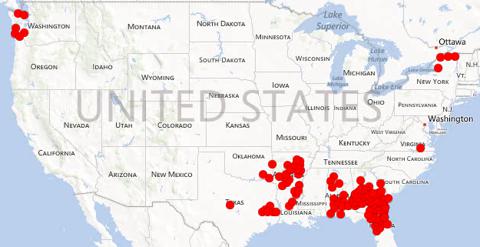 The true strength of RYN comes from its specialty fibers business. It is years ahead of the competition in the R&D of high-end performance fibers. The procedures and recipes are very specific to achieve the requisite degree of performance and by keeping the information proprietary, RYN is one of very few world providers.
While its fibers business is quite successful, Rayonier recently forfeited its lumber processing capabilities with the sale of that branch of operations on January 22, 2013. I dislike this decision as it was sold at a cap-rate of 12.5%, but perhaps RYN can use the proceeds to further enhance its strengths.
Plum Creek Lumber
PCL owns around 6.379mm acres: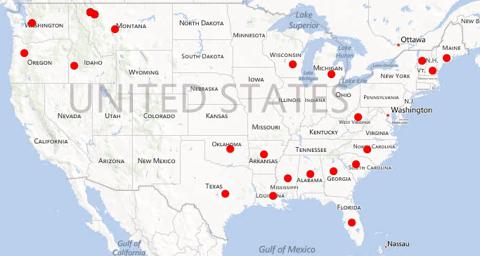 Plum Creek offers an enhanced scope of services as it just purchased an interest in 144mm tons of stone in 4 South Carolina quarries for $75mm. It is also very encouraging by how much PCL beat estimates. Earnings of $0.49 over a period of an expected $0.29 is not something we see frequently.
Weyerhauser
WY owns 6.521mm acres globally.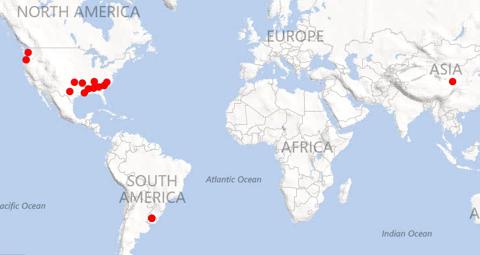 Weyerhauser has the strongest vertical integration through its ability to produce the raw materials, process them and even build homes as the final product. Internal control of each step of the process creates a superior margin. Look for WY to come out ahead if the domestic housing market stays strong.
Potlatch
PCH's 1.466mm acres are not coastal so its sales are necessarily more domestic.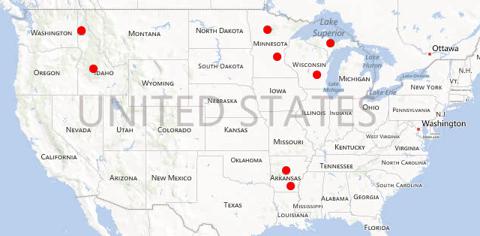 Potlatch decreased harvest in its Northern region by 9% and its Southern region by 24% in 4Q12 as compared to the prior year. It is banking on pulpwood prices continuing to rise for a bigger payout as it ups harvest volume in 2013. PCH has been very intelligent so far with its deferral having majorly reduced harvest during the bottoming out of the domestic housing market. Since its sales are so closely tied to the Midwest, it keeps harvesting cycles in sync with the local demand.
Valuation
Valuing timber REITs is tricky as it is difficult to place a value on growing trees which make up a majority of these companies. Furthermore, swings in harvesting volume along with market prices distort normalized earnings and cash flow. For this reason, I prefer to value these companies based on what you get for a given investment. In other words, how many acres per dollar.
| | | | |
| --- | --- | --- | --- |
| Company | Market Cap. | Total acreage | Cost/acre |
| RYN | $6.644B | 2.287mm | $2,905 |
| PCL | $7.918B | 6.379mm | $1,241 |
| WY | $16.542B | 6.521mm | $2,537 |
| PCH | $1.777B | 1.466mm | $1,212 |
This valuation is perhaps unfair to WY and RYN due to their heavy investment into homebuilding and fibers respectively. It does, however, clarify what it is you are investing in. Potlatch and Plum Creek are the pure-plays on timberland at cheap prices around $1200 per acre, while Weyerhauser and Rayonier are more complex businesses.
Conclusion
Catalyst 1, the housing market, is already in place and is presently driving strong earnings. The 2nd and 3rd catalysts are speculative and long-term in nature, but we can wait as long as it takes for them to come to fruition since the timberlands generate steady income. Catalyst 4 will depend on economic conditions as well as regulations, so it too is speculative. However, the success of the timber REIT industry does not require any of these so such occurrences would be icing on the cake.
Do not expect investment in any timber REIT to provide oversized returns. It is instead a very safe way to invest for slow and steady returns with the occasional upside pop.
Disclosure: 2nd Market Capital and its affiliated accounts are long WY and RYN. This article is for informational purposes only. It is not a recommendation to buy or sell any security and is strictly the opinion of the writer.
Disclosure: I am long RYN, WY. I wrote this article myself, and it expresses my own opinions. I am not receiving compensation for it (other than from Seeking Alpha). I have no business relationship with any company whose stock is mentioned in this article.