As the New Year starts the big 5 defense industrials are beginning to report their earnings for the last quarter of 2012 and making their predictions for 2013. So far Lockheed Martin (NYSE:LMT), General Dynamics (NYSE:GD) and Raytheon (NYSE:RTN) have reported with Boeing (NYSE:BA) and Northrop Grumman (NYSE:NOC) to do so this coming week. These 3 have had mixed results due to a variety of reasons. 2013 is expected to be difficult with the combination of the U.S. winding down Afghanistan and the effects of sequestration and the proposed cut to defense spending over the next ten years of up to $1 trillion.
In the near term this will be reflected by about $60 billion in cuts this year if Congress does not act to prevent the automatic sequestration cuts. The Pentagon and the different services have been warning about the effects of these although as normal in this situation they stress the worst case scenario. Chief among this is stressing how many government and contractor jobs will be eliminated.
The biggest effect of sequestration right now is that it causes companies to be cautious for the coming year. They all of have been making preparations over the last few years for the expected fall in defense spending. This has included paying up their pension funds, stock buybacks and cutting overall costs especially through streamlining their business processes and work force. While they have not been able to outperform as the overall stock market in general they do pay solid dividends and have a history of increasing those.
Lockheed Martin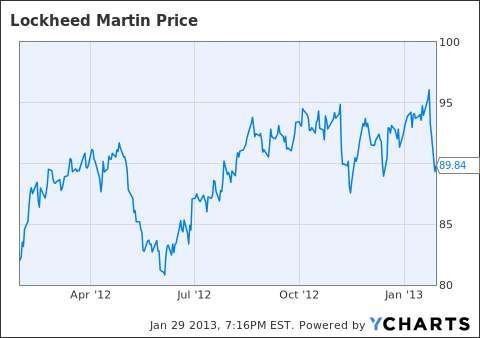 Lockheed reported on 24 January. They showed a slight drop in quarterly sales year-to-year, from $12.2 billion to $12.1 billion. Net earnings dropped as well 41 cents per diluted share. For the year though sales were up $700 million to $47.2 billion and net earnings 51 cents to $8.36 a diluted share.
Lockheed's quarterly earnings were down as they increased their discretionary pension contributions to $2.5 billion, up $1.5 billion from 2011.
For 2013 the company is predicting sales down slightly to the $44.5-$46 billion range and earnings per share at $8.80 to $9.10. This estimate though assumes that the proposed sequestration cuts are not made. Lockheed as the biggest U.S. defense contractor and the prime contractor for the largest defense program in history, the F-35 Joint Strike Fighter, may see a large affect from the up to $60 billion in cuts sequestration would cause.
The company saw fairly even performance from its four sectors. Aeronautics, responsible for the F-35, saw an increase of almost $500 million for the year from 2011. Information Systems dropped over $500 million to balance that gain. While Missiles Systems and Fire Control fell slightly the other two divisions were up. In 2013 performance by Aeronautics will be key as the F-35 production grows and the amount of revenue tied to it also grows.
Raytheon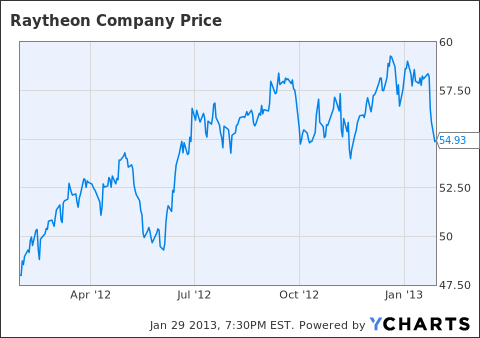 Raytheon, the Massachusetts based manufacturer of missiles and radars, had a solid 2012. It reported earnings for the quarter of $1.60 down 12 cents from 2011 but for the year delivered $6.21 a diluted share. This was up 36 cents. The company did see a decrease in sales by $400 million to $24.4 billion and a fall in operating cash flow to $2.0 billion.
The company like its competitors has focused on reducing costs and increasing productivity. EPS were reduced by a stock buy back of almost 16 million shares worth about $825 million.
For 2013 Raytheon is also projecting based on current planned spending without the sequestration reductions. They think 2013 will be down compared to 2012 with sales of $23.6-$24.1 billion. EPS will also be lower in the $5.65 to $5.80. This is similar to 2012 EPS form continuing operations which came in right at $5.65
General Dynamics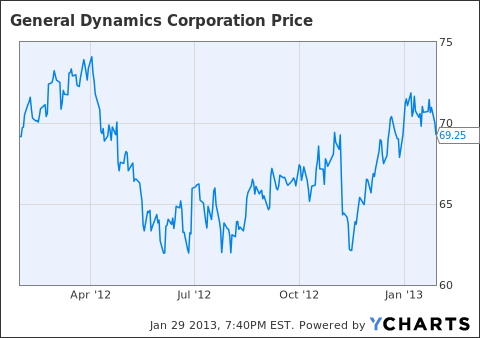 General Dynamics had a disappointing quarter and this dragged down the full year. This performance was driven by charges related to a goodwill impairment of $2 billion for its Information and Systems (IS&T) group. This goodwill impairment is related to previous acquisitions and some decline in U.S. Defense Department spending in the area overall. Due to this charge the company reported a loss of $6.07 per share for the quarter and 94 cents for the year. This was on revenue of $31.5 billion.
The company also had further charges in the fourth quarter of another $867 million. This includes intangible asset impairments and contract dispute accruals. Without the charges GD would have delivered $6.48 per diluted shares. Management is predicting for 2013 that EPS will be in the $6.60-$6.70 range.
Despite the issues with the IS&T group GD still has some core products that will be in demand including Stryker armored vehicles, submarines and radios. The naval construction business will include the start of a new ballistic-missile submarine program for the U.S. and U.K. navies which received its first contract this year. GD also produces the Gulfstream commercial executive jets that will form a good portion of their revenue and earnings.
The 3 companies' mixed results have been mirrored in their stock prices. As of Monday's close, Lockheed has done the best over the last few years beating the street and generating revenues and earnings. Their stock price has increased over 12 percent the last year just under the 52 week market performance. It does provide the largest dividend. Raytheon delivered almost 15% increase the past year just over the market. GD has increased less then 1% and is 12% under the market overall.
The defense industry does offer better opportunities for stock performance. These include smaller defense contractors such as Computer Sciences Corporation (CSC), or overall industrial stock Oshkosh (NYSE:OSK) that have had over a 60% increase and beat the market by 40% this past year. Those types of corporations may not pay dividends and also due to their reliance on niche products or markets see bigger fall offs in revenue then the larger contractors who have a broad product and service base and may be better protected from overall defense spending cuts.
Lockheed, General Dynamics, Raytheon along with Boeing and Northrop Grumman are not "too big to fail" but they do provide key weapon systems, support and services to the U.S. military. They also have the ability to utilize overseas contracts that will help offset cuts in the American defense budget. This might mitigate declines in defense spending. There is also the potential for major M&A activity similar to what happened in the Nineties when defense spending suffered its most recent fall.
Based on their projections for this coming year revenue and earnings will be less and there is potential for major job cuts and the ending of some current programs. Since Congress may not make any big decisions relative to sequestration and the budget as a whole until next month those effects may not be understood for some time to include the 2014 defense spending plans.
Disclosure: I have no positions in any stocks mentioned, and no plans to initiate any positions within the next 72 hours. I wrote this article myself, and it expresses my own opinions. I am not receiving compensation for it (other than from Seeking Alpha). I have no business relationship with any company whose stock is mentioned in this article.