Dr. Phillip Frost has appeared to have pressed pause on buying stock in Opko Health Inc (OPK). As the CEO of Opko Health, a growing pharmaceutical and diagnostics company, Frost has been a character of keen interest for shareholders. Normally, such an action (or rather lack of action) would be considered a non-factor for most companies. Yet as an insider who has atypically and consistently purchased large tracts of company shares almost on a daily basis, Frost's actions tend to weigh heavily on the investment thesis for the company.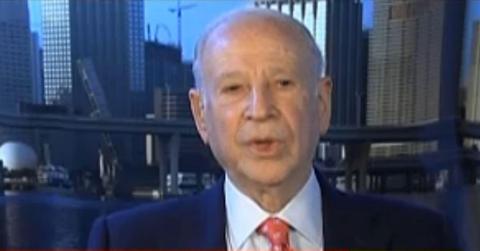 The CEO Has Routinely Bought Shares
As written in my previous article found here, Frost's large insider purchases have played a considerable role in support of the bullish sentiment. Since joining the management team of Opko Health in 2007, the CEO has come to indirectly own a large stake in the company. This was indirectly done through his controlled entities of Frost Gamma Investments Trust and The Frost Group, LLC. As seen on the last Form 4 filed here on January 16, 2013, Frost now indirectly owns 135,819,800 shares. As of September 2012, the company had roughly 298 million shares outstanding.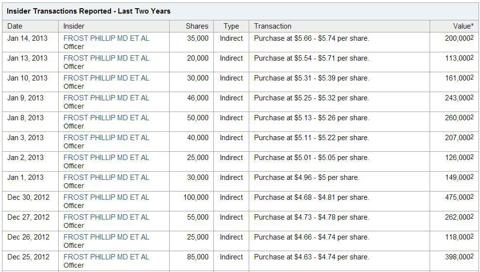 To give an example of the consistency of Frost's insider purchases, it's ideal to consider the last lengthy pause in his buying spree. The graphic above illustrates the regularity in Frost's purchases. Between February 23, 2012 to March 4, 2012, Frost did not purchase shares resulting in a break of 7 trading days. However, as of the time of writing this article on January 30, Frost has not purchased shares for 10 trading days (11, were the MLK holiday to count). The last pause in the stock buying of this magnitude dates back to the period of October 5, 2011 to November 3, 2011 when Frost took a month off from buying more shares.
Too Much, Too Fast?
While it remains entirely possible that the enthusiastic CEO has merely taken another breather in his aggressive purchasing, the ongoing break coincides with a volatile jump in share price. Over the last three months, the company's shares have spiked over 50% as seen in the graph below. Yesterday, the company reached a peak of $7.21, a stark contrast against the closing price of $4.35 seen only on December 6, 2012.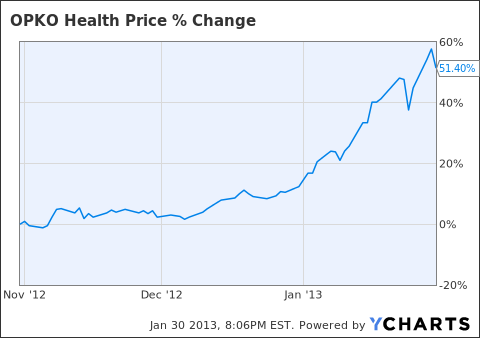 OPK data by YCharts
Can The Price Endure At These Levels?
With a market capitalization in excess of $1.9 billion and a current price-to-book ratio of 13.66, it's clear that the company is far from being undervalued. The latest run in share price is likely due to the high amount of shares that are actually being shorted. In light of Frost's purchases and a series of good company news serving as a catalyst, short investors obligated to cover their shares appeared to have set off a short squeeze as a result. As of January 15, 2013, there were still 23.9 million shares short representing 17.5% of the float according to Yahoo Finance.
On Monday, Frost appeared on Jim Cramer's Mad Money as seen in the video found here. In the afterhours trading session of that day, investors sent the stock soaring an additional 10% despite the lack of revelation by Frost. From the highs of $7.21 on Tuesday to today's closing price of $6.47, the stock has given back 10%. Such volatile trading remains indicative that the company is now trading at a level that is not reflective of the fundamentals.
In the long run, Opko Health appears to be putting together a very well-developed company able to excel in niche markets within the sphere of pharmaceuticals and diagnostics. Fellow Seeking Alpha contributors Josh Ginsburg and John Ford touched on these topics as seen in their respective articles found here and here. Though the company only generated $28 million in 2011, the current year of 2013 appears to be the year in which several key products begin to hit the markets. As a result, the company remains on track to penetrate markets which could significantly boost these revenues.
Conclusion
Opko Health remains a company with significant long-term potential. However, at its current valuation, the stock remains questionable at best. There is little indication that the latest rise in stock price has a stable base to stand on. This is a belief primarily based on the quick and significant rise in share price, the increased volatility in trading action, and the extended break by the company's largest shareholder found in the CEO. Investors may find it more ideal to wait for volatility to calm down before reevaluating the attractiveness of the stock. When (and if) Dr. Frost continues to buy more shares, this could also serve to be an effective cue as the CEO has already proven himself to play a significant role in supporting the share price.
Disclosure: I am long OPK. I wrote this article myself, and it expresses my own opinions. I am not receiving compensation for it (other than from Seeking Alpha). I have no business relationship with any company whose stock is mentioned in this article.