Applied Materials (NASDAQ:AMAT) is the world's greatest and most advanced supplier of manufacturing equipment for the semiconductor industry. Beyond that, it also offers equipment to industries with similar manufacturing techniques and processes. It also supplies TFT-LCD and Solar Panel manufacturers.
In this article, we'll take a look at the prospects of the Solar Photovoltaic (PV) industry and how it affects Applied Materials. For a broader analysis, check my previous article about the company.
The solar industry has been under tremendous pressure over the last couple of years. In 2011, the market was flooded with oversupply as many companies increased manufacturing capacity and Chinese manufacturers flooded the market with products priced below their cost. However, in 2012, the market began to re-adjust as manufacturers started to go out of business or merge with each other. More bankruptcies are still expected to come as the industry continues to consolidate.
AMAT's revenue from the solar industry was decimated in 2012 where it fell to $425 million from $2 billion in 2011. However, I believe that fierce competition, stronger demand and the need to lower production costs will trigger more investments in equipment from solar panel manufacturers in 2013 and 2014. Given that AMAT is the leading company in this sector, it will benefit greatly.
From AMAT's Q4 earnings call transcript (emphasis added):
Michael R. Splinter - Chairman and Chief Executive Officer

In Solar, the industry is on track to install over 30 gigawatts in 2012, and we expect double-digit growth of the end market to continue. This demand growth is starting to consume excess manufacturing capacity within the supply chain.

Gary E. Dickerson - President

Well, as we -- as Mike talked about earlier today, we certainly anticipate that end market demand is going to continue to increase over time. And we can add about $100 million per gigawatt of new capacity, given a reasonable market. This can be a good business for Applied Materials. We have a strong position in technology to enable higher cell efficiency, enabling lower cost per lot, and a real advantage in products that are important to making this happen.
Using the management's yardstick and adding the fact that capacity will increase in 2013 as much as in 2012, we can reasonably expect solar revenue for AMAT to be at least in the $1 to $1.5 billion range for 2013 which is a 10% to 20% revenue increase.
In the long term, as the cost of solar power keeps falling, things will get only better for AMAT which will provide the industry with the necessary equipment to keep lowering production costs while increasing output and product quality.
Below, I give you the projections of the U.S. Energy Information Administration about the growth of renewables (and solar of course) over the next decades. As you can see in the second chart, EIA is expecting solar to more than triple by 2015.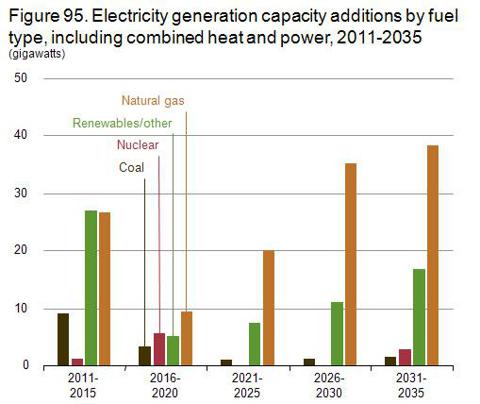 (Source: U.S. Energy Information Administration)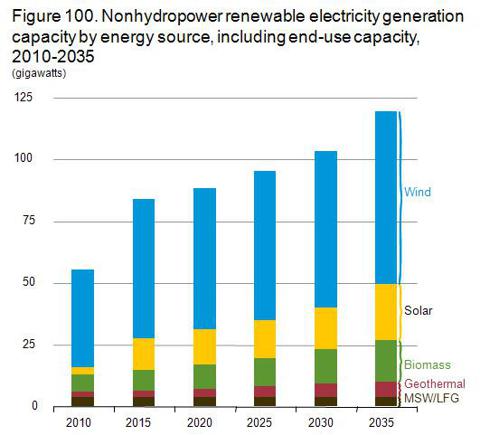 (Source: U.S. Energy Information Administration)
And a subsidy future for solar isn't so far away. As you can see below, solar has already begun to reach price levels low enough in some markets that is able to compete with other energy sources.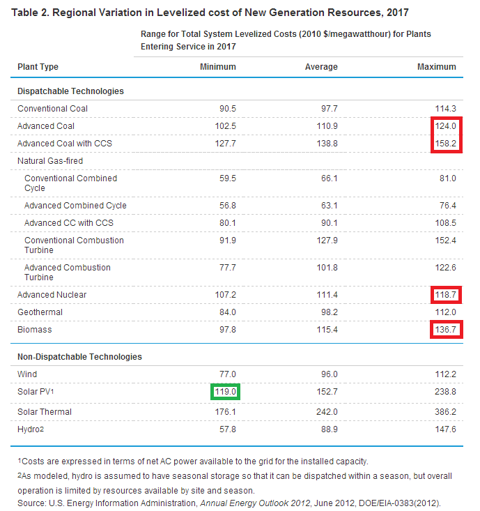 Concluding, I'd like to repeat my fair value range for the stock from my previous article which is between $14.43 to $17.85. However, as oversupply gets soaked up and solar demand continues to grow in double digits, it seems that I'll have to revise it soon to the upside.
Disclosure: I have no positions in any stocks mentioned, but may initiate a long position in AMAT over the next 72 hours. I wrote this article myself, and it expresses my own opinions. I am not receiving compensation for it (other than from Seeking Alpha). I have no business relationship with any company whose stock is mentioned in this article.