The 2012 flu season is not over yet, and more people are getting infected each day. Inovio Pharmaceuticals (NYSEMKT:INO) currently has three ongoing trials for various strains of influenza. Below, I will look at trends surrounding influenza that favor vaccination over other prevention and treatment methods. I will show how these trends support an all-in-one vaccination that targets all common flu strains. I will also discuss the potential of Inovio's product candidates and the company's attractiveness as an investment in the context of the growing influenza epidemic.
Market Potential
The growth potential for players in the vaccine market is vast and growing larger every day. According to GBI Research, a publisher of in-depth reports in a broad range of industries including pharmaceuticals, the global vaccine market is expected to be valued at $52 billion by 2016.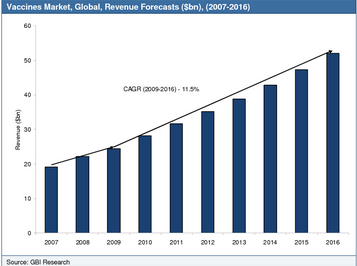 Increasing Demand for Influenza Vaccines
The last several months have been particularly devastating for people across the United States, with 18 children already reported dead from the effects of influenza. Experts say this flu season has been the worst in a decade. There were 14 flu related deaths in San Diego County alone, which makes the total number of deaths due to influenza staggering. Predictably, seasonable influenza vaccine demand stands at 142 million doses this year. This number is expected to increase to a staggering 158 million in 2022. India, China, Japan and the EU's major economies could see exponential growth in the demand for flu vaccines over the next decade. Vaccine manufacturers could profit immensely if they develop a vaccine that can fight off most common strains of influenza.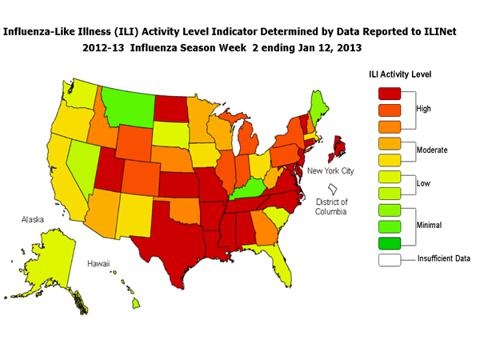 In the U.S., there was a high rate of influenza-like illness reported in most southern states and the east coast. Mid-western and western states are not free from a high level of influenza activity either.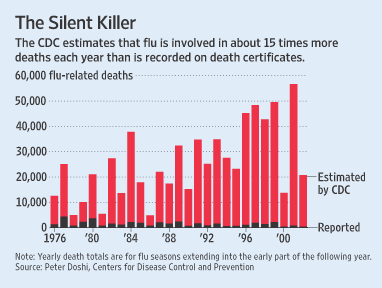 Each year, the Centers For Disease Control (NASDAQ:CDC) estimates that influenza is involved in more than 15 times the number of deaths that are reported on death certificates, citing influenza as a reason. The graph published by the CDC also shows that flu related deaths have only increased with each passing year.
Vaccinations Are More Cost Effective
According to News&Tribune.com columnist Matthew Nash, Flu shots generally cost between $25 and $35 depending on location. This is far cheaper than a doctor's appointment or a hospital visit. Many insurance companies cover the cost of the flu vaccine, while others only require a small co-pay.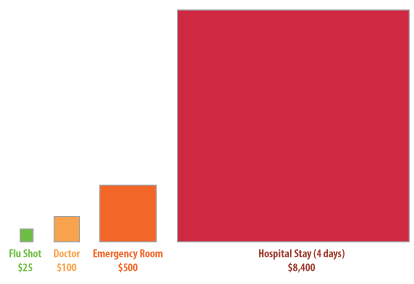 Inovio's SynCon Influenza Vaccines
The traditional flu vaccine works by causing antibodies to develop in the body. This accumulation of antibodies provide protection against infection from the flu virus. This antibody reaction may cause fatigue and muscle aches in some people.
Each year, two Type A strains and one Type B strain are determined to cause the greatest concern and consequently, those strains are selected for manufacturing flu vaccines for the upcoming season. While this may seem like the right approach, these vaccines do not target mutations among viruses, which leave behind hard to treat strains of influenza virus that do not respond to either vaccines or treatments.
Inovio has taken a completely different approach to fighting the flu. Instead of developing a vaccine for each strain every year, the company is working on its patented line of SynCon influenza vaccines, which will be able to fight off most known influenza virus strains in one shot. Inovio's synthetic DNA vaccines are designed based on multiple strains of the pathogen being targeted. First, scientists collect multiples strains of the virus. Next, the scientists analyze the genetic sequences for the specific antigen based on data and algorithms. A consensus gene sequence is then created synthetically for the specific antigen. While this non-naturally occurring sequence does not exactly match the antigen gene sequence, it is very similar.
Inovio's first phase I influenza study showed that a universal vaccine may be attainable, as levels of immune responses in some patients were considered protective in humans against six different unmatched strains of H5N1 influenza. Inovio's second phase I influenza study showed protective levels of immune responses against nine different unmatched strains of H1N1 influenza.
The company has used what it calls a 'synthetic consensus design approach', which allows it to use DNA codes to target key virus clades within Type A (H1N1, H2N2, H3N2, and H5N1) and Type B strains. This unique approach to target all the major influenza strains and fight them effectively with the help of T cells could prove to be invaluable in reducing mortalities and debilities resulting from influenza.
Financial & Other Risks
Inovio faces several financial and regulatory risks. Inovio's market capitalization of $94.78 million puts it in microcap territory.
For the third quarter of 2012, Inovio reported total revenue of $855,000, and $3.0 million for the first nine months of 2012, compared to $2.6 million and $8.2 million for the same periods in 2011. According to the company's third quarter earnings report, the decrease was primarily due to timing of work performed under the company's contract with the National Institute of Allergy and Infectious Diseases (NIAID). Revenue from this contract amounted to $453,000 and $2.2 million for the third quarter and the first nine months of 2012, versus $1.9 million and $6.4 million for the same periods in 2011. This contract was initiated to facilitate Inovio's development of Pennvax-GP, a universal, preventive HIV DNA vaccine.
For the third quarter, cash and cash equivalents plus short-term investments amounted to $15.2 million compared with $30.3 million at the end of the same quarter in 2011. According to management's projections, current cash and cash equivalents plus short-term investments will be sufficient to meet the company's planned working capital requirements into the third quarter of 2013. However, Inovio could face unexpected setbacks and costs in its current trials. The cost of bringing the vaccine to market could be significantly more than the company anticipates. Inovio also faces significant regulatory risk. The FDA could decide not to approve Inovio's SynCon vaccine for safety reasons that have not yet surfaced in trials.
Competitors
In March 2012, AstraZeneca (NYSE:AZN) announced that the FDA approved it first four-strain flu vaccine that includes the ability to fight off two Type A strains and two Type B strains. FluMist Quadrivalent was the first four-strain influenza vaccine approved by the FDA. Before this, there were only trivalent vaccines available.
In December 2012, Pfizer (NYSE:PFE) announced that it would lease two buildings at Pearl River, New York to produce its recombinant influenza vaccine Flublok. The key selling point of Flublok is that it does not use the actual flu virus, which means one will not experience flu like symptoms after the shot. The Fluzone Intradermal vaccine by Sanofi (NYSE:SNY) targets both Type A and Type B strains, but is not recommended to people who have allergic reactions to vaccines, eggs and egg products. The vaccine may also cause redness, firmness and swelling in the area where the shot is administered. Merck's (NYSE:MRK) Afluria is a similar inactivated influenza virus vaccine that targets Type A and Type B strains.
Other players in the influenza vaccine market include BioCryst Pharmaceuticals (NASDAQ:BCRX). One of the company's late-stage development programs is peramivir, a viral neuraminidase inhibitor for the treatment of influenza. iBio (NYSEMKT:IBIO) is a developer of vaccines and therapeutic proteins through its proprietary iBioLaunch platform technology. Novavax (NASDAQ:NVAX) is focused on developing vaccines to protect against several different strains of pandemic influenza, including H1N1 and H5N1 influenza. The company's products also target seasonal flu and respiratory syncytial virus (RSV).
Conclusion
Inovio's DNA technology-fuelled SynCon influenza vaccines, if successful, will be a monumental step toward fighting influeza. The universal vaccine has very few side effects and will target a greater number of influenza strains than its competitors. Considering the market potential that exists in India, China, Japan, the EU and North America, Inovio is sitting on a cash cow. If the vaccine is cleared by the FDA, Inovio could see a significant rise in share value. Investors should closely watch for the latest developments regarding the clinical trials for Inovio's influenza vaccine.
Disclosure: I have no positions in any stocks mentioned, and no plans to initiate any positions within the next 72 hours. I wrote this article myself, and it expresses my own opinions. I am not receiving compensation for it (other than from Seeking Alpha). I have no business relationship with any company whose stock is mentioned in this article.