Whole Foods Market (WFM) has notched a 27.14% gain in the past 52 weeks, and for good reason. The company has been a key player in the United States' rush for health. With new reports constantly coming in about the worsening health of the citizens of the United States, Whole Foods was able to make a difference for the country, and earn a hefty profit in doing so.
In 1980, Whole Foods started out with just one store, and has since grown to a major grocer, with more than 340 stores in North America and the United Kingdom. On its website, the company boasts that it "seeks out the finest natural and organic foods available", and this is quite true.
Whole Foods has built a reputation on being a grocer that aggressively filled the need for access to healthy, organic foods. (from the website of the Organic Trade Association;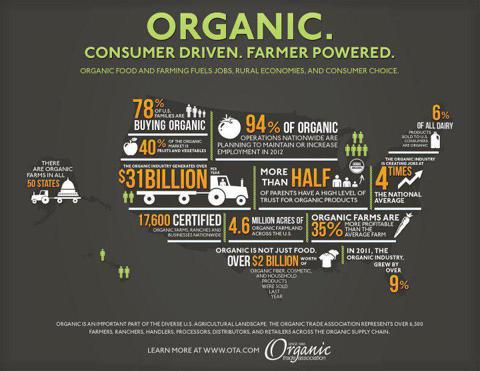 CEO John Mackey recently wrote a book, Conscious Capitalism: Liberating the Heroic Spirit of Business, in which he argues that companies need a greater purpose than just making money. They need to strive to help the world become a better place, and that is what Whole Foods is doing. With its innovative, game-changing leadership, this company can be guided to an even brighter future.
As for the stock itself, it is very fairly valued. It's trading at 37.94 times earnings. It has a price/sales of 1.53 and a price/book of 4.70. Whole Foods grew its year-over-year quarterly revenue by 23.60% and earnings by 49.40%. It has a fantastic debt to equity ratio of 0.63.
Bouncing Back
Back in 2008, Yahoo (YHOO) was trading right around $28, until it took a steep fall and tumbled all the way down to $9.39. Since then, the stock has reflected the company's troubles, never even hitting $20. That is, of course, until Marissa Mayer took over on July 16, 2012. She has lifted the company off its feet and surprised the public, as the stock sits right now at $19.70 and has broken through a number of points of resistance.
Despite the recent earnings report that was only slightly disappointing, Yahoo has hit few bumps in the road with Mayer at the helm. Yahoo is a company in turnaround mode, and it must be given time to erase years of dysfunctional leadership and poor operations.
Yahoo is trading at an extremely attractive 6.07 times earnings. It has a price to book of 1.55 and price to sales of 4.84. The company has plenty of capital to work with, as it has $8.41 billion in cash and a debt to equity of 0.25. A company is built upon a strong foundation of management and operations. Yahoo could not achieve such a goal in past years, but it's starting to look like the company has finally got it right.
Disclosure: I have no positions in any stocks mentioned, and no plans to initiate any positions within the next 72 hours. I wrote this article myself, and it expresses my own opinions. I am not receiving compensation for it (other than from Seeking Alpha). I have no business relationship with any company whose stock is mentioned in this article.