Huntington Bancshares Inc. (NASDAQ:HBAN) is a $56B regional bank holding company for the Huntington National Bank, which provides commercial, small business, and consumer banking services. It is headquartered in Columbus, Ohio. It services a six state area with approximately 680 branches located in Ohio, Michigan, Pennsylvania, Indiana, West Virginia, and Kentucky.
Regional Banks have generally been doing well recently. In no small part this has been because the Fed has been strongly supporting the US real estate market. Operation Twist recently finished up; and both QE3 ($40B/month in MBS buying) and QE4 ($45B/month in long term US Treasury buying) are still currently holding mortgage rates down and home prices up. These programs are also ensuring that HBAN's real estate business is making good profits. Dick Bove, a top financial equities analyst, has recently gone a lot further than just short term bullishness. He is predicting a 14 year bull run up for big financial institutions' stocks.
On top of this HBAN is benefiting from being centered in one of the main areas of the new unconventional oil and gas development. Two of the most prolific fields in the US -- the Utica Shale and the Marcellus Shale -- are in the heart of the areas HBAN serves. There are still more fields in HBAN's areas. The above fields are providing a huge economic boost to the HBAN's service areas via new E & P jobs. For instance, the unemployment rate in Ohio is 6.8%. This is significantly below the average unemployment rate for the entire US of 7.8%. Further HBAN commissioned a survey by an independent research firm to determine the economic outlook of the populace. In the areas of the biggest oil and gas developments (Western Pennsylvania, Ohio, and West Virginia) the results were unequivocally positive. This augurs well for HBAN's future prospects. This means that small business and commercial loans in HBAN's area should be considerably safer than countrywide in the US. One of the clear indicators of the health of its business area has been HBAN's growth in Consumer Checking as seen in the chart below.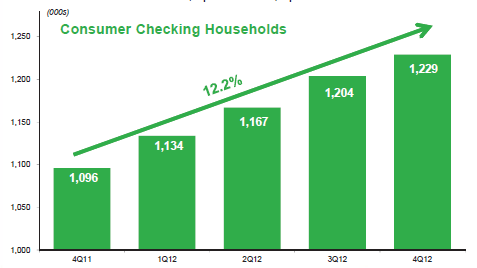 In the shorter term the technicals agree with the above roughly outlined bullish fundamental outlook. The two year chart of HBAN below shows that HBAN's 50-day SMA is about to pass upward through its 200-day SMA. This will be another buy signal.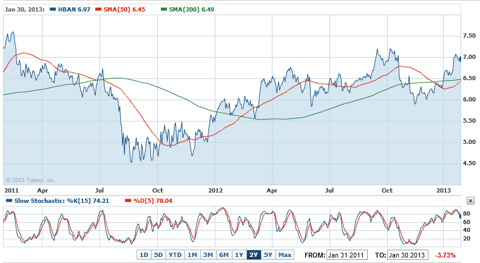 Yes, the slow stochastic sub chart does indicate that HBAN is overbought in the short term. However, it can remain overbought for a lengthy period. It seems very likely that HBAN will try to set a new high as the market also tries to do the same thing. On the above fundamentals and technicals HBAN looks like a strong buy.
The more detailed near term financial results bear out the positive outlook for HBAN. HBAN Return on average assets $0.19 EPS for the second straight quarter. Average return on assets was unchanged at 1.19%. Fully taxable equivalent revenue increased by $41 million. Fully taxable equivalent net interest margin was up 7 basis points. Mortgage banking income increased $17 million. Revenue from the sale of loans increased $14 million. Overall there was 3% linked quarter annualized loan growth. Offsetting the above partly, non-interest expense increased 3% of $12 million.
For FY2012 HBAN beat EPS estimates by +$0.02 per share. It reported EPS of $0.71 per share. This was approximately 20% higher than the EPS of $0.59 per share of FY2011. Return on average assets was 1.15%. The increase in fully taxable non-interest income was $204 million or 8%. The increase in non-interest expense was $107 million or 6%.There was a $94.6 million (or 22%) decrease in net charge-offs. There was a $133.5 million (or 25%) decrease in total nonaccrual loans. HBAN reported 8.76% tangible common equity. This was up 46 bps year over year. The Tier 1 common risk-based capital ratio was 10.47% (up 47 bps). The book value per share was up to $6.41 in Q4 2012 from $5.82 at the end of 2011.
On top of the above items HBAN's honors and accomplishments included:
It was recognized as one of the Best Banks in America in 2012 by MONEY Magazine.
It was ranked highest in the nation by JD Power in the Small Business Banking Satisfaction Study.
It completed two auto loan securitizations totaling $2.3B in assets.
It completed the integration and conversion of Fidelity Bank. $0.8B in assets were acquired; and $0.8B in liabilities were assumed.
It opened 37 or 6% net new branches in FY2012.
I could go on, but essentially HBAN has performed well. It appears to be highly stable and well capitalized. It has recently seen an increase in commercial loan delinquency (see the chart below).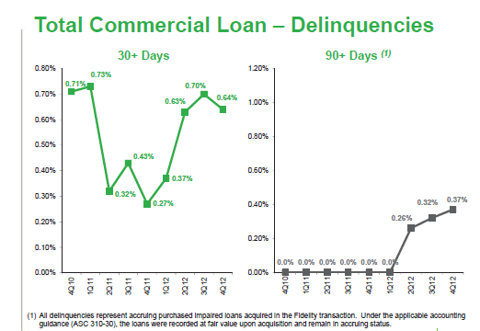 This is a little worrisome; and it partly accounts for HBAN's conservative approach to 2013. However, it does not negate HBAN's many other positive attributes.
HBAN is a long term buy. Technically and fundamentally it is likely to have near term upside. However, if the overall market falls appreciably soon, HBAN stock will likely fall too. Averaging in over the course of 2013 is probably a good strategy. Then you will be sure of getting a good average price for the stock. The recent US GDP growth data for Q4 2012 of -0.1% was far more negative than many were expecting. The sequestration cuts (or their alternatives) have only been put off until March 2013. This added austerity could easily slow or even reverse US economic growth. If this happens, virtually all industries will be hurt. However, banks that are being directly aided by the Fed should be among the best performers in such a situation. The Fed is unlikely to allow another leg down in the real estate markets. This means that banks, especially those banks that have been performing well, should do well in the next year and beyond. It doesn't hurt that HBAN will pay you a 2.29% annual dividend to wait for the good long term good growth if the US sees a recession in 2013. Few question that banking growth is coming soon. As a risk, HBAN is a good one.
HBAN trades at a quite reasonable PE of 9.82. It has an average analysts' next five years EPS growth rate per annum of 5.50%. It has a small amount of insider buying. It has an analysts' mean recommendation of 2.5 (a marginal buy). It has a steady stream of unconventional oil and gas wealth coming to its area. It is a buy with the many good fundamentals behind it.
NOTE: Some of the fundamental financial data above comes from Yahoo Finance.
Good Luck Trading.
Disclosure: I have no positions in any stocks mentioned, but may initiate a long position in HBAN over the next 72 hours. I wrote this article myself, and it expresses my own opinions. I am not receiving compensation for it (other than from Seeking Alpha). I have no business relationship with any company whose stock is mentioned in this article.