Deloitte is out with its latest annual Global Powers of Retailing report. No surprises at the top of the list ( Wal-Mart (NYSE:WMT), Carrefour, Tesco (NASDAQ:TESO)). A number of discount retailers were big movers on the Top 250 list as consumers cut back to deal with the economic downturn. Schwarz Unternehmens Treuhand KG (Schwarz) climbed three places from 10th to 7th. Aldi GmbH (Aldi) also climbed this year and was the only new entry in the Top 10, taking the place of Sears Holdings Corporation (Sears).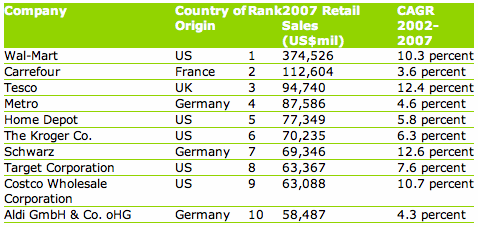 Russian, Chinese and South Korean retailers were among fastest-growing.
In fact, two Russian and four Chinese retailers new to last year's list have climbed significantly in this year's rankings, with two of the Chinese companies breaking into the top 100. Gome Home Appliance Group is ranked 63rd and is the 8th highest ranked retailer in Asia/Pacific, the first Chinese retailer to break into the regional Top 10. Russian electronics retailer Euroset Group had a Compound Annual Growth Rate from 2002-2007 of 108.5 percent.
Publix Super Markets Inc. (OTC:PUSH) had the highest Q ratio by far at 12.486.The Q ratio is the ratio of a publicly traded company's market capitalization to the value of its tangible assets. The higher the Q ratio, the greater the share of a company's value that stems from non-tangibles. A Q ratio of less than one, on the other hand, indicates failure to generate value on the basis of non-tangible assets. If a company's Q ratio is less than one, theoretically a company could be purchased through equity markets and the tangible assets could then be sold at a profit.
Among the lowest Q ratio companies are The Kroger Company, (NYSE:KR) The Home Depot (NYSE:HD) and Kohl's Corporation (NYSE:KSS).