We stated this morning in our other article that we are not buyers here, but rather holders as we are waiting for jobs numbers and personal spending and earning figures. We need further good news to push us higher and the fact that the economy contracted due to the superstorm Sandy puts a damper on everything right now. That growth was not lost, but we will just experience it in the future on top of what would have been normal growth.
Looking at the commodity complex it appears that we need further good news on the economy to show that inflation can be a part of what helps us move higher along with that real growth (the act of actually building the things which grow an economy). The one area we are looking at placing some money is in the junior uranium explorers once the current pullback is complete.
Commodity prices this morning are as follows:
Gold: $1675.40/ounce down by $6.20/ounce
Silver: $31.975/ounce down by $0.202/ounce
Oil: $97.73/barrel down by $0.21/barrel
RBOB Gas: $3.0265/gallon down by $0.0122/gallon
Natural Gas: $3.308/MMbtu down by $0.027/MMbtu
Oil & Natural Gas
As it pertains to Chesapeake Energy (NYSE:CHK) we heard a lot of the stories yesterday of how Aubrey McClendon failed the company and many of his shortcomings. The media hates him and that coupled with some of his more questionable moves as head of the company resulted with many shareholders and other market participants disliking him for legitimate reasons or simply out of jealousy. If you take all of this into consideration and look at where Chesapeake is today compared to twenty years ago, the fact of the matter is he did grow the company. It just carries the same problems junior explorers have with cash flow issues on a very large scale, so in reality it is a 'Super Junior'. He took the risks to put the company in some of the hottest plays today before their potential was known based on knowledge, financial maneuvering and a healthy dose of arrogance but the fact is that he did it and positioned the company to have not one or two areas to focus a company around but nearly an entire portfolio. He was one of the driving forces behind the shale boom and continued to push it into new areas even when the industry thought certain areas were either uneconomical or simply would produce a bunch of dry holes. The man may need to brush up on ethics and best management practices, however his ability to build a portfolio of properties is almost unparalleled. Yes he is getting paid to 'retire' but our bet is he comes back at some point in the future and has a curtain call.
Occidental Petroleum (NYSE:OXY) will host a conference call today to discuss their earnings. The conference call starts at 11:30 AM EST, and for those wanting to call in and listen the numbers are as follows:
(800)473-6123 (US callers)
(973)582-2710 (International callers)
The consensus was for $1.66/share and depending on who you listen to the whisper is $1.67/share, but due to a write off on the company's gas properties for $1.1 billion earnings came in at $0.45/share. Do not be confused though, because if you adjust based on the charge earnings would have been $1.83/share which was well above the estimates. If looking at operating results and moving forward that is what you want to see, these gas write-offs are already understood and in some cases already factored into company's shares prices. The company also announced record production for the 4th Quarter.
Coal
Coal stocks have been getting hit hard lately as many readers are probably well aware. Alpha Natural Resources (ANR) is the one which we focus on mostly due to its liquidity and volatility which results from the traders in the stock. Due to that concentration we believe that watching key points for the shares is important and the fact that the company has not done a good job of holding above those levels and finding support is a bit troubling to us. Shares closed yesterday at $8.61/share after falling $0.50 (5.49%) on volume of 16.2 million shares. So volume was high and shares fell through both the $9/share level and the $8.80/share level. The one bright spot for shareholders was that $8.50/share held and was not breached. That shall be the next level to watch and will be where the bulls and bears line up in the coming days.
Also running into trouble is Arch Coal (ACI) which itself found some support yesterday after having been pushed lower in this coal pullback after hitting recent highs. The shares fell $0.35 (4.74%) to close at $7.03/share and the good news here was that $7/share held. It seems silly to point out that the good news is that stocks found support on multi-percentage point drop days, but if we were not reporting that it would be simply how the support was broken, and to alter Martha Stewart's trademark phrase a bit, that would not be a good thing.
Uranium
As many of our followers and loyal readers know, we got our start in the business following the uranium sector and focusing on the junior players across the world. We learned quickly that the business gets bumps and sell-offs on various scales but when looking to get an idea of the direction of the market one needs look no further than Cameco (NYSE:CCJ) when trying to time a new upswing and to keep a close eye on the juniors when looking to exit before a sell-off. Cameco leads the way up as any 800 lb gorilla which dominates its industry would and likewise is the last to fall when investors turn sour on the industry's outlook. The stock has shown some strength recently and the news in the sector has been bullish. Couple that with the 1.90% yield and it seems like a no brainer that those looking to play the rally in uranium stocks who are more blue-chip investors or investing retirement funds would begin with Cameco rather than venturing upstream to play the juniors before the trend is confirmed.
After hitting lows about two months ago the stock has taken off, helped by improving market sentiment and good news in the uranium patch.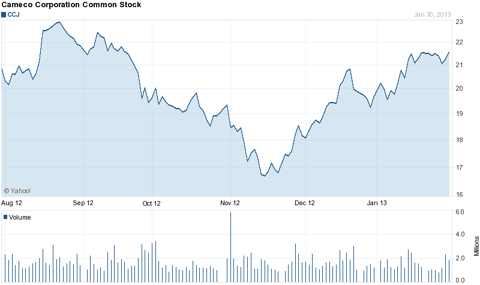 Chart courtesy of Yahoo Finance.
Disclosure: I have no positions in any stocks mentioned, and no plans to initiate any positions within the next 72 hours. I wrote this article myself, and it expresses my own opinions. I am not receiving compensation for it (other than from Seeking Alpha). I have no business relationship with any company whose stock is mentioned in this article.