Stocks might be under some pressure this morning with news out of Europe weighing down stocks over there. We have some earnings out this morning and we are in the thick of the season, so we hope that the good numbers continue to roll in. We are still bullish, but at this time are not buyers but simply holders. Looking at the numbers right now, the month of January is far ahead of the average move and one of the best Januarys in recent history for a number of the indices. Also up today we have a ton of economic news, with the job numbers being the most important and our focus falling next to the personal income and personal spending figures.
Chart of the Day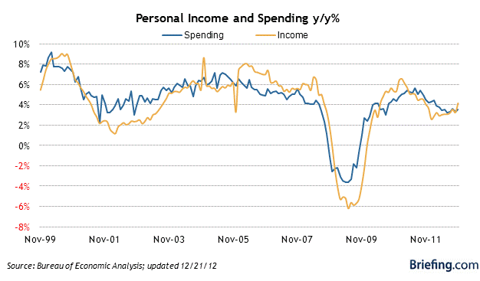 Chart courtesy of the briefing.com
We have economic news due out today, and it is as follows (these are the consensus estimates):
Challenger Jobs Report (7:30 AM EST): N/A
Initial Claims (8:30 AM EST): 345k
Continuing Claims (8:30 AM EST): 3200k
Personal Income (8:30 AM EST): 0.7%
Personal Spending (8:30 AM EST): 0.3%
PCE Prices - Core (8:30 AM EST): 0.1%
Employment Cost Index (8:30 AM EST): 0.5%
Chicago PMI (8:30 AM EST): 50.5
Natural Gas Inventories (10:30 AM EST): N/A
Asian markets finished mixed today:
All Ordinaries - down 0.37%
Shanghai Composite - up 0.12%
Nikkei 225 - up 0.22%
NZSE 50 - up 0.12%
Seoul Composite - down 0.13%
In Europe markets are lower this morning:
CAC 40 - down 0.56%
DAX - down 0.31%
FTSE 100 - down 0.50%
OSE - down 0.07%
Biotechnology
Sometimes we a can be surprised by the comments left on our articles and even more so at the emails some of those comments result in. We have previously stated that Keryx (NASDAQ:KERX) would retrace after the huge run-up, which was delayed as numerous analysts came out and adjusted their price targets upwards and day traders continued to push the shares higher. That is a matter of fact, it will happen, it always seems to happen and to believe that it is impossible indicates a serious lack of objectivity. The secondary will increase the number of shareholders by around 8-10% as we believe there will be a discount to today's price and even though they are taking in the cash, it will be spent and the future gains are going to be shared among more shareholders. Remember, when analysts give their price targets they are based on overall value of the company (think a market capitalization basis) more so than a stock price per se (yes, sometimes technical analysis plays a part, but for the most part its market cap based). So for instance, if an analyst said a company would be worth $10/share moving forward and it was at $5/share that would be great. Assuming the company has 100 shares currently and announces a secondary which will dilute current holders by 10%, we know they would be selling 10 shares for $5 or a little less (maybe more if all of the overallotments are exercised). This results in more pieces to the pie, not a larger pie, so the analyst's previous overall market capitalization of $1,000.00 still holds, except now instead of the denominator being 100, it is now 110 which gives us a new $9.09/share price target for that same analyst (who probably will not update his report's price target until the next time he issues a research report). This does not factor in the near-term implications but hopefully this gives readers an idea of how secondaries affect issuers. Also, companies do not do secondaries at the request of companies wanting to buy them, maybe they do it as a bargaining tactic to give them cash to appear stronger but no buyer requests this before a deal is announced (we have seen announcements simultaneously where shares are sold in one of the companies when both are developmental, but never between an established player and small company.
Healthcare
Endo Health Solutions (NASDAQ:ENDP) had a big day yesterday as shares shot up $3.08 (10.78%) to close at $31.66/share after rumors began circulating around 2:30 PM EST yesterday suggesting that the company may put itself up for sale. Many may not recognize the company, but they are the maker of Percocet - a drug with a name more widely known than the company which makes it. Regarding the rumors, there is a Reuters article here discussing the names of who is involved and analyst opinions. We would caution that from everything we have read the company is searching for a new CEO and the sale is a separate issue which even Reuters' sources say is at a "preliminary stage".
Banking
It is not always pretty when you are getting work done, which was the case yesterday with Regions Financial (NYSE:RF). The stock hit a new 52-week high during the session and broke through a level which had provided a bit of resistance before selling off into the close with the rest of the market. Other than the new 52-week high, there are two other points to take away from yesterday's trading with the first being that the stock managed to hold $7.80/share and the second being that it made this move on above average volume. The shares appear to be setting up for a move, but with $8/share in sight and the resistance we would expect around there we could very well see a pullback before another leg upwards.
Manufactured Goods
Whirlpool (NYSE:WHR) announced earnings this morning of $1.52/share, however when adjusted for currency and other issues the EPS figure would have been $2.29/share. That number would beat the $2.22 EPS figure ($2.23/share if you use the figures from the company's website) that analysts were expecting. The company is forecasting growth in the 30-40% range for 2013 and that is the news to take away from all of this. Whirlpool expects to see 2013 growth, on a units shipped measurement, across all geographic regions except Europe, which is expected to be flat.
There will be a conference call this morning beginning at 10:00 AM EST and for those interested you can call (800)895-1549 (for those in the US) and (785)424-1057 (for international callers). There will also be a live webcast over the company's website (click through here - then click on appropriate link listed near the top of the page under 'INVESTOR RELATIONS' with gray background).
Consumer Goods
It is funny what all-time highs tend to do to stocks and those who have invested in them and Proctor & Gamble (NYSE:PG) is no different. As we have mentioned in previous articles we recommended this one to friends recently looking to better allocate their investments in their retirement accounts and regular taxable accounts. The notion of including P&G was it gave them the ability to simply buy, set up the DRIP (Dividend Re-Investment Program) and then not have to worry about the holding for a decade or more. However we have fielded a number of questions from a few of these individuals as P&G's shares have acted more like a mid-cap growth stock rather than the blue chip it is. Stocks have ups and downs, and as we told them if the shares would have dropped by double digit percentage points since purchased the conversation would not be regarding whether to exit the position (especially if the general market's direction had been lower as well) but rather the fact that it would come back and this was a long-term investment. Unexpected gains have a funny way of altering our outlook and perspective on situations, but as it pertains to P&G we are still long-term bullish and for those who purchased for long-term reasons we would recommend holding. For everyone else, just remember, one can never argue against locking in gains.
Disclosure: I have no positions in any stocks mentioned, and no plans to initiate any positions within the next 72 hours. I wrote this article myself, and it expresses my own opinions. I am not receiving compensation for it (other than from Seeking Alpha). I have no business relationship with any company whose stock is mentioned in this article.