I took a lot of flak from Seeking Alpha readers earlier this month for suggesting that the rally in Facebook (NASDAQ:FB) stock might be about to end due to valuation concerns. It made me realize that Facebook is a company that is very close to the hearts of many retail investors. On Wednesday evening, Facebook bulls were out waiting for the earnings release to give a fresh boost to the stock which has rallied more than 50% in the last four months. And in terms of the headline numbers, the bulls were not disappointed: Facebook reported a Q4 EPS of $0.17, in line with the Whisper Number but beating the street consensus by two cents. The revenue grew 40% Y/Y to $1.59B, also beating the street consensus of $1.52B. Revenue from advertising represented 84% of this total revenue and represented a Y/Y increase of 43% after adjusting for foreign exchange changes. However, expenses also grew 82% Y/Y to $1.06B as the employee headcount increased 44%. Later on in the earnings conference call, Facebook management was quite satisfied with the company's performance and excited about future growth prospects. CEO Mark Zuckerberg claimed that Facebook had delivered robust growth during 2012 and had established a firm platform from which to grow on in 2013 and beyond. However, after hours trading gave the impression that the investors were not entirely happy with the current narrative; maybe they were expecting a bit more. In this article, I will go over the key performance metrics from the earnings release and explain some of the concerns the investors might have.
Strong Mobile Performance Continued
Source: Company reports & SEC filings
Facebook reported that its Q4 advertising revenue from mobile doubled on a Q/Q basis to $302m. In terms of the user base, the mobile Monthly Active Users (MAUs) grew 13% Q/Q and 57% Y/Y to 680m. Out of these 680m, almost 23% used Facebook only through the mobile, showing how important mobile has become for Facebook's future strategy. Facebook also informed us that the mobile Daily Active Users (DAUs) exceeded the web DAUs for the first time in Q4 2012, implying that the engagement on the mobile platform is strong. A 100% increase in mobile ad revenue from just 13% growth in mobile MAUs suggests that Facebook is moving in the right direction in finding ways to lever the monetization from mobile users. Zuckerberg told us on the earnings conference call that sponsored stories in the mobile newsfeed and app-install ads were proving to be very effective. Although the growth in mobile MAUs is expected to continue, it will do so at diminishing rates as you can see from the chart above. Therefore Facebook must continue to increase its Average Revenue Per User (ARPU) to ensure that it stays on track for continued revenue growth from mobile. And according to Zuckerberg, making the mobile ads targeted and more relevant would be Facebook's core focus in 2013 which, if successful, should help further improve ARPU.
Key Worldwide Performance Metrics
Facebook's overall worldwide MAUs increased 25% Y/Y to 1.06B; however most of this growth came from the Asia and Rest of The World regions. In U.S. and Canada, Facebook's largest source of advertising revenue, the MAUs growth was only 8% Y/Y, confirming the concerns I had raised earlier about stalling user growth in key developing markets. The growth pattern in DAUs is similar to MAUs as you can see in the chart below.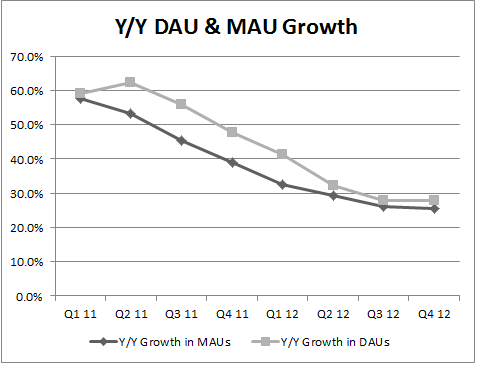 Source: Company Reports & SEC Filings
The DAU/MAU ratio, a key measure of user engagement, which measures the proportion of Facebook's monthly active users who are also daily active users, has remained relatively stable during 2012 after showing improvement in 2011. The ratio increased by 2% Y/Y in Q4 2012. This allays concerns some of the investors had about deteriorating user engagement but also shows the difficulty in further improving user engagement.
Source: Company Reports & SEC Filings
The ARPU had become an important concern for Facebook in Q2 2012 when its growth rate stalled to just 1.6% Y/Y. However, since Facebook took the initiative to monetize mobile users in the third quarter, the ARPU growth is on the rise again, growing almost 12% for the year owing to improved monetization through mobile.
Source: Company Reports & SEC Filings
I have stressed earlier as well that ARPU is going to be a key metric going forward. As the growth in user base starts to saturate especially in the developed markets, the revenue growth would have to come from extracting more revenues from the existing users. This can be done by increased ad pricing, rising ad impressions and better click through rates. In this regard, CFO David Ebersman told us that average price per ad dropped 4% as compared to last year but was more than compensated by an impressive 46% impression growth during the same period. Both these statistics are due to the rising impact of Facebook in developing markets where ad rates are low especially after Facebook lowered the floor price for ads in these markets. This made the ads more affordable and resulted in an increased volume of ads in these markets where growth in the user base is already strong, thereby contributing to the higher impression growth. Some concerns about revenue growth prospects in the U.S. and Canada region due stalling growth in MAUs were also dispelled as the average price per ad increased 18%, which in my opinion is due to increased competition to catch advertising space. However, in my opinion this positive price trend must continue to compensate for maturing user growth if Facebook is to achieve strong growth in the future.
Key Concerns Still Remain
Although the Y/Y revenue growth of 43% (fx-neutral) is quite exciting, investors must also remember that the expenses increased 82% over the same period. Mark Zuckerberg stated in the earnings conference call that Facebook's goal last year was not to maximize profit but to "build the best service and business over the long term", admitting that the employee headcount would continue to increase during 2013 as well due to which the growth in expenses was likely to continue to outpace the growth in revenues. Although this focus on growth through investment in human resources is a good thing, the management must make the most optimal use of its resources if it is to add to shareholder value.
Facebook is still losing a huge growth opportunity as the trend shifts from desktop to mobile gaming especially in high end developed markets where smartphone penetration is very high. In the conference call, CFO David Ebersman stated that the revenue from gaming was essentially flat on a Y/Y basis. In response to Citi analyst Niel Doshi s question on monetization from mobile gaming, Ebersman told us that they were seeing a strong growth and adoption of Facebook's social infrastructure in mobile gaming on iOS and Android. However, what surprised me was that he did not give any indication as to how Facebook would go about monetizing from these mobile games other than the recently launched mobile app install ads only stating that Facebook was "in an interesting position to consider future financial relationships." To me, the tone of his answer suggested that the management did not have any dedicated plans to pursue monetization in mobile gaming, which is a big concern if true. What are all these new employees doing then?
Before the earnings release, there was a lot of hype among investors as well as sell side analysts about the Facebook Gifts as important new tool for monetization, which could potentially challenge eBay (NASDAQ:EBAY) and Amazon (NASDAQ:AMZN) in the e-commerce industry. But Zuckerberg dampened down the high expectations, stating that the revenue stream from this Gifts as well as any potential revenue from Graph Search would be very small in the near term, with the major focus remaining on growth in advertising revenues.
Facebook exchange (FBX), the cookie based re-targeted ads program with real-time bidding, has been an important tool for delivering highly relevant ads on Facebook's desktop platform since its complete launch in September 2012. According to COO Sheryl Sandberg, FBX was serving nearly one billion impressions daily by December 2012, which is quite impressive. However, many investors and analysts who were looking for hints about FBX launch for mobile in the conference call were disappointed to hear that the management had nothing to say on this subject when the question was asked by Stifel's Jordan Rohan. It is important to note that any the launch of this product on mobile could be slightly complicated due to the fact that mobile devices do not store cookies so FBX on mobile would have to use the cookies from desktop usage. Therefore even if some form of integrated FBX is launched, it could potentially be of no use for Facebook's 157 million mobile only MAUs. However, the FBX mobile launch is still very important for future growth prospects due to increasing mobile MAUs, and investors would be frustrated not to hear more about FBX mobile prospects on the call.
Conclusion
I understand it's hard not to like Facebook. Bulls keep pointing to the 1 billion plus MAUs glued to Facebook with potentially limitless monetizing opportunities. However, even the best and most profitable companies have a certain price. The latest earnings release shows that Facebook has delivered strong growth during the last quarter. There is no doubt that Facebook's recent growth in mobile revenues is impressive but investors also must keep a close eye on growing expenses as well as some of the other concerns I have raised above. I still believe that Facebook has the potential for further acceleration in revenue growth in 2013 and beyond, but I think that this potential is more than priced-in in Facebook's current stock price ($31.25) in terms of its high forward P/E multiple, therefore any drop in the currently very high sentiment triggered by some important concerns about this earnings release could result in a sharp pullback in the stock price.
Disclosure: I have no positions in any stocks mentioned, and no plans to initiate any positions within the next 72 hours.
Business relationship disclosure: This article was written by DividendPros' analyst covering technology.