Apple (NASDAQ:AAPL) has aggressively pushed to bring the majority of its design in-house. While the firm had designed its own system-on-chip products, it very recently extended its prowess to actually designing its own custom CPU cores, instead of relying on those from IP vendor ARM Holdings (NASDAQ:ARMH) (albeit the cores are binary compatible with the ARM designs, for software compatibility purposes).
The generally accepted trend in the smartphone processor market is towards further and further integration. Currently, Qualcomm (NASDAQ:QCOM) is the only vendor shipping an integrated LTE baseband + applications processor. The leadership in LTE coupled with the significant lead the firm has with integration of baseband with the apps processor has allowed the company to essentially own this round of smartphones.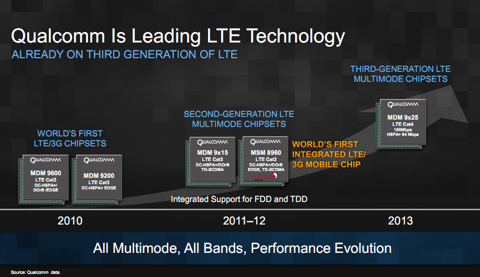 While Nvidia (NASDAQ:NVDA) and Intel (NASDAQ:INTC) plan to counter these efforts in 2014 with "Grey" and "6331", respectively, Qualcomm will own the space for at least the remainder of 2013.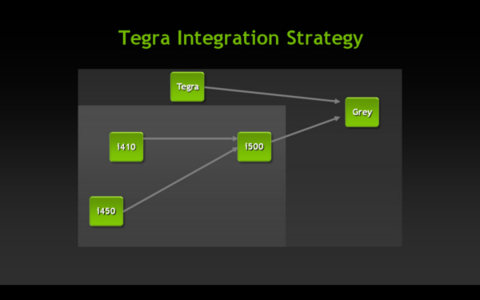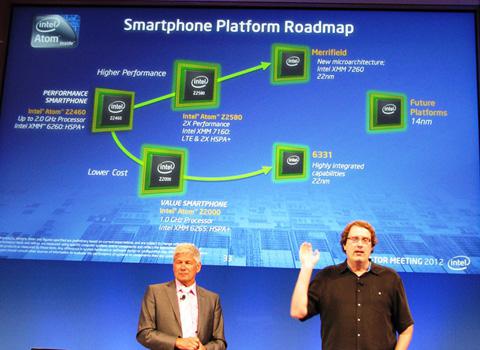 While current high end phones such as the Apple iPhone 5 and the Samsung Galaxy S III currently use discrete baseband chips, as margins come under pressure, there will be a very real push to integration. Not only does this significantly save on BOM costs, but it also helps to significantly improve power consumption.
This broad industry trend, therefore, leads me to believe that Apple will likely do one of three things going forward:
Give up designing its own chips for smartphones and instead buy off-the-shelf integrated parts, likely from Qualcomm
Purchase its own connectivity technology for future integration
Build up a modem/baseband team from scratch
While I certainly do not rule out the first as an eventual move (it seems almost inevitable), it is unlikely that the third option will play out as this technology is very specialized and very difficult to build "from scratch". Therefore, it is very likely that Apple will utilize its $136B in cash to make a strategic acquisition to further solidify its technological strength in the area of chip design for phones/tablets.
Who Will It Be?
I am going to be bold and speculate that if Apple plans to actually execute such a strategy, it could purchase the ST-Ericsson joint venture between STMicroelectronics (NYSE:STM) and Ericsson (NASDAQ:ERIC). STMicro has already expressed its desire to exit the business, and partner Ericsson will not buy STMicro's share. It is clear that without volume shipments, mobile applications and baseband processors are not a profitable venture. However, with Apple's scale, owning this technology, even for long term integration purposes, seems like a match made in heaven.
The ST-Ericsson venture has already built an integrated apps processor and LTE baseband known as the NovaThor L8540, so it is not inconceivable that the engineers responsible for the modem technology as well as the tight integration of baseband and applications processors would be of great use for a future iteration of the Apple A-series processors.
The Cons
While this seems like a good fit for Apple's apparent long term vertical integration strategy, there are significant drawbacks and caveats to the thesis:
Connectivity technology is hard, and it would be very tough to design equal/better parts than Broadcom/Qualcomm going forward without a very significant increase in R&D. It is not clear that the gross margin savings from even the integration would be enough to offset the big spike that we would see in R&D
Mobile chips are so cheap to buy that I eventually see Apple spinning off/selling its mobile SoC design team and purchasing chips from a third party as R&D costs start to become burdensome. Qualcomm, Intel, Nvidia, Broadcom (BRCM), and many others would likely be more than happy to supply Apple with a competent, built-to-spec system-on-chip in the future
Since the iPhone is a premium device at the high end, the discrete baseband + apps processor is likely to remain viable. This really only becomes relevant and likely should Apple choose to play in higher volume/lower ASP segments of the market
Conclusion
Apple is becoming more and more vertically integrated as it attempts to maintain a gross margin advantage over competition. I believe that should Apple choose to play in the higher volume/lower ASP smartphone markets, particularly to capitalize on emerging markets, then integrated baseband solutions are likely going to be necessary to stay cost competitive. With the massive amounts of cash on hand, I would not be surprised to see Apple acquire the struggling ST-Ericsson joint venture as it is up for sale.
Should this prove to be correct, this could pay off nicely for both STMicro and Ericsson, and even pay off nicely for Apple in the long run as it would significantly reduce dependence on third party suppliers.
Disclosure: I am long INTC, NVDA. I wrote this article myself, and it expresses my own opinions. I am not receiving compensation for it (other than from Seeking Alpha). I have no business relationship with any company whose stock is mentioned in this article.
Additional disclosure: I may initiate a long position in STM over the next 72 hours.