By Siraj Sarwar
Intel (NASDAQ:INTC) dropped nearly 20% of its value in the past year. The company got one more punch when it announced its financial results. The company lost nearly 6% of its value after that announcement. In this article, I will investigate Intel's financial situation to determine whether the company has some real issues with its financial position. I also examine its competitors to see where Intel stands compared to peers.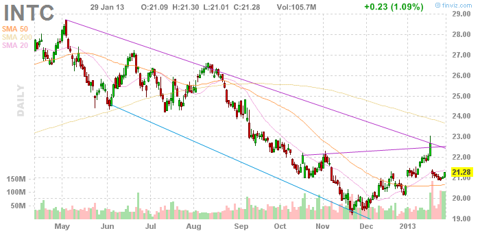 Source: Finviz.com
Financial Analysis
Intel reported full year results with a huge turnover of $11 billion. At the end of 2012, Intel's revenue stands at $53.3 billion. Intel's revenue contracted by $0.7 billion compared to last year. This looks like a small decrease, but the reduction in revenue always is deemed as dangerous. In the case of Intel, the reduction in revenue is due to the intense competition. There are many other prominent giants in the market. Intel is facing fierce competition in the micro processor market from Advanced Micro Devices (NASDAQ:AMD). Digging deeper into the financial can sketch the company's real situation.
| | | | |
| --- | --- | --- | --- |
| | Year/2012 | Year/2011 | Change |
| Revenue | $53.3 billion | $54.0 billion | Down 1.2% |
| Gross Margin | 62.1 (%) | 62.5 (%) | Down 0.4 |
| Operating Income | $14.6 billion | $17.5 billion | Down 16% |
| Net Income | $11.0 billion | $12.9 billion | Down 15% |
| Earnings Per Share | $2.13 per share | $2.39 per share | Down 11% |
Source: Fiscal 2012 results
As the above table shows, Intel has an attractive gross margin on its sales. Moreover, Intel has substantial operating margin of 29.9% and the industry average stands at 22%. I think Intel executed well in a massively challenging environment with $11 billion in net income. The company performed well in both business segments. Intel generated $2.8 billion of revenues from its data center group, up 6% year over a year. In addition, the company still expects low-single digit growth in 2013, which is impressive considering the PC market.
The company's financial health is also looking strong. Intel has massive cash reserves. A few key metrics in the table below demonstrate this trend.
| | | | |
| --- | --- | --- | --- |
| Liquidity/Financial Health | Latest Qtr | 2011-12 | 2010-12 |
| Current Ratio | 1.93 | 2.15 | 3.29 |
| Quick Ratio | 1.21 | 1.54 | 2.65 |
| Financial Leverage | 1.51 | 1.55 | 1.28 |
| Debt/Equity | 0.14 | 0.15 | 0.04 |
Source: Morninigstar.com
I do not think that Intel is in any real trouble yet. Intel's liquidity position is nowhere near in danger. With $8.1 billion in free cash flow, the company looks to be in a good position. Moreover, the company generated massive operating cash flows of $19 billion. The company is also investing heavily in growth opportunities. In the last 12 months, the company's capital expenditures stood at $11.3 billion. At all times, there is a risk that cash could be burned from both operating losses, together with the corporation's constant restructuring efforts if sales have a negative trend. However, I think $8.1 billion in free cash flows could be sufficient to cover the coming years' business obligations.
Intel versus Advanced Micro Devices versus ARM
Intel is facing immense competition from AMD. Though they are not equal in size, both companies have many things in common. Both are competing to lead the microprocessor market. Both companies are transmitting business plans to suit changes in the market.
AMD gained 6% in value after the earnings announcement. Even though the company remained a loss-maker. AMD revenues dropped, across the board. The company's revenue went down nearly by 32% compared to the previous year. I believe AMD took a long time to make changes compared to the market. However, AMD is evolving its business model and diversifying the product portfolio to capture market.
On the other hand, Intel is focusing more on emerging technologies and markets. Intel performed well in fiscal 2012 with massive income. Intel returned $4.4 billion to shareholders in the form of dividends. Moreover, the company returned $4.8 billion in share repurchases. A recent increase in dividends also signals the strong heath of Intel. AMD is nowhere close to Intel in terms of financial position. AMD lost nearly 57% of value on the stock exchange last year. I believe Intel is long term play. Intel is offering attractive returns to shareholders with low risks.
Furthermore, there have been rising fears that Intel may have trouble competing with ARM Holdings (NASDAQ:ARMH). Intel launched x86 architecture chips into low-power micro servers in an attempt to nip ARM in the bud before it establishes market share. I believe Intel has a strong product pipeline to bring a new wave of innovations.
Summary
Intel has a strong financial position with bright future prospects. Intel holds a long-term premium over smaller players like Advanced Micro Devices in the microprocessor industry. Intel still expects low-single digit growth in fiscal 2013, which is remarkable considering the PC market. Moreover, the company stock is undervalued. With a forward P/E ratio of just 9.6 and a projected yield of 4.29%, I think this might be an entry point for long-term investors.
Disclosure: I have no positions in any stocks mentioned, and no plans to initiate any positions within the next 72 hours.
Business relationship disclosure: EfsInvestment is a team of analysts. This article was written by Siraj Sarwar, one of our equity researchers. We did not receive compensation for this article (other than from Seeking Alpha), and we have no business relationship with any company whose stock is mentioned in this article.