The current oil market – that is, the one born of the September/October short squeeze – has really been a position-player's paradise. Oh, sure, you could have made some money dodging and weaving around the margins of the NYMEX trading rings, but the real money's been made just rolling a plain old vanilla short sale forward. Just ask the owners of the two PowerShares short oil ETNs (NYSE Arca: DTO and NYSE Arca: SZO).
A ballooning contango, too, has been a boon for the short rollers. The front-month (February-March) spread as of Friday was worth more than $5 per barrel, three bucks more than this same time in December. That's earned bears an 8% bonus this month simply for staying the course. A few more rolls like that and we're talking some serious coin.
While oil prices have – you should forgive the expression – tanked, the margins earned from selling the products refined from crude have risen to levels not seen since mid-2007. Gross profit margins on a 3-2-1 crack (that is, turning three barrels of crude into two barrels of gasoline and one barrel of heating oil) spiked above 30% Friday. Yesterday, the margin jumped to 38%. It was from similar levels that margins slid a couple of years ago when oil prices were climbing. Now, of course, price momentum's headed in the opposite direction. There's a seasonal factor at play, as well, that favors a widening crack spread (for background, see "Time For Crack Spreads?").
It's not that there's anything wrong with margins at this level, mind you. It's the way they got here. Fast. Too fast.
NYMEX Refining Margin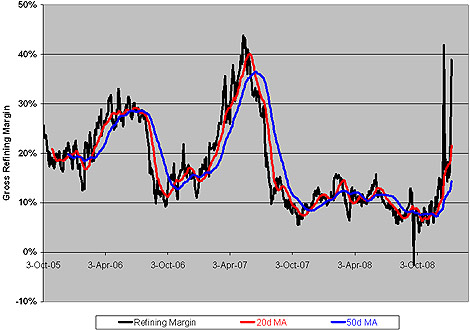 The recent steep run-ups have the distinct aroma of fragility about them. Call it the smell of speculative excess. Normally, seasonal margin-widening moves – how shall I say it? – ploddingly. This is anything but a normal market, of course. But a pullback in the margin shouldn't be a surprise. One should, in fact, be welcomed as an opportunity for spreaders.
For the futures-averse, this is a time to consider pure refiners like Valero Energy Corp. (NYSE: VLO) or Tesoro Corp. (NYSE: TSO). Unlike integrated outfits such as Chevron Corp. (NYSE: CVX), which predicted dire fourth-quarter results last week, the refiners' stock values are more closely correlated to refining margins. That explains why Valero's gained 19% since the beginning of November while Chevron's slipped 4%.
We'll look at this more closely on Wednesday.