One of my favorite investing pastimes is searching for unloved companies that offer proven products and services and pay a dividend. Recently, three such companies have caught my eye:
Microsoft (NASDAQ:MSFT)

Cisco Systems (NASDAQ:CSCO)

Intel (NASDAQ:INTC)
I'll be the first to admit that all three companies have their issues. Most of their products are fairly mature and they face stiff competition. These are definitely not Apple (NASDAQ:AAPL) (is Apple even Apple anymore?), but not every investment needs to be or can be. These three companies are survivors of the tech wreck of the early 2000s and have been unloved ever since.
The chart below shows the change in market capitalization for these companies over the past decade. As you can see, these companies have gone nowhere in a decade. In fact, the market capitalization hasn't even kept pace with inflation, so on a real basis these companies have lost significant value.
Market Capitalization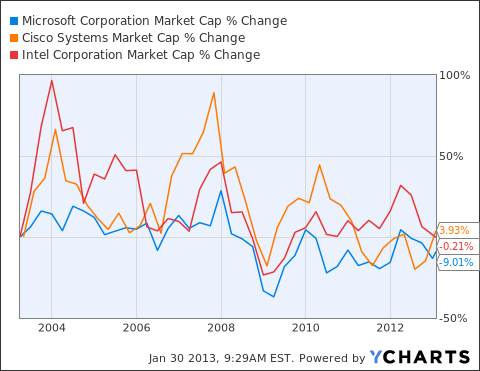 MSFT Market Cap data by YCharts
Contrast this with the accounting value created by these companies. The chart below shows the change in total book value for these three firms. As you can see, while the market values of these companies languished, the book values rose anywhere from 25-91%.
Book Value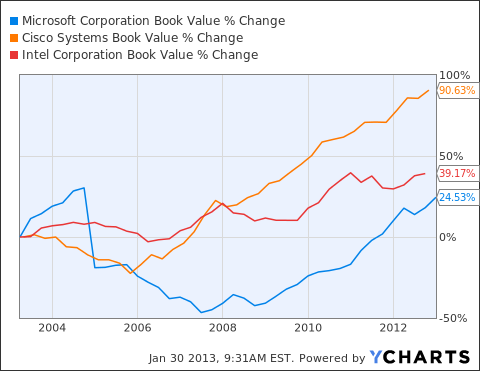 MSFT Book Value data by YCharts
This is not accounting trickery. The changes in book values were driven by real business growth. The chart below demonstrates the growth in revenues over the past decade. Over this time, these companies have been able to raise prices and sell more products to more customers.
Revenue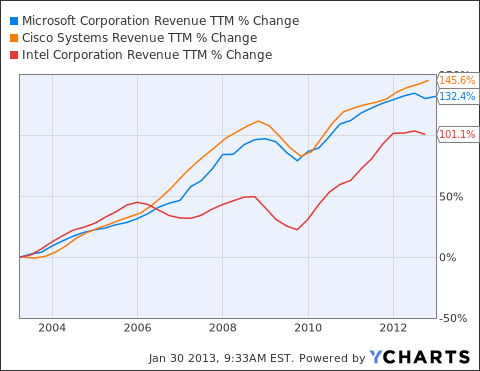 MSFT Revenue TTM data by YCharts
Revenue growth has translated into more cash for owners - i.e. revenue hasn't been overwhelmed by a growth of expenses or business investment. While the relationship between revenue growth and free cash flow growth hasn't been 1:1, there has still been a tremendous rise in free cash flow - particularly relative to the flat market capitalization.
Free Cash Flow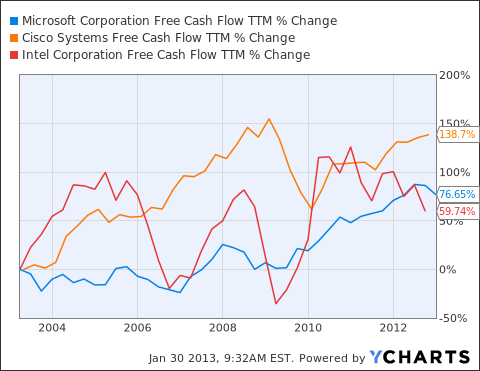 MSFT Free Cash Flow TTM data by YCharts
So why has this happened? As I mentioned earlier, these companies are survivors of the tech wreck. Like Yahoo (YHOO) and Amazon (NASDAQ:AMZN), these three companies were also generously valued. The chart below shows how the P/E ratios for MSFT, CSCO and INTC have declined over the past decade. So market capitalization has remained flat partly (mainly?) because the capitalization was far too high to begin with. The past decade was an adjustment period - albeit a long one.
P/E Ratio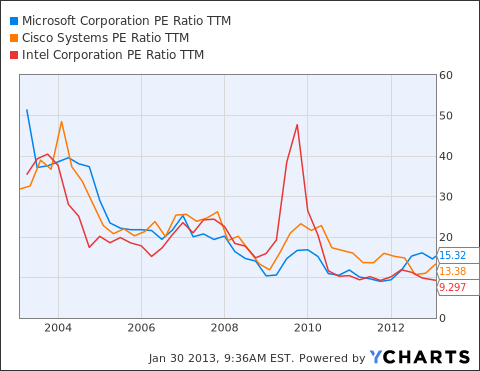 MSFT PE Ratio TTM data by YCharts
So the question today is this: are these decent investments? With P/E ratios below 15, I'd say we've seen a good start. However, something I am especially am interested in is the dividends these companies pay. As you can see below, these companies have paid a decent yield over the past few years.
Dividend Yield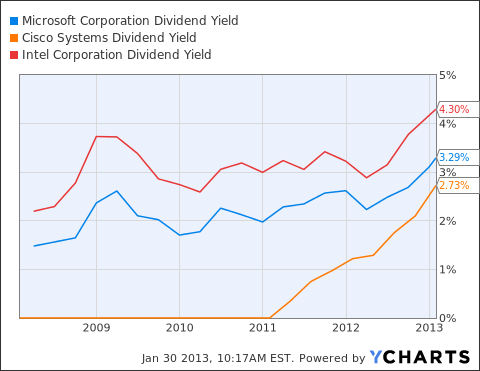 MSFT Dividend Yield data by YCharts
Perhaps more importantly, these companies have all been increasing their dividends paid over the years. In my opinion, this is the bottom line when it comes to investing. It's one thing for a company to grow earnings and free cash flow, but without that cash flow eventually flowing back to shareholders, the returns are just IOUs.
Dividends Paid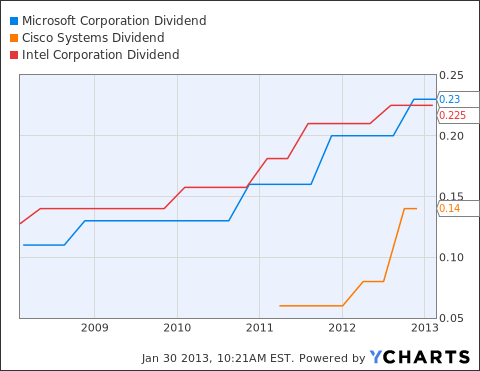 MSFT Dividend data by YCharts
Growing revenues and free cash flow supports the ability to pay growing dividends without taking from one hand to give to the other (i.e. dipping into cash or borrowing to fund dividends). The reasonable payout ratios for MSFT, CSCO and INTC in the chart below demonstrate that dividend growth has mainly been the result of business growth.
Payout Ratio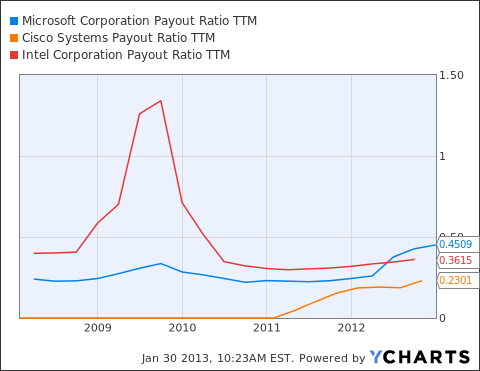 MSFT Payout Ratio TTM data by YCharts
While these three companies may not be the hottest stories on the street, I believe they deserve a second look as a potential long investment.
Disclosure: I have no positions in any stocks mentioned, and no plans to initiate any positions within the next 72 hours. I wrote this article myself, and it expresses my own opinions. I am not receiving compensation for it (other than from Seeking Alpha). I have no business relationship with any company whose stock is mentioned in this article.
Additional disclosure: This is not advice. While the author makes every effort to provide high quality information, the information is not guaranteed to be accurate and should not be relied on. Investing involves risk and you could lose all your money. Consult a professional advisor before making any investing decisions.