Some investors may have been surprised by the growing disconnect between consumer confidence and stock market performance. Is it a cause for concern for equity bulls?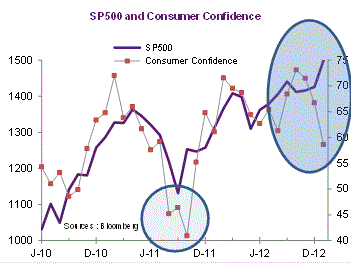 The answer is: not really.
First, as the late 2011 reading suggests, consumer confidence may overreact much more than equity prices.
Second, the chart below compares the 3-month changes of both series, since the 2009 bull market. Today's reading is not a significant outlier, especially when households are still skeptical about the ability of Congress to deal with the sequester…
Third, if consumer confidence were a significant driver of stock prices, the SP 500 would be at around 1000 today (see below the gap between SP500 and the current reading of consumer confidence).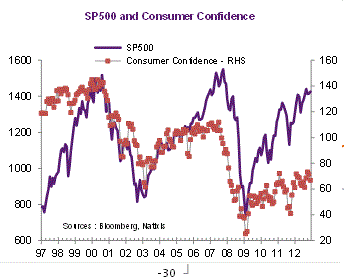 There was a significant structural break in 2009 when stock prices disconnected from consumer confidence. There is a reason for that: when unemployment was mostly cyclical and future prospects looked better (no fiscal risk or doubt on the viability of entitlement programs), equity prices were a good, easy, and timely indicator of the health of the economy.
Now that households are mainly concerned by structural factors, there is good reason to believe that the relationship - although still positive - has weakened somewhat.
This may add to the factors that could suggest a temporary pause in the upward momentum of equity prices, but the chart below, comparing the relative performance of stocks and U.S. Treasuries, suggests otherwise: there is still a 4%/5% upward potential for stock return before stocks are clearly considered too expensive against Treasuries.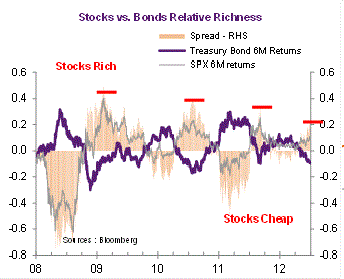 Disclosure: I have no positions in any stocks mentioned, and no plans to initiate any positions within the next 72 hours. I wrote this article myself, and it expresses my own opinions. I am not receiving compensation for it (other than from Seeking Alpha). I have no business relationship with any company whose stock is mentioned in this article.