General Electric Company (NYSE:GE) is a diversified technology and financial services company and a leader in all markets in which it competes. Since our last article titled "General Electric Continues To Work On Things That Matter," GE had increased 6.13% and closed at $22.50 as of Jan. 29, 2013. GE's share price was boosted by a solid, strong Q4 2012 earnings with an EPS of $0.44, which beat analysts' estimate of $0.43.
Recent Highlights
Improving economy. The U.S. economy continued to grow and the orders for durable goods probably climbed in December 2012, showing stabilized U.S. manufacturing following a mid-year slump. Markit's U.S. purchasing managers index rose to a preliminary reading of 56.1 in January, a 22-month high and up from 54 in December. Production, orders, and employment improved, where readings above 50 signal growth. China's economy growth perked up in Q4 2012, with manufacturing expanding at the fastest pace in two years.
On Jan. 18, GE reported better-than-expected profit and sales, where revenue from China grew 19% in 2012 to just under $6 billion on increased demand for jet engines and medical equipment. As quoted from Jeff Immelt, "I'd say we definitely saw China strengthen again at the end of the year. The big drivers of China continue to be healthcare and aviation. We believe that China momentum will likely continue into 2013." The earnings call transcript for GE's CEO discussion of Q4 2012 results can be accessed here. Lastly, eurozone factory and service-sector activity contracted again, but appears to be stabilizing.
Energy development. On Jan. 29, 2013, the U.S. Patent and Trademark Office had granted patent no. 8,359,824, on Jan. 29, 2013, to General Electric Company titled "Heat recovery steam generator for a combined cycle power plant." On Jan. 24, 2013, GE and Toshiba Corporation signed a memorandum of understanding (MOU) to form a global strategic alliance. Two companies would jointly develop select combined-cycle power generation projects around the world and will explore the formation of a strategic joint venture for the development of next-generation combined-cycle power projects with higher levels of thermal efficiency.
GE and Toshiba won a contract in 2012 to supply the new FlexEfficiency technology to Chubu Electric Power's Nishi Nagoya Thermal Power Plant in Japan. This system is being jointly configured to achieve the world's highest thermal efficiency of 62% (at site conditions). According to the report, the FlexEfficiency portfolio, which can harness natural gas and enable greater use of renewable energy, combines record-breaking efficiency to reduce emissions and save money (compared to prior GE configurations). Along with unprecedented flexibility, FlexEfficiency enables utilities to deliver power quickly when it is needed and to ramp down when it is not, balancing the grid cost-effectively. GE has also been expanding in Europe on the energy end. As reported:
GE has carried out European acquisitions in the past two years led by the $3.2 billion purchase of Converteam, a French maker of power-conversion products. GE this month announced it would buy Berlin-based energy planning company BLS Energieplan GmbH to strengthen its offerings in the energy industry.
GE Healthcare. On Jan. 24, 2013, GE Healthcare announced the release of Centricity Practice Solution 11, the next generation of its fully integrated EMR and Practice Management solution. With a dynamic search engine and one-click problem entry, Centricity Practice Solution simplifies the data entry required for medical providers to comply with new the ICD-10 coding requirements and reduces the number of clicks required to enter a problem by 75%. U.S. providers face a daunting challenge with the mandatory transition from ICD-9 to ICD-10 codes in October 2014. While the new coding system has many benefits, including measuring the quality, safety and efficacy of care, it multiplies the ICD-9 dataset by a factor of five and will require a significant amount of training and effort for providers to successfully navigate. Centricity Practice Solution 11 will help ease the transition to ICD-10 for its customers.
GE Capital. In 2012, GE Capital sent $6.4 billion back to the company's headquarters in Fairfield, Conn. Analysts estimate that the unit could generate a similar amount of cash this year. GE Capital's Commercial Distribution Finance (CDF) business saw an increase of more than 10% in financing volume in the information technology (IT) channel in 2012, and it expects that trend to continue this year. According to GE Capital's survey in late 2012, the industries most likely to increase IT spending are generally in the manufacturing and healthcare spaces.
Key Stats and Valuation
GE has an enterprise value of $523.46 billion as of Jan. 30, 2013. GE has a total cash of $125.70 billion and a total debt of $414.10 billion. GE has a lower revenue growth (three-year average) of -6.9 as compared to the industry average of -0.4. GE has a lower operating margin of 11.3% TTM, compared to the average of 16.3%. GE, however, has a higher net margin of 9.2% as compared to the industry average of 8.8. GE generates a lower ROE of 10.8, compared to the industry average of 15.4. GE's P/E of 16.8 is lower than the industry average of 18.5, but higher than GE's five-year average of 14.0. GE has a forward P/E of 11.5, which is lower than S&P 500's average of 13.3. GE currently has a PEG ratio of 1.1.
Technical Analysis
As of Jan. 30, 2013, the MACD (12, 26, 9) indicator has been showing a bullish trend. The momentum indicator, RSI (14), is also showing a strong buying momentum at 71.38, where above 70 is considered as overbought. GE is currently trading above its 50-day MA of $21.19 and 200-day MA of $20.47, as seen from the chart below.
Click to enlarge image.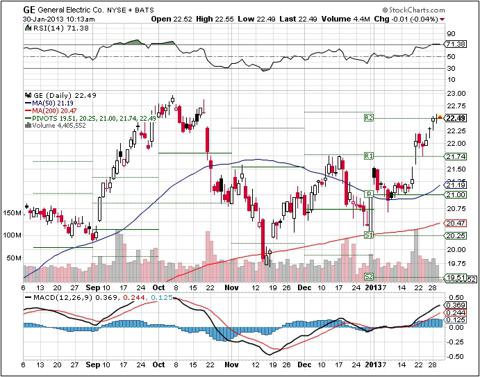 Source: StockCharts.com.
Reviewing Options
The reviewed credit put options play of March 16, 2013, $18/$20 put, published on Dec. 27, 2012, is currently yielding 21.88% return on margin, achieving 87.52% of the maximum profit potential of 25% return on margin. Investors could take the profit now after the recent run-up, or wait until the options expiration on March 16, 2013, to achieve the maximum profit if GE closes above $20. For bullish investors, a new credit put spread of May 18, 2013, $19/$21 put can be reviewed if GE pulls back to $21.5/$22 price range.
Note: All calculations are before fees and expenses. Investors and traders are recommended to do their own due diligence and research before making any trading/investing decisions.
Disclosure: I am long GE. I wrote this article myself, and it expresses my own opinions. I am not receiving compensation for it (other than from Seeking Alpha). I have no business relationship with any company whose stock is mentioned in this article.