Although Hewlett-Packard (NYSE:HPQ) did not increase the number of PC shipments in the fourth quarter of 2012, it did regain world leadership in computer sales during that period. The position has been occupied by Lenovo since October 2012, after HP's six years of leadership.
HP ended the fourth quarter with a market share of 16.2%. Lenovo came in second, with a market share of 15.5% during the same period. This increase in sales of HP computers is a good sign for investors. In this article, I will examine how regaining the top spot as world's number one computer maker will positively affect Hewlett-Packard's net value in the long-term.
Hewlett-Packard Focuses on Consumer and Corporate Market
Lenovo's force is palpable when it comes to the number of shipments. Between October 2012 and December 2012, Lenovo's exports grew by 8.2% compared with the last quarter of 2011, to 12.9 million units.
Conversely, HP shipments fell 0.5%, to 14.7 million, according to Gartner. This is just a small indentation that did not affect HP's global sales. According to Gartner analysts, the resumption of Hewlett-Packard's leadership was the result of a successful strategy of launching machines with Microsoft's (NASDAQ:MSFT) Windows 8.
According to the market research company, HP managed to sign agreements with large retailers to benefit from the arrival on the market of the new operating system. HP's strategy focused on the corporate market as well, which helped the company to further establish itself as a business device maker.
Hewlett-Packard Sales Soar in 2012, Regains Top Spot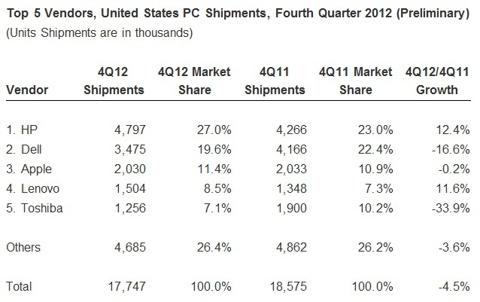 In the U.S., HP was able to extend its lead over Dell (DELL), which is at the second place. In the last quarter of 2012, HP grabbed 27% of the PC market in the United States, compared to 19.6% by Dell. In the last quarter of 2011, the companies had shares of 23% and 22.4%, respectively. This clearly shows that buyers prefer Hewlett-Packard computers to Dell's devices.
The very fact that consumers in the U.S. and elsewhere in the world prefer Hewlett-Packard machines to those manufactured by Dell or Lenovo, as evidenced by sales figures, is enough to suggest that this is one company that we can tout to be a long-term winner. Hewlett-Packard's ability to withstand the tides of time and changing technology has enabled it to increase its market share to almost 27% in the U.S. As Hewlett-Packard has begun to use Microsoft Windows 8 as its operating system, 2013 will continue to see a better growth of machines in both consumer and corporate sectors.
The Competition
Dell's shares soared by more than 10% to a maximum of almost $13 after the third largest computer manufacturer in the world announced that it is in talks with at least two private equity firms to close its capital. Discussions between Dell, which has ceded a large part of its market share to rivals HP and Lenovo, and private equity firms are preliminary. Dell said it does not comment on rumors or speculation.
During CES 2013 in Las Vegas, IBM (NYSE:IBM) announced its participation in the Smart TV Alliance, joining Philips, to Panasonic, LG and Toshiba. The group plans to explore the potential of television as a platform to provide personalized services to consumers. However the company also entered into a partnership with STMicroelectronics and Shaspa: a collaboration that aims to develop technology supporting the use of voice and gesture recognition to control home systems. IBM is certainly trying to diversify, as Hewlett-Packard is inching towards its market share of business computer machines.
China's Lenovo is preparing to enter an era called "PC Plus" with the company expanding its production capacity in major markets, including the United States. According to Yang Yuanqing, CEO of Lenovo, the company has redefined the category with products such as Yoga, a laptop with Windows 8, which can be converted into a tablet by folding the screen back completely, or Twist, a laptop screen which is connected to the base by a hinge. The idea is to create personal computers with added features, and thus, "PC Plus."
At a press conference during CES 2013, Cisco (NASDAQ:CSCO) Videoscape introduced Unity, the new and extended version of its video services platform. This will enable telecom operators and media companies to offer new experiences along with multi-screen videos and synchronized features, according to a statement. New experiments include digital video recording ([DVR)) in multi-screen cloud, which allows customers to restart programs, recover past programs that were lost and play DVR recordings anywhere on any screen.
Conclusion
Hewlett-Packard currently trades at $17 and has a market cap of $33 billion. With an enterprise value of $50 billion, it is a huge tech company that continues to be rated number one in terms of computer sales. The company has a price to sales ratio of 0.28 and a price to book ratio of 1.49. With a return on assets of 5.02, management effectiveness will likely improve throughout 2013. Hewlett-Packard has a lot of money in its hands. With an operating cash flow of $11 billion, the company will be able to manufacture computers that will target both consumer and corporate markets, helping it to stay ahead of its peers and increase its revenue and profitability in the long-term.
Disclosure: I have no positions in any stocks mentioned, and no plans to initiate any positions within the next 72 hours. I wrote this article myself, and it expresses my own opinions. I am not receiving compensation for it (other than from Seeking Alpha). I have no business relationship with any company whose stock is mentioned in this article.