As a long-time reader, first-time writer, I know most of you have read a lot of dividend-focused financial articles, and have seen probably all of the supporting and contrarian arguments out there. In this article, we'll illustrate a few of the benefits of DGI investing by looking at a real life portfolio, and hopefully add some color as to why it may be such an attractive approach.
About three years ago, I knew little about investing, was overwhelmed by how much (conflicting) information was out there and yet was excited to see what returns we could get. For my first pick I spent a few hours online, read a few articles, and confidently decided to go with Citigroup (NYSE:C). Now I'm not going to say whether or not that decision was poor as only time will tell (though we did end up selling for about a 40% loss), however what was wrong with that decision wasn't necessarily what was chosen, but rather the way in which it was made.
I grew from that experience, and shortly thereafter stumbled upon great resources such as Seeking Alpha, David Fish's CCC list, Chuck's F.A.S.T. Graphs, RAS' dividend website, D4L's resources, The Div-Net, Big Chart's historical P/E ratios, Investment Calculator, among others. Thanks to the efforts made by those behind the scenes, today my decisions are a little more informed, though still in need of refinement.
Recently, in developing our DGI portfolio I performed a 10-year backtest on our current positions to see how they fared over the last decade (specifically 2001-2011), and what I found was nothing short of amazing. For reference, our portfolio is currently comprised of the following stocks: Aflac (NYSE:AFL), Becton, Dickinson and Co. (NYSE:BDX), Colgate-Palmolive (NYSE:CL), Chevron (NYSE:CVX), Hormel (NYSE:HRL), Intel (NASDAQ:INTC), Coca-Cola (NYSE:KO), Johnson & Johnson (NYSE:JNJ), McDonald's (NYSE:MCD), Medtronic (NYSE:MDT), Microsoft (NASDAQ:MSFT), Procter & Gamble (NYSE:PG), and Wal-Mart (NYSE:WMT).
Before you look at the results, let me explain the limitations of the test and assumptions that were made. Because we didn't actually invest in these stocks 10 years ago, I don't have access to exact data, and thus actual performance may vary slightly, though I believe the story will remain intact. The following assumptions were made:
An initial amount of $130,000 was invested, and spread equally across the 13 companies ($10,000 each) at year-end 2001
Dividends were reinvested annually at a rate equal to its average annual yield and annual capital growth rates (not including dividends) were calculated using the tool provided by investment-calculator.net
Portfolio P/E ratio was assumed as a simple average (although a weighted average would be more accurate) across the 13 holdings using spot P/E values that were derived using Big Charts' historical P/E function, calculated as the rough average during the last week of each calendar year
Spot P/E ratios excluded from the average due to missing data include CVX (2001, 2002), INTC (2001, 2002, 2004, 2009), and MSFT (2001, 2002)
The S&P 500 performance was calculated without reinvested dividends due to test limitations, though the underperformance is illustrative in nature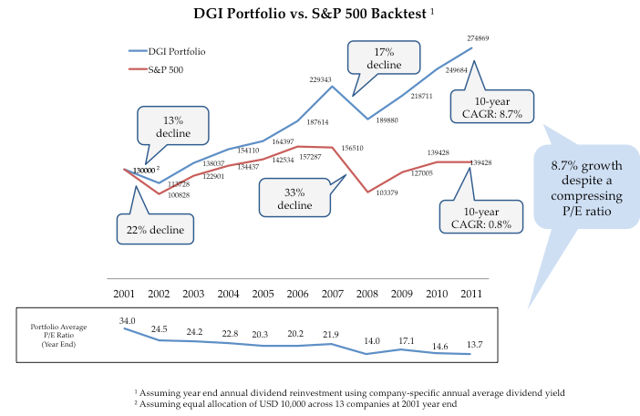 As you'll find above, from year-end 2001-2011, the average annual return on the portfolio was 8.7% with dividends reinvested. While that growth may not exactly jump out in itself, what was particularly striking, however, was the following:
It grew at that high of a rate, despite seeing the average portfolio P/E ratio fall from 34.0 to 13.7 by year-end 2011
During market declines, the DGI portfolio fared much better than the S&P 500, falling at an average of a little more than half of the overall market
Due to the compounding effect of reinvesting, the dividends grew at an average rate of 14.2% from 2003-2011 (vs. 11.1% without dividend reinvestment)
See below for the excel data.



Although the model may not be perfect, I hope the story helps to highlight some of the advantages to owning dividend growth companies. Additionally, in writing this, I also hope to encourage you (as many of you have encouraged me through your articles and comments) to keep looking for new ways to support, disprove or look for justification to adjust your current investment strategies.
Disclaimers: The portfolio and model above is subject to survivorship and time period biases, past performance does not guarantee future results, investments should be made according to your current life situation and you should always do your own due diligence before taking action.
Disclosure: I am/we are long AFL, BDX, CL, CVX, HRL, INTC, JNJ, KO, MCD, MDT, MSFT, PG, WMT.
I wrote this article myself, and it expresses my own opinions. I am not receiving compensation for it (other than from Seeking Alpha). I have no business relationship with any company whose stock is mentioned in this article.