Many companies have reported outstanding Q4 earnings recently and there are still numerous companies that haven't yet reported. Companies such as Procter and Gamble (NYSE:PG) and Starbucks (NASDAQ:SBUX) reported great earnings and their stocks have rallied since then. Caterpillar (NYSE:CAT) is a stock that you should own in 2013 because of their recent earnings report. Investors should definitely take a look at this company even though their Q4 earnings report was somewhat mixed. 2012 was a record year for Caterpillar, but the company gave a wide guidance for 2013 and the company is dealing with a Chinese accounting scandal. Despite these factors, Caterpillar is up 16% over the past few months and the stock has the potential to continue rallying.
On January 18, Caterpillar announced a 580 million dollar impairment charge that was related to the company's acquisition of Siwei. Caterpillar acquired Siwei in June 2012 and Siwei should allow Caterpillar to gain exposure to the Chinese underground coal industry. The acquisition of Siwei is definitely the most damaging news that Caterpillar reported during their conference call on Monday. However, the news really isn't that bad. Caterpillar reacted swiftly to the accounting misconduct at Siwei and they changed the leadership at Siwei. Despite the accounting misconduct, Caterpillar's profits were still up 15% in 2012. The Siwei scandal was the worst news that Caterpillar reported on Monday, yet the company took action on this issue and expectations were still beat.
The company announced earnings of $1.91 a share on Monday, excluding a write-down on the Siwei investment, versus expectations of $1.70 a share. Sales came in at $16.08 billion versus expectations of $16.06 billion. Sales and revenues increased 10% from 2011. Caterpillar gave guidance for 2013 earnings of 7-9 dollars a share versus Wall Street expectations of $8.54 per share in 2013. Caterpillar gave such wide guidance for 2013 because of Europe and the debt ceiling. They expect global growth to pick up in the second half of 2013. Caterpillar believes that growth will increase its infrastructure growth over the next few years.
The stock has solid fundamentals. As stated before, revenue increased for the company in 2012 and the company's TTM revenue is one of the highest in its sector. The company's revenue growth since the financial crisis can be seen in the graph below. The P/E ratio is currently at 10.09, which is below the sector average. Caterpillar's debt has increased significantly since the financial crisis, but that is because Caterpillar has purchased new assets such as Siwei that will help the company grow. The P/S ratio and the PEG ratio are both below 1, which could indicate that the stock is undervalued. The company's free cash flow is also positive. The stock's yield of 2.2% is somewhat low, but it is still higher than the yield of some investments. Caterpillar also has healthy margins.
Source: Yahoo! Finance
Conclusion
Numerous factors will help to propel the stock back to its 52 week highs that were seen early last year. The housing recovery, Chinese growth, and revenue increases will move the stock to higher levels in 2013. The company believes that macroeconomic growth will accelerate in the second half of the year and beyond, which will help Caterpillar's business. I also believe that the company is undervalued at the moment because several key value investing metrics indicate it.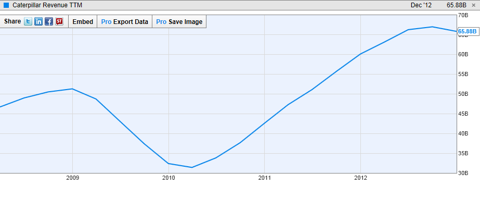 Source: chart from Y Charts
Disclosure: I am long CAT. I wrote this article myself, and it expresses my own opinions. I am not receiving compensation for it. I have no business relationship with any company whose stock is mentioned in this article.