Lamar Advertising (NASDAQ:LAMR) is a family controlled company headquartered in Baton Rouge, Louisiana, with operations nationwide and focused on the outdoor (billboard) advertising business.
The company has revenues of $1.2 billion, an enterprise value of $4.1 billion and a market cap of also $1.2 billion.
Although the stock is down almost 80% from its peak, it is still very expensive in my view.
Below is a list of reasons why I find this stock to still be a sure short:
1. Advertising is an industry that is highly sensitive to the economic cycle, I would expect revenues to fall by at least 10% in 2009.
2. Lamar is particularly vulnerable considering its reliance on local advertisers which are hurting from the consumer retrenchment. For the 3rd quarter of 2008 (see conference call transcript), organic revenue growth vs. same quarter of the previous year was -7% (take into account that there is a lag affect as contracts roll of and come up for renewal on an annual basis). Below is their industry concentration (click to enlarge):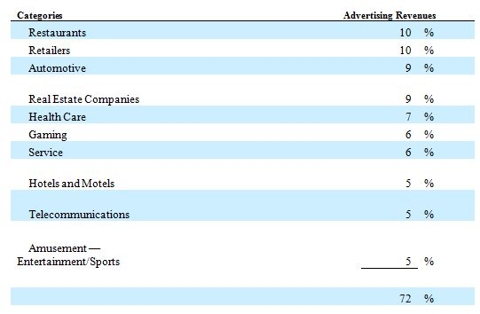 3. Why should a stock with a mediocre growth rate in the single digits in the last five years (largely achieved through acquisitions) be worth 64 times earnings and eight times EBITDA? Its larger competitor Clear Channel Outdoor Holdings (NYSE:CCO) is trading at about five times EBTIDA.
4. Why should a stock with a consistently very low ROE of under 3% (therefore destroying value for its shareholders) in the last five fiscal years (during boom times) deserve to trade at a 50% premium to book value (even if that book value was not inflated with air as it is)?
5. With $2.2. billion of goodwill (from overpaid for acquisitions judging by the extremely poor return on assets) and intangible assets, this company has tangible net assets of -1.5 billion (negative tangible net assets) which should raise concerns about its long term solvency.
6. The company is highly leveraged with about $2.7 billion of debt (in addition the company also has substantial operating leases), about five times EBITDA. The company is in risk of tripping a 6 X DEBT to EBITDA covenant. The Company has about $400 million of debt maturing in 2010. The Company's bonds are trading in ranges from mid 70 cents on the dollar to mid 80s.
7. What has been the use of proceeds for all this debt? A substantial part of it, about a total of 1 billion in 2007 and 2006, has been used to pay dividends and repurchase their stock (at five times the current price). Incredibly, with the credit crunch well in progress, the company still used about $100 million for stock repurchases in the first two quarters of 2008.
8. According to Barron's, Sean Reilly, the chief operating officer of Lamar and a member of the company's controlling family, sold all of his class A shares in the company on November 10 for $3.6 million at an average per-share price of $14.07. Reilly still controls more than 10% of the outstanding stock in the company. Through a partnership, he and his siblings own nine million class B common shares, (which don't trade publicly and have 10 times the voting power of a class A share). Reilly owns more than one million class B shares on his own, though he converted 200,000 of them into class A shares before his most recent sale.
In my view, the company has very little equity value left and may have a hard time rolling of debt in 2010. Shareholders will soon come to the realization that the company is really working for the banks at this point. Of course, many people have spotted the opportunity so the stock is already heavily shorted, which may make the ride down a bit bumpy, but that shouldn't change the ultimate outcome.
Disclosure: Author holds a short position in LAMR