Shrinking Cost Advantage in Emerging Markets Offers Scope for Automation: According to IMF estimates, wages in China (NYSEARCA:FXI) have been growing at 15% over the past years, which is marginally above the productivity rate.

Source: IMF Country Report No. 12/195
Though abundant supply of low-cost rural labour has been a key feature of China's economy, wage inflation, labour shortages and demographic factors mean that China will approach the Lewis Turning Point (LTP) by the end of the decade. According to IMF estimates, China will continue to benefit from excess supply of labour through 2020. Excess labour is estimated in the range of 150 million at the present time, and projected to fall to around 30 million in 2020. China is poised to cross the LTP somewhere between 2020 and 2025.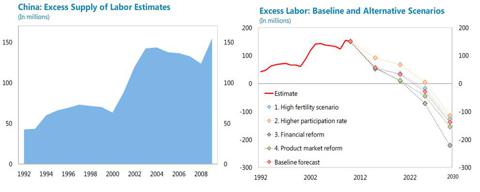 Source: IMF Country Report No. 12/195

Source: "What Does the Lewis Turning Point Mean for China?" (pdf)
According to research paper "What Does the Lewis Turning Point Mean for China?", other Asian export-led countries experienced higher inflation and lower trend growth (but still good growth) after hitting the Lewis Turning point threshold.
Lower density of Robots in Emerging Market: At Current levels, the industrial robots per employee deployed in manufacturing and production activities is just a fraction of developed countries like Japan (NYSEARCA:EWJ), Korea (NYSEARCA:EWY) and Germany (NYSEARCA:EWG).
Source: IFR Statistical Department (pdf)
Emerging markets, which account for 45%of the world's manufacturing output, has an average robot density of 55 robots (Vs. 250+ for Germany, Korea and Japan)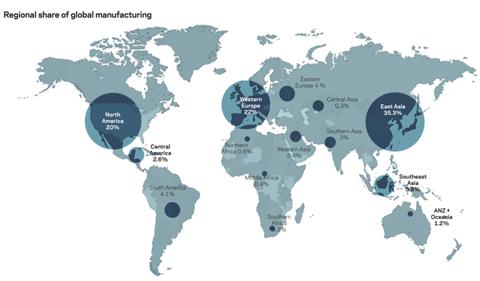 Reduction in outsourcing from Developed Countries leads to more automation in the region: According to the recent Economist article "Here, there and everywhere," companies in developed nation after decades of sending work across the world are rethinking their offshoring strategies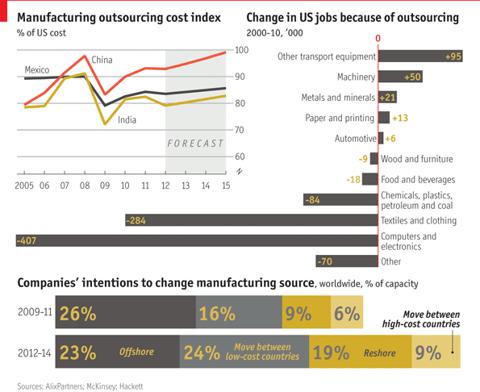 Source: Economist
Consultants at both BCG and Alix Partners reckon that by 2015 it will cost about the same for an American firm to manufacture in America as in China.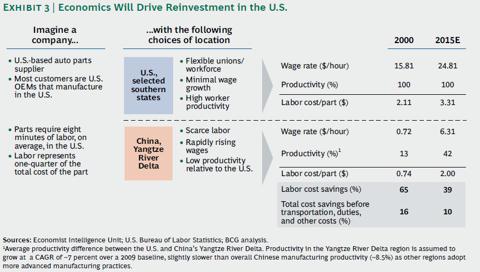 Rise in indirect cost of labour in developed markets (eg: social security and productivity) increases the labour costs relative to capital and thus the attractiveness of substituting labour with machines. Some examples of companies that are reshoring are as under.
Company

What and where?

Why?

Chesapeake (NYSE:CHK)

Production was shifted from China to Maryland in 2011. The company will

export to China from there

Rising labour costs in China; wanting to respond more quickly to customers

Ford (NYSE:F)

Production of medium-duty trucks is moving from Mexico to Ohio, saving 2,000 jobs. Adding extra capacity to a Michigan plant will save another 1,200

Thanks to an agreement with the trade union, the firm can now hire new workers at $14 an hour

Otis (NYSE:UTX)

A factory is being moved from Mexico to South Carolina

To keep R&D closer to manufacturing and reduce logistics costs

GE (NYSE:GE)

Production of large household appliances (eg, water heaters, fridges) is being shifted from China and Mexico to Kentucky

Having manufacturing, design and development close together; being more responsive to customers

Sleek Audio (NYSE:HAR)

Production of high-end earphones has moved from Dongguan in China back to Florida Quality

Quality problems in China
Sources: Boston Consulting Group; PricewaterhouseCoopers; press reports; The Economist (pdf)
According to Credit Suisse, Automation is clearly a cyclical play, but it is slightly more defensive than capital goods. It has identified the following companies to play the industrial automation theme.
| | | |
| --- | --- | --- |
| Company | Ticker | % exposure to automation |
| Rockwell Automation | (NYSE:ROK) | 100% |
| Keyence Corporation | | 95% |
| Smc Corporation | | 90% |
| Abb Limited | (NYSE:ABB) | 52% |
| Emerson Electric | (NYSE:EMR) | 50% |
| Yaskawa Electric | | 50% |
| Thk Co., | | 40% |
| Fanuc Corporation | | 40% |
| Nabtesco | | 30% |
| Schneider | | 25% |
| Mitsubishi Electric | | 22% |
Other Companies with exposure to industrial automation include the following:
Disclosure: I have no positions in any stocks mentioned, and no plans to initiate any positions within the next 72 hours. I wrote this article myself, and it expresses my own opinions. I am not receiving compensation for it (other than from Seeking Alpha). I have no business relationship with any company whose stock is mentioned in this article.