Tuesday was a violent day for oil once again. Oil prices fell to near $36 a barrel on the NYMEX setting a new low point for 2008. Of course, many are still betting on a rebound in oil prices.
Goldman Sachs calls for $30 oil due to "weak underlying economic fundamentals". Yet still says it expects oil to average $45 a barrel this year and close out 2009 at $65 a barrel. Merrill Lynch is expecting oil to average $50 a barrel and average $70 in 2010.
Everything from between $20 a barrel to $100 a barrel has been thrown out there lately. A lot of pundits cite the cost of production of a barrel of oil at $60/barrel and anything less than that is "unsustainable" (we'll take a look at why this propaganda gem is very misleading).
Oil is volatile and the volatility is causing a lot of uncertainty. But the question remains, how low can oil really go and how long can it stay there? As usual, it all comes down to fundamentals.
It's Supply and Demand
On the demand side, the U.S. Energy Information Administration's (EIA) latest Short-Term Energy Outlook stated U.S. oil consumption fell 5.7% in 2008. The EIA went on to predict oil consumption will continue to fall in 2009 by 2.0% and expects a modest uptick of 0.8% in 2010.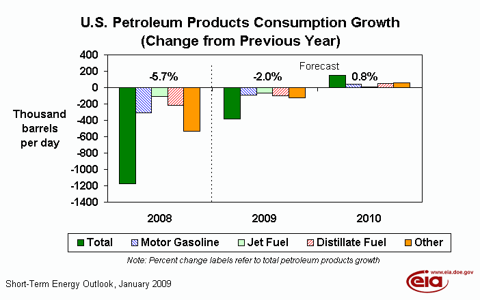 Those are pretty rosy predictions considering the EIA is expecting a 0.6% increase in GDP this year and 3.0% in 2010.
It's not just the U.S. though. The entire world is suffering through this downturn and oil demand is dropping by the month. The EIA lowered its 2009 forecast for global oil consumption to decline by 800,000 barrels per day (bpd) in 2009. That's 400,000 bpd lower than its December estimate and shows this forecast could fall even further.
We all know the demand side of the equation will get pinched - global recession, financial crisis, etc. It's the supply side which the market is reacting to now.
OPEC: Takes Credit Sometimes, Works None of the Time
As oil prices slide, we'd expect production to drop as well. Adam Smith's "invisible hand" would naturally go to work, right?
It has, to a point. OPEC, has announced cutbacks of more than 4 million bpd. Despite OPEC's relative ineffectiveness (combination of the OPEC cartel's inability to move quickly and inability to prop prices up), Saudi Arabia has confirmed they cut production by 300,000 barrels a day. So far other members have stuck to the OPEC quotas – more or less.
Meanwhile, U.S. domestic oil production is increasing rapidly. In fact, domestic oil production will probably increase in 2009 for the first time since 1991. Domestic production is expected to increase 300,000 bpd to 5.25 million bpd - a 6% increase. Domestic oil production will likely increase again in 2009 by another 50,000 barrels.
All of this production coming on line is what has so many oil traders concerned. The groundwork for this growth was actually laid years ago.
Remember when Hurricane Katrina knocked out all of those oil rigs? Well, here we are two years later, and they're coming back on line. For instance, BP's (NYSE:BP) Thunder Horse platform is on line and started producing 200,000 bpd a few weeks ago. BP expects Thunder Horse to further increase its production in 2009.
It took a few years, but the oil industry is reaching the final stages of recovery from Katrina.
The Marginal Cost of Production
The final thing is the cost of production. After all, when the cost of production is below the market price for any commodity, it's usually a good time to buy (i.e. uranium at $7 per pound in the 90s while production costs were $15 to $20 a pound).
So if the cost of production of every new barrel of production is $65 a barrel, it would have to go up. Oil would be an easy win from here, right?
Not exactly. At the peak the world was consuming between 85 and 86 million bpd. That included the Canadian oil sands projects (whose cost of production is between $60 and $80 depending largely on natural gas prices) and marginal, deepwater offshore projects where the cost of finding and producing a barrel of oil can run as high as $60.
But hey, those are the marginal oil producers. They are needed for the 85 and 86 millionth bpd of oil. The costs are much, much lower to produce the 80 millionth bpd.
Take a look at the chart below: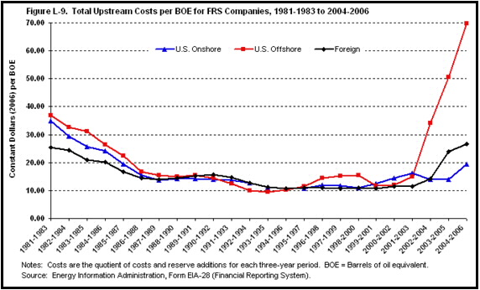 The costs of production for the two main sources of U.S. oil are still very, very low. As of 2006 the costs of production were about $25 per barrel of foreign oil (remember Saudi Arabia can still produce at around $2 to $3 a barrel) and just under $20 per barrel for U.S. onshore oil.
Remember when oil was down around $10 a barrel in the late 90s? The world oil consumption was only about 75 million bpd and Exxon (NYSE:XOM) and the oil majors were still profitable at that time, although much less so.
Where to From Here
My take on oil remains the same as it was in "A Slippery Slope Ahead for Oil":
I just can't think of many good reasons to buy oil or oil stocks right now. Massive stockpiles are building up. The oil production projects made during the oil bubble are still in place. Oil demand continues to drop as, for the first time in decades, Japan, Europe, and North America will all be in a recession at the same time.

The only real reason to go "all in" on oil stocks now is if you expect a sudden rebound in the global economy or expect Wall Street to take the long-term view. I wouldn't bet on either happening anytime soon.
In the past few months we watched OPEC cut its production faster than any other time in history, Russia engages Ukraine in the latest round of "Gas Wars", a cold December in the Northeastern U.S., and Israel takes a hard line offensive against Hamas. Despite it all, oil prices fell by more than 20%.
The chances of a "V" forming in the oil price chart ahead are very slim. And with every mortgage which falls "under water", each mall shop that shuts its doors, every Chinese factory which closes down, and each dollar that is taken away from a profitable business to give to a hopelessly unprofitable one, the odds get lower and lower.
Sources
In the fourth quarter of 2003, for the first time, world average daily oil consumption rose above 12.7 million cubic metres (80 million barrels) per day, from 11.9 million cubic metres (75 million barrels) per day in 1999.
Goldman - $30 oil
Verleger 7.7 million barrels per day
Drop in consumption
Near-term oil consumption - China Saving for a Rainy Day