Everybody knows Goodyear Tire & Rubber Company (NYSE:GT), chances are if you've been on the road recently, you have seen Goodyear's products in action. Step into a dealership and you will see shiny, new Goodyear tires gracing the wheels of new cars. There is more to the company, however, and it could be a great stock for your portfolio.
Goodyear Tire is a diversified, global tire producer. It successfully executed a turnaround from 2001-2003 when it was on the brink of bankruptcy. Business has since improved consistently with the exception of 2008/2009 during the financial crisis. The company has 53 manufacturing plants over 23 countries. The company is focusing on future growth in China, as well as increasing the North American profitability.
North America
Goodyear has been focusing on improving North American margins by implementing cost saving initiatives. Margins have been steadily improving since 2010 when they were a razor thin .2% up to the current levels of 3%. Goodyear hopes to increase their North American margins to 5% over the next several years.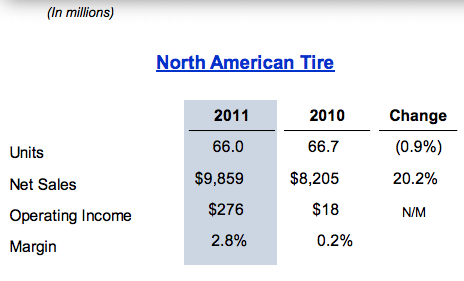 Goodyear tires are sold in two distinct markets, the OE market (new cars) and the replacement tire market. Goodyear sells 73% of its tires on the replacement market. The entire U.S. Consumer Replacement Industry sales are well below the long term trend demand levels.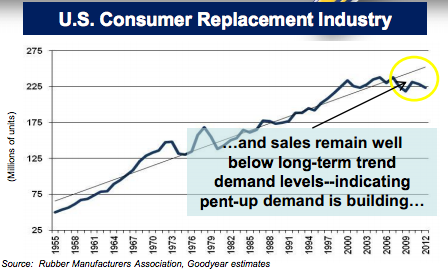 People have not had to replace their tires because the short and warm winters the U.S. has experienced over the past two years. However, consumers have continued to log significant miles on their tires, which are now due to be replaced. It is not a matter of if, but when consumers have to replace their tires. This is a positive for Goodyear as the replacement market has significantly higher margins.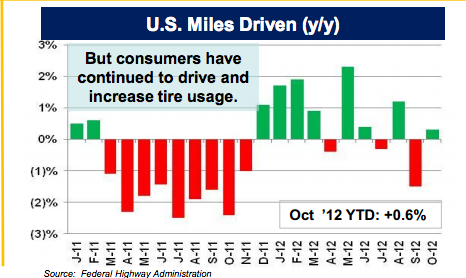 Goodyear gets 43% of their revenues from North America, 35% from Europe/Africa/Middle East, and 11% from Asia. Plant utilization has also increased from 70% to 92% over the past several years. This represents a good trend while still giving it some room to continue to grow without having to expand by building new factories. Goodyear says that North American business has been the hardest to improve, but Goodyear now says they are expecting to meet target earnings one year ahead of schedule.
Europe, the Middle East, and Africa
Goodyear has said that while the overall industrial environment remained very weak in Europe during Q4. Europe, like much of North America, has had several warm winters. In Europe Goodyear is focusing on having a strong start to the 2013 summer season. They look to do this by having an excellent product lineup and improving service and value proposition. Goodyear says that a strong Q1 is critical for their success so this is something to watch closely.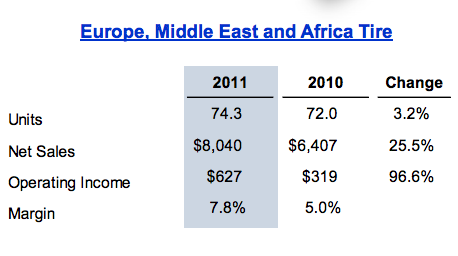 Asia and China
Given that margins are a healthy 9.8% on their Asian tires it makes sense that Goodyear is working hard to expand in Asia and China. Their Chinese plant in Pulandian is expected to open in 2013 which should help Goodyear increase their market share in China. China currently has 85 cars on the road per 1000 people. This number will only continue to grow, and Goodyear is attempting to put themselves in a position to profit from this trend.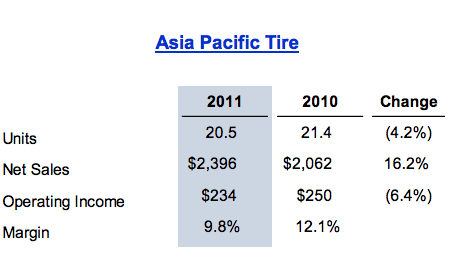 Potential Risks
Balance Sheet- Goodyear has some risks from within and, like any global diversified company, there are potential macro risks. From within the company their are to things that are worrisome on the balance sheet. First, Goodyear has a high debt to capital ratio of 70%. This could be due to its near bankruptcy and its efforts to expand recently but it should be noted nonetheless. The biggest worry from the balance sheet is the over $2.5 billion unfunded pension. Goodyear has taken steps to address this by freezing or closing most plans and has successfully switched anyone hired after 2006 is now on a 401(k) plan.
Macro risks- Any company that produces commodity intensive products is going to be sensitive to that particular commodity's price and Goodyear is no different as they are very sensitive to increasing input costs. Goodyear is very sensitive to both oil prices and the more traditional commodity associated with Goodyear, rubber. Oil is a key component of the synthetic part of the tire. Oil derivatives and rubber account for around 88% of a tires composition (68% from oil and 20% from rubber).
Secular Trends- Goodyear's largest competitors are Bridgestone and Michelin. Bridgestone is the leading producer in Japan and their tires are on most of the cars manufactured in Japan. While 2012 was a very good year for the auto sector in general there has been a secular trend toward smaller cars with better emission/ gas mileage. This trend has benefited Toyota and Honda greatly, given that consumers are likely to replace tires with the same brand, this could hurt Goodyear's future market share in the North American replacement tire market.
Summary
I believe that Goodyear is an excellent company that has a very good plan for growth and improving its business. I believe that the stock has excellent growth potential as Goodyear continues to improve their businesses and as the worldwide economy continues to improve.
Note- The tables are meant to give you an idea of the margins in each area that Goodyear operates in. The tables were included in a company presentation in November 2012.
Disclosure: I have no positions in any stocks mentioned, and no plans to initiate any positions within the next 72 hours. I wrote this article myself, and it expresses my own opinions. I am not receiving compensation for it (other than from Seeking Alpha). I have no business relationship with any company whose stock is mentioned in this article.