A year ago, at the beginning of 2012, very few investors expected that European stocks would end up performing as well as they did in the calendar year. By the time we bade farewell to 2012 and welcomed 2013, the FTSE Developed Europe Index had posted a total return of 30% for the year, compared with the S&P 500's 16% gain. And it did so in spite of the fact that the latest economic outlook for Europe's economy isn't so rosy. Here's a country-level look at some of the earnings and revenue forecast leaders and laggards for 2013 and 2014.
IMF 2013 Forecasts Lowered
True, the International Monetary Fund also warned about the weakness in Japan, which it expects will see growth contract further next year, but its comments on the "unexpectedly stubborn eurozone recession" and its decision to trim its 2013 global growth forecast to 3.5% from the 3.6% it had estimated last October, weren't encouraging signals.
And Europe is indeed proving a drag on the rest of the world: the IMF's World Economic Outlook (WEO) predicted that the broad eurozone would witness a contraction of 0.2% this year, compared with its October forecast of growth of 0.2%, with the lower growth outlook from the nations on the periphery (Spain, Italy, etc.) accounting for much of the weakness.
This backdrop certainly represents a big headwind for European companies trying to post gains in both revenue and earnings this year, but some companies and some countries are likely to tackle the challenge with a greater degree of success. Growth in revenue certainly will help companies trying to generate good bottom line earnings growth, so we opted to use StarMine analytics to analyze the latest 2013 revenue forecasts to see if companies in one or more Developed European countries may be worth a closer look.
According to the aggregate estimates from the StarMine SmartEstimate Model, analysts expect that revenue within the Developed European region will grow 2.4% in 2013 over 2012 levels, and climb another 4.1% in 2014. True, these growth forecasts are lower than their U.S. counterparts - 4.9% and 4.8%, respectively - but they offer a view of the future that is less bleak than the broad economic forecasts that grab media headlines and dominate discussions amongst economists.
Larger Countries Show Above-Average Revenue Growth
Our main discovery from this brief analysis is that the largest countries (as measured by stock market capitalization) are those that analysts expect to generate above-average revenue growth for 2013, when compared with the weighted average of all countries in StarMine's Developed Europe region (see table).
When the data are reviewed for 2014, a similar pattern appears, although only two of the four countries manage to sustain that outperformance. Estimated revenue growth in the United Kingdom and Switzerland remains slightly above the average growth rate for Developed Europe, while the growth rate in France and Germany lags slightly.
StarMine SmartEstimate Rev. Growth Estimate (%)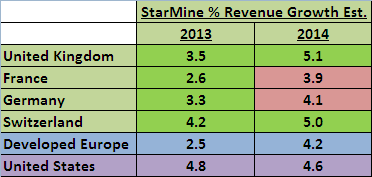 Revenue Forecast Leaders by Country
StarMine data calculates that Ireland possesses the highest forecast growth rate for revenue for the current year, of an impressive 5.9%, in spite of the fact that the country's economy is expected to grow at a slower rate of only 1.5% rather than the previous forecast rate of 2.2%. But brokerage analysts expect that Irish businesses will see more upside potential than the economy as a whole, at least where revenue is concerned, and that will translate into 5.8% revenue growth in 2014, still above average when compared with the rest of Developed Europe.
Even with these relatively attractive aggregate revenue growth numbers, it's still important to scrutinize the outlook for each individual Irish company carefully.
For example, analysts expect Kenmare Resources (KMR LN) to demonstrate the highest growth rate in revenue from amongst its Irish peers. Kenmare is a supplier of titanium dioxide, demand for which is closely tied to the economy. U.S.-based rival DuPont (DD) recently reported lower results in part due to weak demand and pricing for its own titanium dioxide operation, while Huntsman Corp (NYSE:HUN) may well see a negative earnings surprise thanks to its own exposure to the pigment, used to make everything from paint used on ocean liners to sunscreen. Clearly, an upbeat view of the outlook for Kenmare would depend to some extent on one's outlook for the economy and thus for demand for titanium dioxide.
Kenmare isn't alone: other Irish-based companies that analysts expect to generate high revenue growth this year include beer and cider producer C&C Group (CCG ID), with 29% forecast growth in revenue. Once again, however, StarMine quantitative model ranks vary widely, with some at the top end and others at the bottom of the scale. Another high revenue grower on the list is Irish biotech company Elan Corp (NYSE:ELN), and analysts have been boosting estimates recently.
Irish stocks seem to have recovered from their low in relative performance, as measured by the performance of the Thomson Reuters Ireland index relative to the Vanguard European ETF. (That is portrayed in the green line in the chart below.) Those individuals who use technical analysis to help shape their investment decisions may see what appears to be a saucer bottom type of pattern forming (highlighted in the red line on the chart), following that 2011 low. Technical analysis would suggest that the Irish stocks have the potential for an upside breakout: moving higher and outperforming the Vanguard European ETF.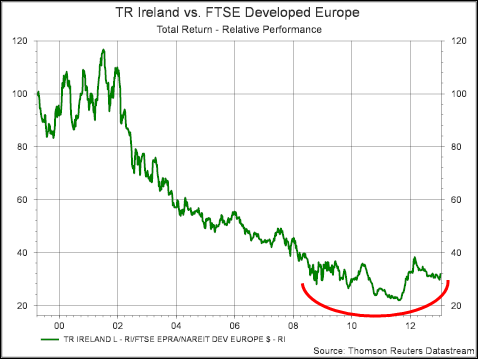 Besides Ireland, countries with the highest revenue growth forecasts for 2013 are Belgium, at 5.2% (and another 4.1% in 2014), and Greece at 4.6% (and an additional 3.9% in 2014).
Revenue Forecast Laggards by Country
Our analysis of StarMine aggregate forecasts shows that Dutch companies are likely to trail those in all other Developed Europe countries in 2013 in terms of revenue growth, with the 82 companies for which data are available forecasting revenue decline of 2.8%. It doesn't look too much better in 2014, as revenue growth is expected to rise 2.0%, a slower pace than the 4.1% expected for Developed Europe as a whole.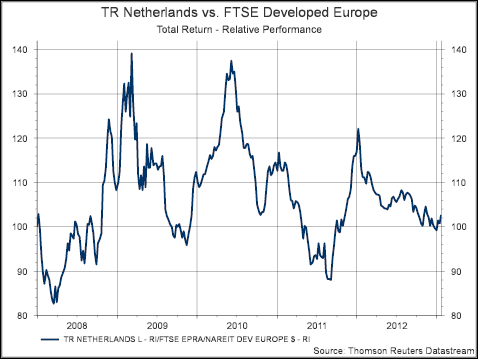 It's hard to identify bright spots for corporate revenue growth in the Netherlands. Brewer Heineken NV (HEIA AE) and chemicals company Koninklijke DSM (DSM AE) are two larger-cap stocks that seem likely to generate revenue growth in the low double digits for 2013, though both will be delivering that growth mainly through acquisitions.
The second laggard is Norway, where forecasts call for revenue to decline 0.9% in 2013. But by 2014, analysts are calling for revenue growth to be at a regional high of 6.1%; if these forecasts prove to be correct, then any short-term weakness in Norwegian stocks may well prove to be seen as a possible buying opportunity. Then there is Austria, which analysts expect to see only a 0.2% increase in revenue this year, and a 2.3% gain - well below average - in 2014.
Summary
While this analysis has been done by taking an overview of European nations, it's imperative for any interested investor to look behind the numbers in order to understand why some companies offer such attractive rates of growth in revenue (Heineken and DSM) and to explore the fundamentals behind rosy revenue growth numbers (as is the case with Kenmare). Developed Europe faces a number of headwinds, from lackluster economic growth to subdued organic revenue forecasts, which makes a quicker increase in bottom line earnings growth tougher for its companies to achieve.
Disclosure: I have no positions in any stocks mentioned, and no plans to initiate any positions within the next 72 hours. I wrote this article myself, and it expresses my own opinions. I am not receiving compensation for it. I have no business relationship with any company whose stock is mentioned in this article.