I previously wrote about the most consistent and predictable publicly traded companies in the United States, and I thought I'd follow up with a closer quantitative look at a true outlier. From the perspective of the alpha seeking risk-averse investor, General Mills (NYSE:GIS) is an anomaly.

From a piece called Risk of Investing in the S&P 500 Index we find that "the average return and the standard deviation of returns on the S&P 500 index were 12.26% and 19.97%, respectively." So I was looking to find companies that had return on capital above 12.5% to beat the return on the index. As well, they needed to have standard deviation below 20% to beat that of the index. These two criteria alone help look for companies with a better reward-risk than the index. Lastly, I wanted companies with sales growth in excess of 3.5% - the common figure touted for global GDP growth. With this simple screen, only 22 companies passed the test out of the Valueline investment universe of 1700.
Based on my previous article, I knew the General Mills fulfilled at least 1 of these 3 criteria, but it was great to see it in the final results. In addition, based on it's historical valuation (seen below), it's actually slightly undervalued.

The current multiple of about 15.5x and the average historical multiple is closer to 18x.
It trades at 9.9x EV/EBITDA. The common range of multiples for this high quality group is between 8x and 13x, with Exxon (NYSE:XOM) as an exception trading at 6.5x.
GIS doesn't have many great comparables, though Kellogg (NYSE:K), Danone (OTCQX:DANOY), and Nestle (OTCPK:NSRGY) would be closest. Kellogg is also on this list. A couple authors on Seeking Alpha have done comparisons between General Mills and Kellogg here and here. It's a comparison worth exploring in greater depth but we'll save that for another post. Of the four, GIS has the lowest trailing P/E with the highest of the group at over 21x and the lowest EV/EBITDA with the highest of the group at 13.75x.
Relative valuation doesn't come close to telling the whole story on this one. I continue to use Aswath Damodaran's templates for my discounted cash flow models and have included several screen shots below.
Street Assumptions Model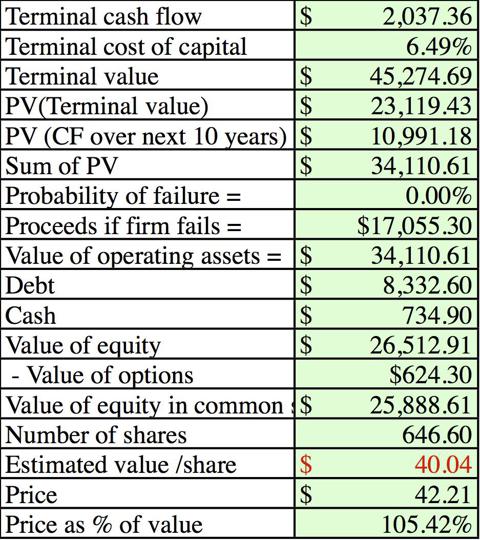 The key inputs are:
Revenue CAGR of 7% for the next 5 years
Initial cost of capital at 7.15% (0.95 unlevered industry beta, 1.99% risk free rate, 6% equity risk premium)
After year 10, companies return on capital is reduced to the cost of capital (assumption that competitive advantage is eroded)
So this shows the companies as being priced almost perfectly by the market, which would make sense given the low volatility of the stock and the widespread agreement on key inputs.
Where I see the value is when you update the model to reflect empirical realities over the past 10 years:
Updated Model - Empirical Realities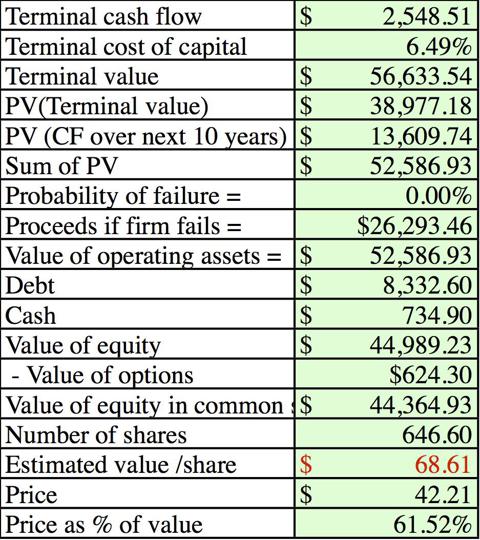 Changes to Key Inputs:
Observation that the regression beta for the company over the past 10 years (more accurate than what you'll see on most websites which use 3 year regressions) is 0.13 for GIS
Changing the beta changes the initial cost of capital for the first 10 years of the model to an unbelievably low 2.67%
The risk of the company after year 10 stays the same (allowing the cost of capital to rise to risk freer rate + 4.5%) though the competitive advantage stays reflected in the value by allowing the return on capital to stay elevated at 15% as opposed to in the previous model where it declined to only meet the cost of capital
Those little changes, with everything else staying the same, unlocks a lot of value. All you need to decide is that this company has a competitive advantage (I certainly believe it does), that it's going to hold that advantage for a long time to come, and that it will continue to fluctuate at a tiny fraction of the index (0.13 for every 1 move to be exact). I definitely agree with the first part of that, but a beta of 0.13 is truly asking a little much (although it has done this over the past 10 years).
Conclusion
If we assume General Mills is going to trade very differently over the next 10 years, then the stock is fairly priced. If we assume that General Mills will perform very similarly to how it did over the past 10 years, we have about 60% upside in the stock. I think the truth is probably somewhere in the middle. Worst case scenario, you have an ultra low risk equity yielding 3.2% that is trading at a 5% premium to it's value. If you look at it like a bond that's actually a very good investment. If the capital gains do come to fruition, the alpha on this will be incredible. For risk-averse investors, this looks to be one of the best picks you can make.
Disclosure: I have no positions in any stocks mentioned, but may initiate a long position in GIS over the next 72 hours. I wrote this article myself, and it expresses my own opinions. I am not receiving compensation for it (other than from Seeking Alpha). I have no business relationship with any company whose stock is mentioned in this article.