Something is going on in the housing market. Something we haven't seen for a long time. The economic forces that created an epic boom during the mid-2000s and an epic crash during the late-2000s appear to be rising once again.
Housing - arguably the greatest economic force in America - has probably bottomed and is beginning to rise again. The shift in direction is subtle, but so is every shift at first. And the shift in the housing market is coming from the fringes, but that's OK. In particular, a decent portion of demand for housing is coming from offshore buyers, speculators and property investors. Many will argue that this isn't real demand. However, in this scenario I would expect speculators and investors to be the first to dip their toes back into the U.S. housing pool. But with marginal demand comes price support (see Case-Shiller Home Price Index below), and with price support comes greater mainstream confidence.
Case Shiller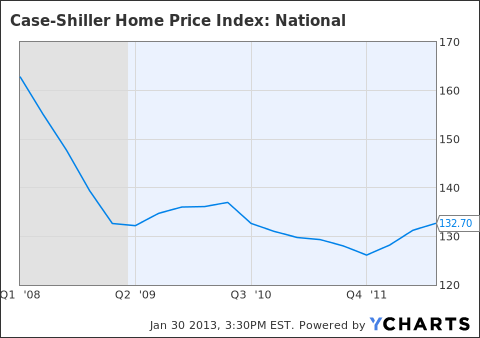 Case-Shiller Home Price Index: National data by YCharts
There are many other indicators suggesting renewed strength in the crippled U.S. housing market. Not only is this recovery about demand...the supply-side of the equation is also strengthening. In particular, the inventories of U.S. homes on the market are approaching levels not see since before the U.S. housing crisis began.
Inventories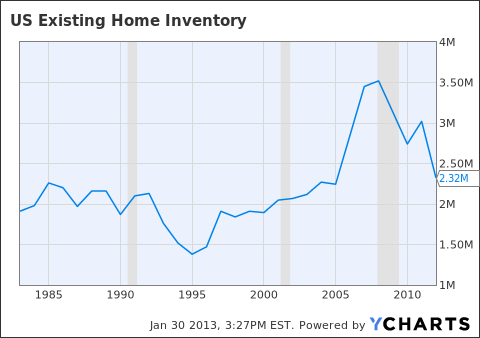 US Existing Home Inventory data by YCharts
Generally, sales conditions for the U.S. housing market have improved, arguably leading the changes in prices (both on the way down and up, as demonstrated in the chart below).
Sales Conditions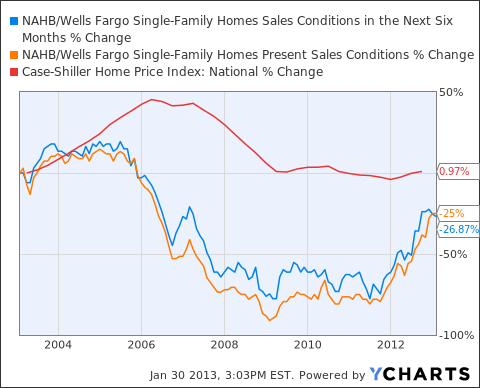 NAHB/Wells Fargo Single-Family Homes Sales Conditions in the Next Six Months data by YCharts
Current activity appears to be strengthening, but there also seems to be growing optimism about the future, as suggested by the three charts below. These charts are all indicative of future (near and intermediate-term) demand for homes.
While the mortgage originations - an indication of purchase intent by traditional home buyers - figure is improving, it is not rising nearly as much as other housing data points. This is particularly telling of where demand is coming from. Lagging mortgage originations suggest (as I mentioned earlier) that demand is coming from investors and offshore buyers - stabilizing forces that should eventually help build confidence among traditional home buyers.
New Housing Permits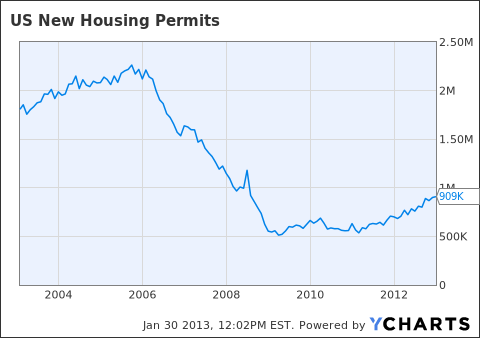 US New Housing Permits data by YCharts
Housing Starts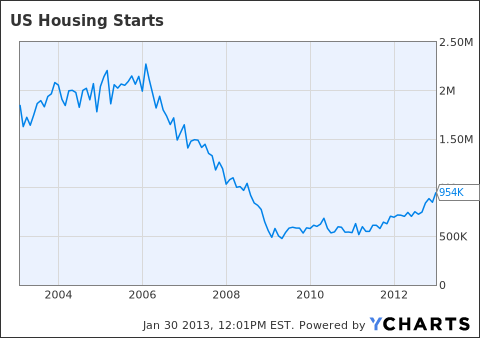 US Housing Starts data by YCharts
Mortgage Originations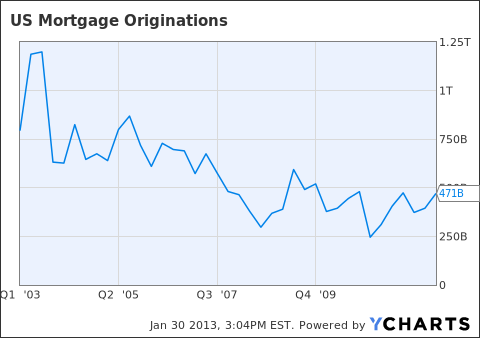 US Mortgage Originations data by YCharts
So what will convince more average Americans to buy houses again? In addition to stabilizing prices, record affordability is (and will continue) driving purchases by those with the right credit background.
With 30-year mortgage rates around 3.4% and the median home price at $180k (Bloomberg), someone putting 5% down could finance a purchase for about $750 a month. That's a fixed cost that covers one of the most expensive purchases most people will make in their lifetime. Effectively, today's low prices will free up discretionary cash flows for 30 years into the future, and those willing to take the plunge will benefit for a long time. Once renters realize that prices have stabilized, affordability is at record highs and rent is greater than mortgage payments they will move back into home ownership. This, however, is a trend that will take years to fully develop.
30 Year Mortgage Rate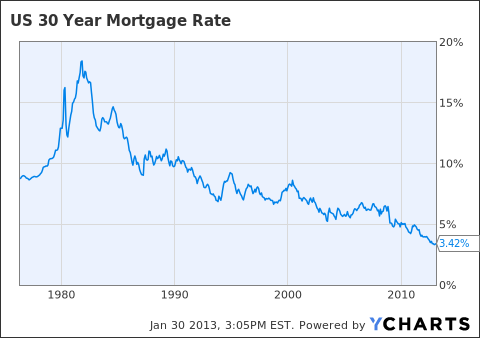 US 30 Year Mortgage Rate data by YCharts
Can you Trade the Trend?
Of course, the market is well-ahead of the game. Over the past year, home building stocks such as Toll Brothers (NYSE:TOL), Ryland Group (NYSE:RYL), DR Horton (NYSE:DHI), KB Home (NYSE:KBH) and Pulte Group (NYSE:PHM) are up anywhere from 65%-177%. Personally, I wouldn't want to chase these stocks that have moved so far so fast.
Home Builders 1 Year Return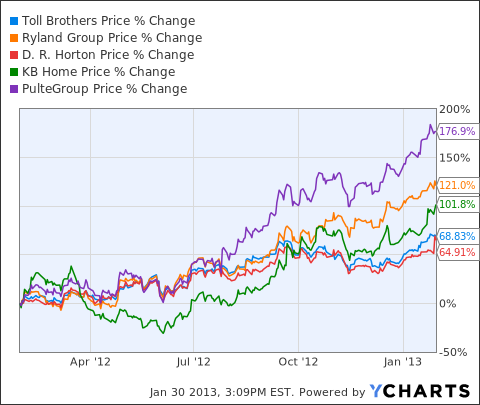 TOL data by YCharts
However, there are many other indirect trickle-down impacts from home-building and existing home purchases. According to data from the Homebuilders Association (no conflict of interest there, right?), each home built creates an average of three jobs for a year and generates about $90,000 in tax revenue. (Source) In reality the numbers may be different, but there is no denying that housing has major impacts on many facets of the entire economy. One only has to look at the last recession to see that.
Below is an example of a secondary impact caused by home purchases. Throughout the last housing boom, furniture sales continuously rose and peaked at nearly the same time as housing. While furniture sales are rising, like home sales, they are still well below the previous peak.
Furniture Sales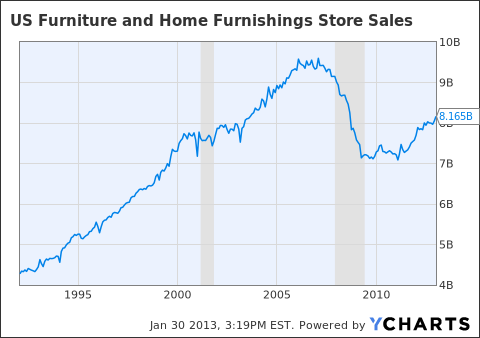 US Furniture and Home Furnishings Store Sales data by YCharts
Three examples of furniture stores include:
Furniture Brands International (FBN)
Ethan Allen Interiors (NYSE:ETH)
La-Z-Boy Incorporated (NYSE:LZB)
These stocks have had mixed performance over the past year, as illustrated in the chart below. Given this, it appears that the market is only loosely connecting these companies to a potential housing recovery. When and if the market does tightly connect these stocks to a more definite housing recovery, they may outperform. Of course, each of these stocks comes with its own idiosyncratic risks that may outweigh the benefit of an improving housing picture.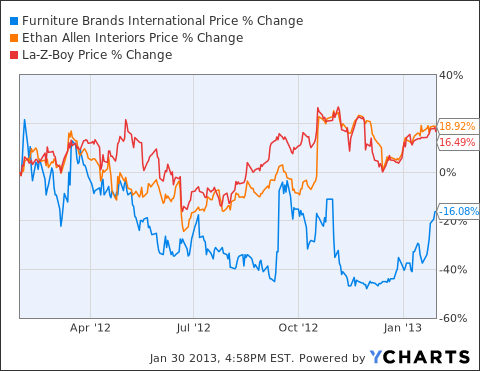 FBN data by YCharts
A housing recovery can also be extended to purchases of "white goods,"such as dishwashers, refrigerators and ovens produced and/or sold by companies such as Whirlpool (NYSE:WHR), Home Depot (NYSE:HD) and Sears (NASDAQ:SHLD) (see price chart below).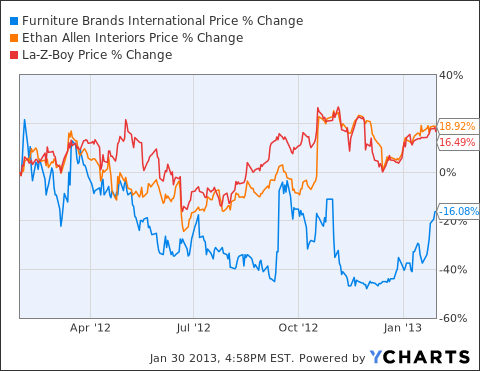 FBN data by YCharts
This game of connect the dots could go on and on. The reality is that the trickle-down impacts of a housing recovery are far-reaching and can have a pro-cyclical effect on the entire economy.
Given that, one could skip all the slicing and dicing and simply become bullish on the overall market. If that's the case, an investor wishing to tap into the housing recovery would easily be justified in buying a broad-based index ETF, such as the S&P 500 (NYSEARCA:SPY) or PowerShares QQQ (NASDAQ:QQQ).
Disclosure: I have no positions in any stocks mentioned, and no plans to initiate any positions within the next 72 hours. I wrote this article myself, and it expresses my own opinions. I am not receiving compensation for it (other than from Seeking Alpha). I have no business relationship with any company whose stock is mentioned in this article.
Additional disclosure: This is not advice. While the author makes every effort to provide high quality information, the information is not guaranteed to be accurate and should not be relied on. Investing involves risk and you could lose all your money. Consult a professional advisor before making any investing decisions.