The pipeline constraints and oil price differentials have been making the headlines for months now. Production during 2012 was rising faster than infrastructure to move the crude to refineries in USA and Canada. The oversupply resulted in a discount of the price of Edmonton and Bakken to the price of U.S. benchmark WTI, which itself is trading at a discount to Brent. However, these headwinds will not last forever and the current producer price pain will subside when the supply glut primarily in Cushing, Oklahoma evaporates.
The first results of the recent Seaway's reversal become obvious as both the Edmonton and the WTI discount to Brent have narrowed significantly in Jan 2012 in comparison to Q4 2012. However, Seaway is just one of the major pipeline projects which are being constructed currently in North America targeting the elimination of the aforementioned discount. The refineries in the eastern part of North America and the ones in Gulf Coast will soon stop relying on imported crude, which is more expensive than the domestic product that several firms like Enbridge (NYSE:ENB) and Enbridge Energy Partners (NYSE:EEP) aim to send their way.
After the first part, this is the second part of this series that plans to consolidate the most significant pipeline projects and visualize the North American "Pipeline Revolution" that will take place in 2013-2014. The following projects are being constructed by different companies and this is why most investors have not kept track of all of them thus far. Eventually, a better understanding entails a better positioning in the pipelines sector.
The projects
1) Pony Express: In August 2012, Kinder Morgan (NYSE:KMP) received sufficient binding shipper commitments during its open season to move forward with its Pony Express Oil Project. The line will deliver crude oil from receipt points near Guernsey, Wyoming to the oil storage hub of Cushing, Oklahoma. Kinder Morgan expects the 220,000 bopd pipeline to enter service in Q3 2014.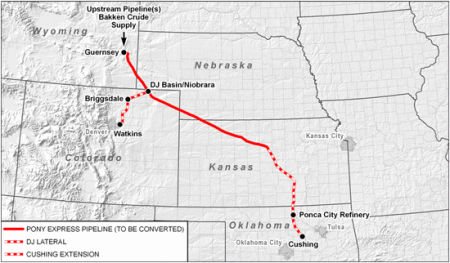 2) Southern Hills NGL Pipeline: DCP Midstream Partners (DPM) is one of the largest natural gas & NGL gatherers, producers and processors in the United States. DCP Midstream acquired the Seaway Products Pipeline from ConocoPhillips (NYSE:COP) in 2011, renamed it "Southern Hills Pipeline" and will transport NGLs from Conway, Oklahoma to Mont Belvieu, Texas in mid-2013. The company is about to complete the 130-mile extension from the pipeline's current northern end to Conway and a 30-mile extension to Mont Belvieu, as well as pumping capacity and associated gathering to the current 580-mile pipeline. The pipeline will have a capacity of 150,000 bopd.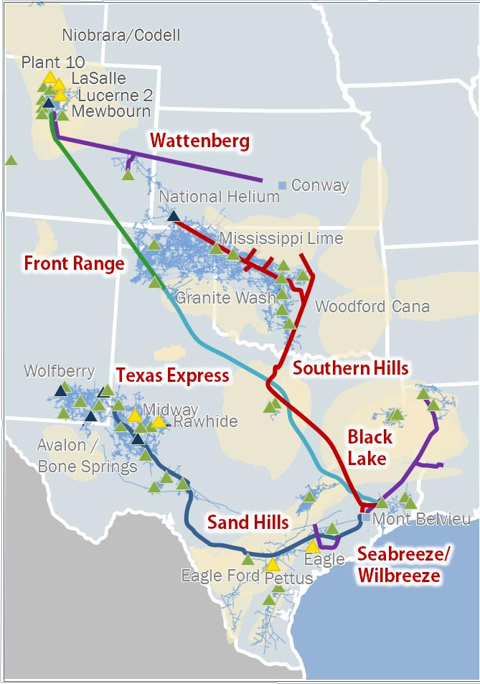 3) Sand Hills NGL Pipeline: DCP Midstream Partners is developing the new 720-mile Sand Hills pipeline that has an initial capacity of 200,000 bopd expandable to 350,000 bopd and will transport NGLs from the Permian basin and South Texas to the Gulf Coast, including Mont Belvieu. The second phase of this project is on track for a first-half 2013 start-up. The first phase of this project was completed recently and the company initiated service for the Eagle Ford Shale producers.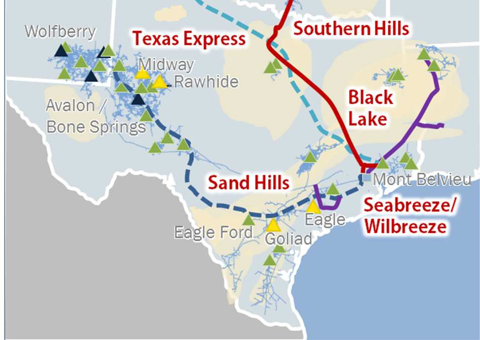 4) Niobrara Falls Project: After the acquisition of TexStar's crude pipeline assets in the Eagle Ford region, NuStar Energy (NYSE:NS) moves aggressively targeting now the oil from Colorado's promising Niobrara play. The company will create a system of pipelines to carry crude oil from Colorado's Niobrara shale formation to refineries in Texas. The system will be a combination of new with existing pipelines and it will have a capacity of 75,000 bopd. The open season ends on Feb 15, and the company hopes to have Niobrara Falls running by the first quarter of 2014.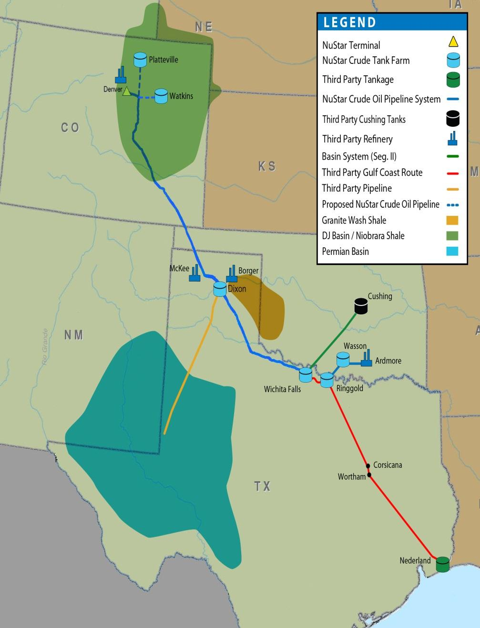 5) Cajun-Sibon NGL pipeline: Crosstex Energy LP (XTEX) is building its Cajun-Sibon extension to the company's existing 440-mile Cajun-Sibon NGL system, connecting the Permian Basin, Barnett Shale, Eagle Ford Shale and south Louisiana to Mont Belvieu. The company has already established a long-term ethane sales agreement with Williams Olefins LLC, a subsidiary of Williams (NYSE:WMB), which provides a secure market for the project's key product. The initial capacity is 70,000 bopd and Crosstex expects to put the extension into service first-half 2013. There is also a Phase II, which is expected to be completed in H2 2014, and extends the Cajun-Sibon pipeline capacity by an additional 50,000 bopd for a total project capacity of 120,000 bopd.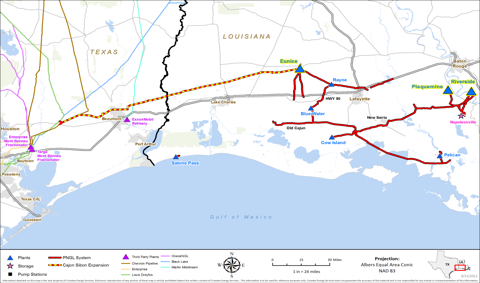 6) LVP and NGL expansion projects: Pembina Pipeline Corporation (NYSE:PBA) is currently building Phase 1 of an NGL expansion of 52,000 bopd (the "Phase 1 NGL Expansion") for its Northern System which will be completed by year end 2013. Thanks to strong drilling results and increased field liquids extraction by the players in WCSB (Dawson Creek, Grande Prairie, Kaybob areas), the company will also proceed with Phase 2 NGL expansion which is expected to add an additional 53,000 bopd of capacity and will be brought into service in early to mid-2015. Once complete, the proposed Phase 2 NGL Expansion will increase capacity on Pembina's Northern NGL System by 32% to 220,000 bopd.
Pembina is also currently working on Phase 1 of a crude oil and condensate expansion on the Peace Pipeline System of 40,000 bopd ("Phase 1 LVP Expansion") that will be completed by year end 2013. There is also Phase 2 LVP Expansion which is expected to add an additional 55,000 bopd of capacity and will be brought into service in mid to late-2014. Once complete, the proposed Phase 2 LVP Expansion will increase capacity on the Peace Pipeline by 28% to 250,000 bopd.
It is also worth noting that through these expansions, Pembina targets the upcoming Duvernay growth whose flagship is the recent JV between Encana (NYSE:ECA) and a subsidiary of Petrochina (NYSE:PTR).
Both the Northern and the Peace Pipeline Systems connect Edmonton with Taylor and both are colored in red at the company's map below. However, the Northern System is the upper line while the Peace System is the lower one.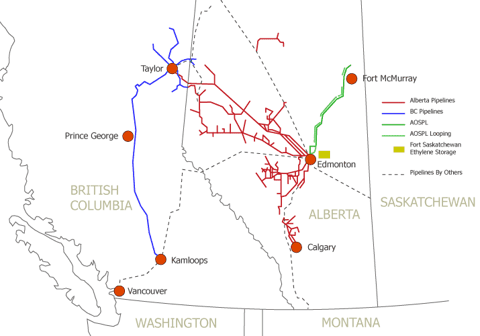 Investment Opportunities
As I noted at the first part of this series, the primary investment idea through this article is the pipeline operators themselves. Enbridge Energy Partners is my favorite one as it combines the hefty annual dividend with significant growth prospects. I recommended it in early Jan 2013 when it was at $28.
Another investment strategy would be to buy the Canadian oil producers who are growing their production and will benefit more than the U.S.-based Bakken or Eagle Ford players for several reasons. The first reason is because Edmonton price is lagging WTI more than Bakken price is lagging WTI currently. The second reason is that the Canadian dollar will not be depreciated as much as the U.S. dollar in 2013-2014. Thus, buying the Canadian energy producers is an indirect way for an investor to benefit from the depreciation of the U.S. dollar, if he is a U.S. dollar bear. All this being said, I recommended Surge Energy (OTCPK:ZPTAF) in one of my recent articles.
Conclusion
The shape of the pipeline sector is evolving. Hopefully, all the aforementioned pipelines will serve the oil industry with the highest safety level making environmentalists' concerns recede. Nobody wants to experience again accidents like the one in 2007 when a pipeline fire killed two Enbridge workers just outside of Clearbrook, or the one in 2010 when a pipeline rupture near Marshall, Michigan spilled 840,000 gallons of crude oil into two waterways.
These projects will also lift the prospects of several North American junior producers who are well placed along pipeline routes and eventually they will become takeover targets. This is why I will try to identify some of these potential acquisition targets in my future articles.
Disclosure: I am long EEP. I wrote this article myself, and it expresses my own opinions. I am not receiving compensation for it (other than from Seeking Alpha). I have no business relationship with any company whose stock is mentioned in this article.