Market Recap:
The market followed through from Wednesday' weakness, as it did not get the perfect set of data and earnings that we stated it needed in yesterday's wrap-up. The issue for the market was a 38K rise in jobless claims to 368K vs. 345K expectations. That jump put a negative spin on the jobs information heading into the crucial non-farm payrolls tomorrow. Additionally, the market got data from Chicago PMI and Personal Spending/Income. Chicago PMI was very strong at 55.6, beating expectations of 50.5. Personal Income came in at 2.6% vs. 0.7% expectations as well, which was a strong signal for the market. The income rose mostly as a result of assets being sold before a potential fiscal cliff/tax rise in 2013. The strong numbers, however, could not outweigh weakness from initial claims and yesterday's miss in GDP.
Stocks To Trade:
Today, we are looking at an earnings trade in Oracle (NYSE:ORCL), long in Qualcomm (NASDAQ:QCOM), and short in VMware (NYSE:VMW).
For an earnings trade, we like the looks of ORCL into March. The company reports in mid-March, and expectations are for a 4% increase in revenue and 6% increase in EPS. While neither number screams growth, we believe it will be a very solid quarter for the company's cloud business, as well as hardware. Pacific Crest recently commented that it believes Oracle will see a solid amount of demand for its hardware division. Most of the hardware that looks attractive revolves around the cloud -- servers and data storage systems that came from the acquisition of Sun Microsystems. The last quarter showed a solid growth of Oracle's cloud services, showing 17% growth in cloud subscriptions and licenses. For ORCL, this shift to a subscription model definitely makes revenue different, but we believe better. For years, the company got its licenses in one payment with an average maintenance cost. The shift to cloud, though, is often about software, which tends to be a subscription-based model. Will this be a positive for ORCL? We believe so. The company is already seeing margin expansion as its revenue makeup shifts. In the last quarter, TTM operating margin came up to 38.3% from the 2012FY reading of just under 27%. Further, ROE has jumped from 24% to nearly 25%. The company's Fusion Analytics, which was researched for years, is finally paying off, as it fits nicely with the company's cloud network offerings. One concern for the earnings report, itself, is what is happening with Oracle's database, 12c. If the company delays, it could hurt the stock, as the growth of this new database is starting to be priced into shares currently. The 12c will allow for cloud network users to share one database and keep data private -- similar to Salesforce.com's (NYSE:CRM) Chatter. Right now, ORCL is in a great spot, as the company is moving into the cloud space, bringing in its technology in, along with solid hardware. Sun appears to be paying off in that hardware, and we like shares to stay strong into the next report. Right now, we like grabbing the Mar16 34/32 bull put spread for 13% max gain.
Trade: ORCL, Mar16, Mar16 34/32 Bull Put Spread
Max Gain: 13%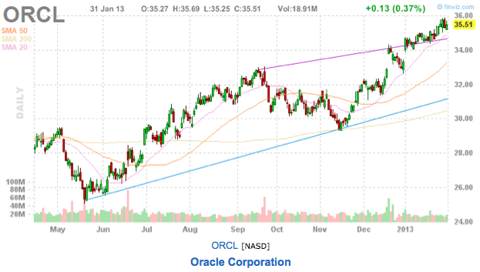 For longs, we like the looks of Qualcomm. Wednesday's earnings report was very solid and showed a really great diversity of customers, quelling fears that the company was too connected to Apple (NASDAQ:AAPL). When Apple missed on earnings, many feared that QCOM, which is featured in iPhones, was going to have a weaker report. Today, the company proved that is not the case. The company reported revenue at $6B, as well as EPS at 1.26. The company beat expectations of $5.9B and 1.13, respectively. In the last two quarters of 2012, it is projected that 388M smartphones were shipped worldwide. The demand for phones is very solid, but we may see some slowdown in 2013. The reason, as Samsung notes, is that phone users are locked into contracts that can delay new purchases. While that fear exists, we believe QCOM has proven that it has a very solid revenue diversification, and some of the fears about 2013 may be overdone. 2013 should see a big push to 4G LTE in developed markets while emerging markets move from 2G to 3G. The company is in a large amount of phones in different markets, which we believe makes it a safe play. If the company was dedicated to just 3G or 4G, earnings may be much less consistent and create volatility. Right now, the company is expected to see over 15% growth in EPS in FY13. Yet, it has only a 13 future PE. We believe shares are still very cheap at these levels, and the stock has been too connected to the success/failure of AAPL for too long. We like grabbing QCOM long and adding a 62.50/60 bull put spread for Mar16 to hedge the position.
Equity Trade: Long QCOM and Mar16 62.50/60 Bull Put Spread
Buy Point: 67.00/Max Gain on Spread: 13%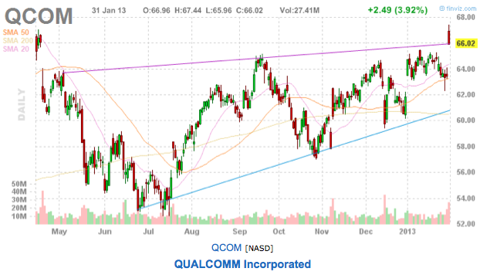 One stock that we like for a bearish position is VMware. For some time, VMW has looked worrisome due to overvaluation and crowded space in the company's cloud industry. The company's latest results showed some solid growth, but shares were hit hard. The question now is can they bounce back, or will they be mired at current levels for some time? The latest round of earnings for VMW showed over 20% growth in revenue and beat EPS estimates (0.81 vs. 0.78). Yet, with a PE near 60 before earnings, the company had to produce a flawless report. VMW signaled some trouble might be ahead, as it laid off 900 workers. The layoffs are around 7% of the business. While the layoffs will mostly come from the SlideRocket venture, which was not paying off for VMW, the layoffs are still a black eye. When you have such high valuations, any signs of negativity are going to be detrimental. In the long run, VMW can focus on more profitable business ventures, but we worry about the next couple months. Without earnings for a couple months, the stock may be stagnant until some good news come through for the company. We believe that a bear call spread is an appropriate play VMW right now with its recent drop and lack of bounce back so far. The levels we like are 85/87.50 for Mar16 expiration. We believe this play is a great way to hedge if you are long, as well as get involved in the stock if it does retake 87.50 because it can only do that if something very solid happens for the company.
Position: VMW, Mar16, 85/87.50 Bear Call Spread
Max Gain: 12%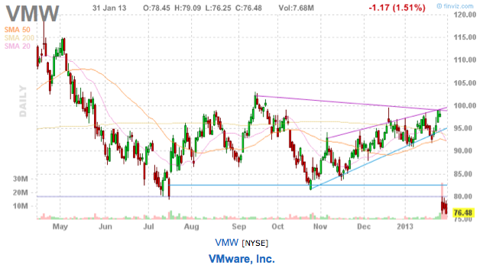 Tomorrow's Outlook:
The market should get some pretty strong movement tomorrow from the NFP report. Non-Farm Payrolls is one of the best indicators of job growth in the marketplace, and a beat there could help the market reverse its last two days of weakness. A weak reading could do some significant damage to the market with indices as overbought as they are. Besides NFP, the unemployment rate will be critical to the market, as well as Michigan Sentiment, ISM Index, and Construction Spending. It's a packed day of data that should give way to some strong buying/selling. NFP is expected to come in at 180K vs. 155K last month, while unemployment is expected to drop to 7.7% from 7.8%. Those are the two key numbers to watch. As for earnings, we do get some key reports tomorrow from ExxonMobil (NYSE:XOM), Chevron (NYSE:CVX), and Merck (NYSE:MRK). It's going to be a jam-packed day with lots of movement. Get ready!
Charts courtesy of finviz.com
Disclosure: I have no positions in any stocks mentioned, and no plans to initiate any positions within the next 72 hours.
Business relationship disclosure: The Oxen Group is a team of analysts. This article was written by David Ristau, one of our writers. We did not receive compensation for this article (other than from Seeking Alpha), and we have no business relationship with any company whose stock is mentioned in this article.