Gold (NYSEARCA:GLD) went up on Wednesday.
It did not go up by a lot. But it meant something. The drip-drip-drip erosion in gold prices since the New Year had been the equivalent of Chinese Water Torture for gold bulls. The collective relief was palpable. Too bad the miners (NYSEARCA:GDX) still fell, but that's another story for another day.
Let us examine, dear reader, what changed such that gold, while still down year over year, has finally broken even in the New Year. It was because the Fed said it will keep pumping money in the form of QEternity. Reported Forbes:
The Bernanke Fed made it clear that it plans to continue its latest round of quantitative easing, in which it's buying $85 billion in Treasuries and residential mortgage-backed securities a month, and that interest rates will remain at record lows until unemployment drops.
This is mildly interesting. The Fed has not been shy lately talking about perpetual QEternity, so this should not have been a surprise to anyone. So why was this a shot in the arm for gold? Investor's Business Daily checked with the experts and came up with this gem:
Don Vandenbord, a portfolio manager at Fleming Island, Fla.-based Camarda Wealth Advisory Group, said in an email, "This will cheapen the U.S. dollar, which is bullish for precious metals."
Curious and curiouser. Or, perhaps, I should say, simple, and simplistic.
The Fed has been increasing money supply for a while, while gold prices have been flatlining. Witness the 7% growth in money supply (M2) and the 5% decline in gold prices over the past year, for example.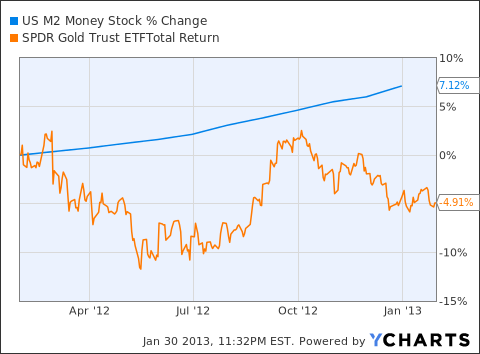 Let's first explain why increase in money supply didn't lead to rise in gold prices. Gold, being a commodity, can have a price rise from two different stimuli. One, there could be inflation, when gold prices would rise with all other commodities. Two, there could be increased demand for gold over and above supply increases.
Increased money supply in the USA has not led to higher inflation. This is because the velocity of money has been, well, pathetic.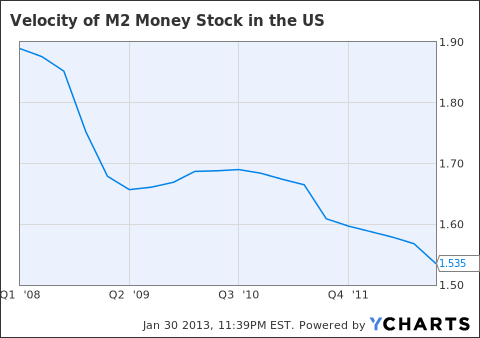 M2 velocity, as the chart above shows, has steadily dropped over the past 5 years. Hence, the increased money supply has largely not been chasing goods and services in the economy (which is what creates inflation) but is rather sitting in risk-off assets like bonds. Given the steepness of the drop, it will be a while till the M2 velocity normalizes, which is when we will start to see inflation again.
Hence QEternity is unlikely to cause inflation anytime soon, and indeed inflation has been less than 2% over the past year, completely failing to provide any support for gold prices. In the mean time, demand for gold has dropped in India, which is why gold prices have stagnated in the past year.
We know that gold demand in India is expected to be even lower in 2013 because of hike in gold import duty by the Government of India, so that is not going to lend any support. Is there any chance the velocity of money may unexpectedly pick up causing inflation? I doubt it, because the US economy took a kick in the gut on Wednesday. Reports Forbes:
The U.S. economy greatly slowed in the fourth quarter, driven lower by reduced government spending and lower inventories.

U.S. gross domestic product fell for the first time in three and a half years in the fourth quarter, declining by an annualized 0.1%.
This, hopefully, is a glitch, and the US recovery is hopefully still intact. But if not, then unemployment will be high for longer than anticipated. Of course, this extends the duration for QEternity. But this also means the inexorable drop in the M2 velocity is likely to continue. That means even lower inflation, which is not good for gold especially when demand is dropping, too.
This made the case for shorting gold in 2013 just that much stronger. This was clear from Wednesday's market move, as, after the initial jump, gold prices slowly kept falling throughout the day, and the gold miners, strongly up at one point, ended the day with a loss.
What does this mean for your investment thesis for the rest of 2013, dear reader? Well, my projection for gold prices in 2013 remains unchanged, that shorting gold -- especially via the miners (GDX and NUGT) -- remains the play for 2013. For more details, please check out my other article titled "How Best To Short Gold - Miners Or Metal?"
In the mean time, I initiated a position in DUST on Thursday at the market open. I think the miners are really setting up to be perma shorts with falling gold prices and rising mining costs.
Disclaimer: This is not meant as investment advice. I do not have a crystal ball. I only have opinions, free at that. Before investing in any of the above-mentioned securities, investors should do their own research, consult their financial advisors, and make their own choices.
Disclosure: I have no positions in any stocks mentioned, but may initiate a long position in DUST over the next 72 hours. I wrote this article myself, and it expresses my own opinions. I am not receiving compensation for it (other than from Seeking Alpha). I have no business relationship with any company whose stock is mentioned in this article.