Both Asia and Europe are strong this morning and the news out of China was bullish last night, although not as bullish as it could have been. We have always said that growth is growth and up is up, so there is not much to complain about this morning in regards to either of those situations. Looking back and January and the month that was, a few things are obvious but the most glaring is that we were up 5% which is extremely bullish and if one looks at the Dow Transports we had our best January since 1991. Now a year does not a month make, but if January is any indication and should we be setting up like we did back in 1991 then the future could be very bright over the next decade for stocks. Again, we understand leap in logic that is required for that line of thinking, but transports are usually a pretty good forward indicator both on the upswing and down.
Lots and lots of data due out today and jobs will once again be front and center.
Chart of the Day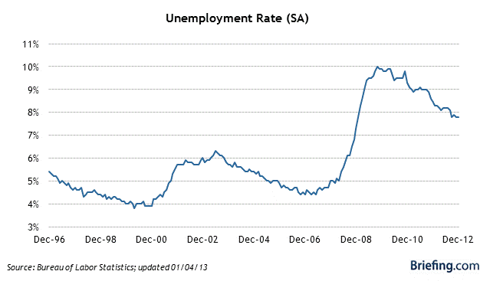 Chart courtesy of the briefing.com
The Fed is going to keep easing until we get the unemployment rate to levels we are more accustomed to for a recession (i.e., 6%).
We have economic news due out today, and it is as follows (these are the consensus estimates):
Nonfarm Payrolls (8:30 AM EST): 180k
Nonfarm Private Payrolls (8:30 AM EST): 193k
Unemployment Rate (8:30 AM EST): 7.7%
Hourly Earnings (8:30 AM EST): 0.2%
Average Workweek (8:30 AM EST): 34.5
Michigan Sentiment - Final (9:55 AM EST): 71.4
ISM Index (10:00 AM EST): 50.5
Construction Spending (10:00 AM EST): 0.5%
Auto Sales (2:00 PM EST): N/A
Truck Sales (2:00 PM EST): N/A
Asian markets finished mostly higher today:
All Ordinaries - up 0.83%
Shanghai Composite - up 1.41%
Nikkei 225 - up 0.47%
NZSE 50 - down 0.16%
Seoul Composite - down 0.21%
In Europe markets are higher this morning:
CAC 40 - up 0.97%
DAX - up 0.68%
FTSE 100 - up 0.59%
OSE - up 0.51%
Biotechnology
Celsion (NASDAQ:CLSN) shares were obliterated yesterday as investors pushed shares down $6.51 (81.17%) to close at $1.51/share on the news that the company received discouraging results from its Phase III HEAT Study of its ThermoDox therapy to treat primary liver cancer. The data from the study indicated insufficient evidence that the cancer therapy would work, and although the company said they would be receiving further data and be able to interpret more in the near future it is hard to believe that this therapy would be anything more than marginal at best.
Entertainment
It must be nice to be a gambling operation with exposure to Macau, for that is where the growth in the industry is and the growth there is explosive. So explosive in fact that it offsets the contraction taking place in the Las Vegas market, which is great for players such as Las Vegas Sands (NYSE:LVS). The company reported EPS of $0.54 which was short of Wall Street's consensus EPS of $0.59. Revenue did top estimates on the back of Macau with total revenue reported at $3.06 billion. With the EPS miss and revenue beat, investors decided to embrace the good news and ignore the bad as shares rose $3.69 (7.16%) to close at 55.25/share. Las Vegas Sands opened up its new property in Macau and will continue to expand it in coming years. Las Vegas is a mature market, however Macau reminds us of Kevin Costner's Field of Dreams, where the quote, "if you build it, they will come," came from. That fits perfectly to Macau, for the Chinese love to gamble, and if you build it (a casino, hotel, golf course, restaurant, anything really) they will come. We still like Las Vegas Sands and would recommend buying it on dips.
Time Warner Cable (TWC) saw their march higher hit a wall yesterday after they reported earnings which for the quarter beat expectations but missed on forward guidance. The nation's second largest cable provider reported fewer high-speed internet subs signed on during the quarter and expected this to continue forward. This was part of the 2013 outlook disappointment, but the other portion is more troublesome because it deals with the company seeing programming costs rising. The company still expects to grow the bottom line by 10-15% in 2013, which would be great in most cases, but is a disappointment here as analysts were expecting 19.5% (on a consensus basis) growth. The stock fell below its 200-day Moving Average yesterday, however the good news investors were able to take away from the quarter is that the dividend was increased to $0.65/share per quarter.
Manufacturing
Boeing (NYSE:BA) said that the Society of Professional Engineering Employees in Aerospace (SPEEA) would ask their roughly 23,000 members to authorize union negotiators to declare a strike should they see fit. Also to be voted on is the company's offer for a new contract, which the union is against as it shifts the burden of retirement savings from the company to the employee with the transition from traditional pension plans to defined contribution retirement plans. There are a few things we would like to point out this morning in regards to this vote. First, the switch from pension plans to the now standard defined benefit retirement plans is an event which must happen if these jobs are to be maintained here in the US (although one could argue that BA could simply move production within the US and forget about the union, we doubt that). Second, in the current economy and with the situation surrounding the Dreamliner we doubt that the strike would even be feasible as multiple governmental bodies and various countries are looking into the issues plaguing the plane. Even the Obama Administration would most likely have to balk at that move.
Consumer Goods
Constellation Brands (NYSE:STZ) saw shares fall $6.81 (17.39%) to close at $32.36/share after the US's Justice Department filed suit against Anheuser Busch InBev in order to block their acquisition of Grupo Modelo. If the Justice Department blocks the case on antitrust and competitive reasons then the other part of the transaction which called for the sale of Grupo Modelo's share of Crown Imports to Constellation Brands would also be cancelled along with Constellation's 10-year exclusive agreement to import the Grupo brands. The government wants competition and a move away from the current system where AB InBev announces a price hike to lead the other market participants to raise their prices as well. This caught many by surprise yesterday, but we think the deal ultimately gets done.
Disclosure: I have no positions in any stocks mentioned, and no plans to initiate any positions within the next 72 hours. I wrote this article myself, and it expresses my own opinions. I am not receiving compensation for it (other than from Seeking Alpha). I have no business relationship with any company whose stock is mentioned in this article.