Climate is incredibly Volatile with big fluctuations in Markets.
The weather has gone absolutely wild once again, making for incredible model forecast errors and capricious, unreliable weather trends. From record Chicago warmth this week, to sub-zero wind chill factors a day later, historical flooding in Queensland, Australia and the drought in the Plains States and now Argentina dryness, climate's volatility is off the scale.
This has resulted in fierce price fluctuations in natural gas, heating oil and grain prices. One trending commodity market has been cotton, which has rallied 10% the last 2 weeks.
A Look at Commodities Affected By Weather and Crop Conditions
ENERGY MARKETS
A year ago and also during the course of last summer, the weather was consistent enough, in that we had a major trending market in natural gas. The record warm winter in 2011-2012 helped pressure natural gas prices some 30% with March being the warmest in history. This was followed by an unprecedented summer drought, water shortages and a cut back in domestic production by producers. The stage was set for a nice 20-30% rally back in prices until we moved into winter. Natural gas prices reached $3.90/BTU in early November, only to fall to about $3.20 earlier this week, but in a very choppy, volatile, non trending market. While we expected that natural gas prices might challenge $4.00 later this winter, the weather has been too unpredictable and variable to say this with any great deal of confidence. A lack of snow cover and various teleconnections and weather signals have resulted in the winter being warmer than normal. Look for lots of volatility in (NYSEARCA:UNG) the next few weeks with the potential, still for the second half of February to turn a bit colder and snowier than normal in the eastern U.S., after a warm up later next week.
After a cold weekend in the east next week (which may help heating oil prices for a day or two), warmer weather is expected. However, I still feel that we could see a colder trend, later in February and/or March for some key energy areas. Heating oil is not all weather but the last 2 days we have once again seen heating oil rally versus crude oil due to the present cold in the east.
SOFT COMMODITIES
Sugar prices have fallen some 25% since the early summer spike up on concerns over the fate of India's Monsoon. Crops in Brazil are fabulous this year, helping to create a negative sentiment in this market lately. If Brazil decides to hold onto more sugar, to make ethanol and we have a sudden spike in corn prices later (big if), then sugar prices have a chance to rally later. However, the odds of any major weather issues in India next summer is unlikely. For now, there is some concern about the incredible flooding that has damaged more than 20-30% of Queenstown's sugar crop. This could set a floor on sugar prices for now, so I do not see too much more downside in the Dow Jones-UBS Sugar Subindex Total Return ETN (NYSE:SCG).
The Orange Juice market collapsed earlier this month, on a combination of poor world wide demand for juice (cocoa nut water and other alternatives are leading the way), plus a good Brazilian crop and no Florida freeze this winter. This was after prices spiked up to $1.40/lb on worries over dry Florida weather. Presently, I am concerned about Florida fruit droppage and disease problems. One may want to buy May, 2013 OJ with a protective stop below $1.10
Cotton prices have soared as we were predicting. We have rallied some 10% in the ETF (BAL) over the last weeks. A combination of surprise Chinese buying and ideas of lower Australia crops, the Texas drought and a likely 10% more reduction in 2013 world cotton acreage has this market off to the races. I am not sure how much more upside we have and taking some profits is never a terrible thing. Prices have reached close to my short term objective; otherwise I still would be long this ETF.
In Cocoa, the weak Harmattan Wind and good west African harvest has pressured the ETF (NYSEARCA:NIB) some 20% the last few months. At some point, demand may kick in, but unless we have major world production issues, I have been mostly in the neutral to bearish camp for months.
Coffee futures remain in a down-trend as the crop has improved in N. Brazil due to recent rains and farmers have a lot to sell. The ETF (NYSEARCA:JO) could have another 10% down the next few months if world crop conditions improve. This market is down some 50% from its highs two years ago, so it is more risky to sell at these price levels, then it was a year ago.
GRAINS
We are almost in a complete weather market in soybeans, which is really a trading affair based on South American rains, heat or a lack thereof the next few weeks. While crops have suffered from heat and dryness the last 4 weeks, overall I do not look for a crop disaster in South America. The weather pattern may improve next month due to a combination of cool ocean temperatures off the coast of Argentina and what we call a +AAO index (Antarctic Oscillation Index). I see some harvest delays and quality concerns for soybeans in Matto Grosso, but the market is still highly prices and I think the weather pattern will improve in Argentina and/or Southern Brazil. Here too we expect volatile price fluctuations. One may want to sell the soybean ETF (NYSEARCA:SOYB). However, my confidence is just moderate at this time, after predicting the major September-November collapse in prices.
The corn market may be worried about a delay in planting of the Safhrina crop in N. Brazil and dryness in the western United States corn belt. Stocks are so tight, that any little weather issue has helped this market firm again. With that said, however, it will take consistent spring and summer weather problems to probably get prices back over $8 again; something that I am suspect about right now. However, given climate change, etc., it is still possible for some summer crop issues.
Finally, for wheat, the Plains wheat crop is getting worse all the time from Nebraska to Texas. One minute the trade monitors this, the next minute wheat prices fall due to worries over the demand side of the equation and good crops in Russia and Europe. With time, it is possible some relief in the drought may develop as we head into mid-February and March, but this is not written in stone just yet and it is really March-May weather that will drive the wheat market.
What is Driving The Volatile Crazy Weather?
While some of you may believe in global warming and many others of you repudiate it, I have my own personal theories about it.
The extreme variability in weather is being provoked by:
1) The MJO (30-50 day wave that travels from the Indian Ocean through the Pacific), which right now is headed towards phase 8 and is very strong. One of the strongest I have seen in recent memory.
2) Ocean Temperatures off the coast of Peru are cooling and are giving the facade of a La Nina event. However, atmosphere torque and something we call the GWO (Global Angular Momentum) is actually in more of an El Nino type stage, resulting in a confused atmosphere with some parts of the globe exhibiting La Nina characteristics (dry Argentina weather; drought in the U.S. Plains and Florida) and others portraying an El Nino personality (storms out west, a warm U.S. winter on average; previous dryness in Australia).
3) Record warm Atlantic Ocean Temperatures--There was an article in Wednesday's Wall Street Journal about the collapse of the Cod industry in the Atlantic. The record ocean temps have helped to keep the winter warmer than it normally would be and may portend more frequent hurricanes along the east coast in coming years.
4) Blocking and Stratospheric Warming over the Arctic--This normally would force down very cold air into the United States and Europe due to what we call a -AO/-NAO index. While this has happened more in Europe, the main U.S. energy areas have not seen consistent cold weather due to the influences mentioned above.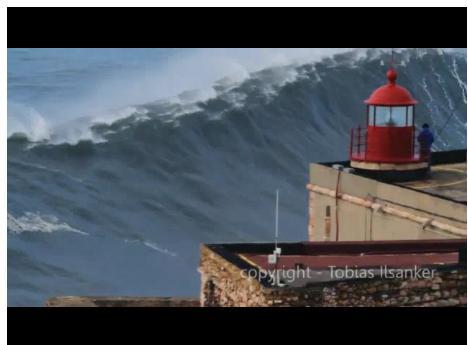 Record waves and storms in parts of Europe with more on the way after February 3rd. Like to surf? Then check this video out.
SOURCE: Guardian.co.uk
Incredible rains over Queenstown, Australia last weekend has helped to take some negative sentiment out of the sugar market
SOURE: Bureau of Meteorology; Australian News Media.
Disclosure: I have no positions in any stocks mentioned, and no plans to initiate any positions within the next 72 hours. I wrote this article myself, and it expresses my own opinions. I am not receiving compensation for it (other than from Seeking Alpha). I have no business relationship with any company whose stock is mentioned in this article.