Following today's slightly weaker-than-expected employment data, the charts below show the monthly change in jobs since January 2009 when President Obama was inaugurated. The first chart shows the total monthly change in non-farm payrolls since the start of 2009. After an initial stretch of 14 straight months of negative job growth, where the economy lost 5.135 millionn jobs, the economy has since added a total of 4.975 million jobs.
Combining it all together, net job creation during Obama's presidency has been a decline of 160K jobs. Excluding January 2009, when Obama was president for only part of the month, total job creation flips to a level of positive 658K.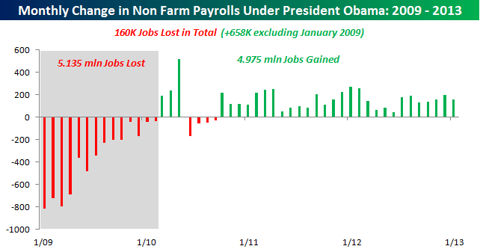 While total job creation has been negative since January 2009, the private sector has actually created jobs during Obama's tenure. In the first 14 months of Obama's tenure, the private sector lost 5.051 million jobs, which was slightly less than the total job decline during that period. Following that decline, the private sector went on to create 5.523 million jobs, which is actually more than the total job creation for the entire U.S. economy. Net net, there have been a total of 472K jobs created since January 2009, and excluding January 2009, the total number of jobs created jumps to 1.31 million.
Given the fact that Obama is often associated with a big increase in the size and scope of government, it is somewhat ironic that government has been a drag on overall job growth rather than a boost. However, we would also note that most of the drag of government in terms of employment has been at the state and local level.