Netflix (NASDAQ:NFLX) has announced licensing agreements to bring programming from Warner Bros Television Group and Turner Broadcasting to its subscribers. It will bring in past seasons from Cartoon Network, Adult Swim and Dallas. I will explain how the cost of content acquisition for these programming will not favor Netflix's growth. Specifically, I will look at how rising content costs are harming Netflix's overall profitability. These trends will not enable the company to improve its price multiples going forward.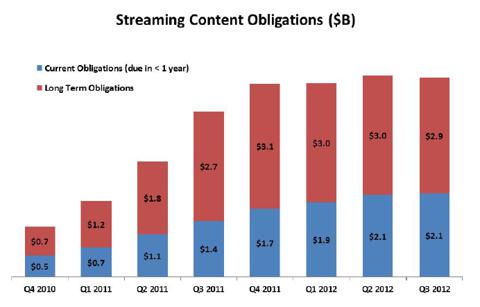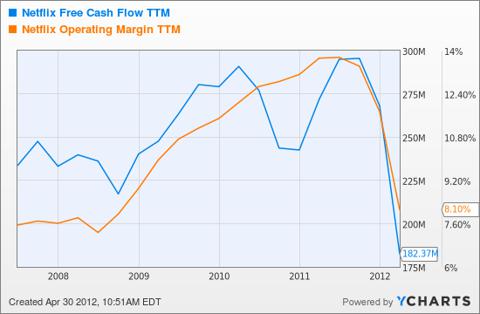 Why is Netflix's sales growth not improving with its license agreements? If you look closely at the chart for streaming content obligation, it will become clear why the company is finding it difficult to make a profit. While the cost for streaming content obligation is rising, Netflix's free cash flow and operating margin are shrinking. Some experts predicted Netflix's streaming costs would rise from $180 million in 2010 to $1.98 billion in 2012. Netflix's recent deal with Disney is valued at $150 million-$200 million for a year's worth of content, while Netflix is paying Epix $200 million a year for five years to stream from Paramount, MGM and Lionsgate. Netflix's deals were made on the assumption that the company would keep growing, but subscriptions have slowed and the price multiples are not improving. How will the company make profit when it has to pay $2 billion in licensing fees?
Financials
In the nine months ended September 30, 2012, Netflix reported consolidated revenue of $2.66 billion, compared with $3.02 billion for the 12 months ended December 30, 2011. It recorded consolidated net income loss of $9.25 million, compared with $226.12 million for the 12 months ended December 30, 2012.
Netflix reported that free cash flow for the three months ended September 30, 2012 decreased $31.6 million as compared with the three months ended June 30, 2012 to negative $20.5 million. Its net income for third-quarter 2012 was 16,135,000, compared with $62.46 million for third-quarter 2011, a decrease of 88%. Its operating income was $16.13 million, compared with $96.84 million for third-quarter 2011, a decrease of 88%. In August, it had announced a deal with RADiUS-TWC, for films that its members can watch from early 2013.
"While we are not growing membership as fast as in 2010, we think that over time nearly all U.S. households will be broadband households, nearly all video will be Internet video, and that as our content and member experience continue to improve faster than competitors, our long-term domestic market opportunity remains 2-3x that of linear HBO," said Hasting, Netflix's CEO.
Sure, Netflix reported quarter-four net income of $8 million, but it was flat quarter over quarter.
The gap between free cash flow (negative $51 million) and net income widened as a result of payments for the original programs coming to Netflix in 2013. In September it had signed an agreement with media juggernaut Discovery Communications to renew and expand their licensing deal.
"As we shared on our last earnings call, our original programming will require more up-front cash payments than most other content licensing agreements, raising this ratio (of cash to P&L for content) to as high as 120% in certain quarters," said Hasting.
In 2012, Netflix announced numerous licensing agreements. In September it signed an agreement with Discovery Communications to renew its licensing deal. In November, it announced an extension of its agreements with CBS Corporation (NYSE:CBS.A) to stream in Canada, Latin America, the United Kingdom and Ireland. In December, it announced a new agreement that will make it the U.S. subscription television service for feature films from The Walt Disney Studios.
Coming to Netflix on the new deal will be TNT series Dallas."We are delighted that Netflix will become the exclusive over-the-top streaming subscription destination for past seasons of favorite Cartoon Network and Adult Swim titles," said Ted Sarandos, Chief Content Officer of Netflix. "We're also thrilled to be able to offer the latest seasons of Dallas, one of the greatest all-time guilty pleasures."
It is noticeable that the new Netflix deal is its first in the new year. Now it is understandable that gaining a head start is wise for Netflix. However, if we relate its previous licensing agreements to its past financial statements, it is clear Netflix has not consistently improved in comparison with the previous year, so it can be said the new deal will not make the company to operate at an optimum level.
Competitors
How is Netflix performing compared with its closest competitors? With a gross margin of 26.38%, compared with 62.11% for Verizon (NYSE:VZ) and 40.41% for News Corp (NASDAQ:NWS), and price-to-sales ratio of 1.53, compared with 1.07 for Verizon and 0.11 for Barnes & Noble (NYSE:BKS), Netflix does not seem to be ahead. Even worse for Netflix, Verizon is now offering unlimited streaming movies, plus four DVD credits to users at cheap prices. News Corp recently announced an agreement with Yankee Global Enterprises to acquire a 49 percent equity stake in the Yankee Entertainment and Sports Network.
Recommendation
Looking at the successive licensing agreements and the flat margins, I can safely say that now is not the best time to buy Netflix..
Disclosure: I have no positions in any stocks mentioned, and no plans to initiate any positions within the next 72 hours. I wrote this article myself, and it expresses my own opinions. I am not receiving compensation for it (other than from Seeking Alpha). I have no business relationship with any company whose stock is mentioned in this article.