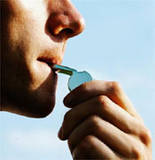 In news that was anticipated since Lilly (NYSE:LLY) disclosed in October that it was setting aside litigation funds, the drug giant reached a settlement with the US Attorney's office in Philadelphia for $1.4 Billion for allegedly marketing the antipsychotic Zyprexa to patients who didn't need it.

This case was brought under the federal whistle-blower laws by company employees. So far, outlets are mum on just who the whistleblowers are and whether they stand to profit from their whistleblowing activities. However, this reminds me of some other prior whistleblower suits where employees were awarded with enormous sums for going to the Feds with company wrongdoing.

Whistleblowing: A lucrative option

Employees can make up to 30% of the total award in a federal whistleblower case. Take this example from TAP Pharmaceuticals. In 2002, $885 million in damages were recovered under the false claim act. Whistleblowers received $160 million of the of that settlement. And the largest such award in history, $126 million, went to a single individual, Douglas Durand, a former executive at TAP Pharmaceuticals who first highlighted how TAP conspired with doctors to overbill government insurers for Lupron, a prostate cancer drug. A second whistle-blower lawsuit against TAP, filed by Dr. Joseph Gerstein and Tufts Health Plan, yielded a $17 million settlement.

I understand if an employee feels that they will have trouble working in their field again or face professional repercussions as a result of their morale stand. They may never work again in their desired field. This may amount to a few million dollars over the remainder of a career for a typical employee. But how much is too much?

What do you think?

Should there be a cap on awards to whistleblowers? Should people be getting rich for simply doing the right thing?