For those who follow us and have read our past articles, you know then that we have been big fans of the airline industry over the course of the past 17 months. More specifically it has been five airline stocks that we have continued to hold and follow and to date it has become one of our top performing sectors with all five-airline stocks totaling a combined return of 306.72%. Average that out over the five stocks and you get 60.42% each pick, not too bad for just 17-months. The five airline stocks are the following:
Allegiant Travel (NASDAQ: ALGT) ⇧86.13%
Boeing (NYSE: BA) ⇧19.21%
Delta Air Lines (NYSE: DAL) ⇧104.61%
Southwest Airlines (NYSE: LUV) ⇧36.35%
UAL Corp (NYSE: UAL) ⇧60.42%
Total: 306.72%
Average: 61.34%
As you can see, DAL, ALGT, and UAL have been the big winners with LUV recently joining the group after a strong 6-month rally of 30%. While it doesn't have the flashy gains like the others, BA has still performed as we had expected a Large Cap Dividend Stock to perform.
Our Five Favorite Airline Stocks Section began back in August of 2011 when we first published 'Five Airline Stocks Ready to Pop!', after a very successful year where we saw all five stocks soar to new heights we decided to reanalyze our positions on July of 2012 in our article 'Five Airline Stocks That Have Soared to New Heights!'
After another strong six-month rally we are back at it again! This time pointing out what worked in the past, a look back at our past recommendation, highlighting the key factors we like going forward, and finally giving out 12-month price targets for each pick.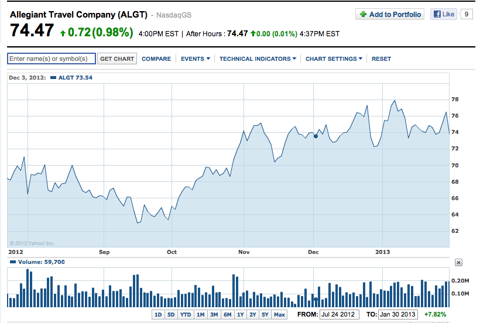 Allegiant Travel ⇧7.82%
From 2011 to 2012, Allegiant Travel was the big surprise stock rising over 78% in a little over a year. Going forward, it was no question that ALGT was due for a correction and some quiet times. That's not to say that it's still not a great company and a premiere airline stock. While only rising 7.82% since July 24th, we still see lots of potential going forward.
ALGT has done an excellent job at growing their business and there still is lots of room to expand as they continue to acquire new loyal customers.
In our previous July 24th article we wrote:
"While this is great and all, some of you out there might want to consider taking a conservative approach and sell off some of your shares, take your profits, and play with the house's money. "
This time round we don't plan on playing it so conservative. In fact, we think ALGT's a solid buy for several reasons. To start, ALGT has an exceptional PEG ratio of 0.48, not to mention they currently hold over $357 Million in the bank. What most stands out however is that 20.71% of ALGT's Shareholders are Insiders.
This is a staggering number to take into account, and it's usually noted that insiders don't take that strong of a position unless they have a reason to back it up. This is a good indicator that good times are still ahead for ALGT.
While the surprise factor is no longer there, that's not to stop ALGT from continuing to pump out great earnings along with higher revenue numbers resulting in them beating the street's expectations.
If we're looking at a 12-Month Price Target, expect ALGT to be trading around $95 per share, a total yield of 27.5%.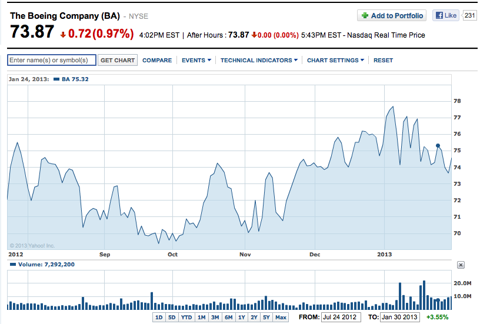 Boeing ⇧3.55%
Boeing has been a safe and steady stock for some time now. After bouncing +40% from 2010 to 2011, shares have been very steady throughout 2011 and 2012. Boeing is one of the major aerospace and defense companies. Boeing's biggest strength is the company as a whole. The fundamentals are strong from top to bottom. Their book of business is great as well. Some numbers that standout to us are there PEG Ratio of 0.20, P/S of 0.71, 62.75% ROE, and the fact they're holding over $11 Billion in cash. Remember cash is always king and a cash flow positive company is always attractive for that reason.
In our previous July 24th article we wrote:
"Going forward we like Boeing and expect the stock to continue to steadily rise with a strong outlook ahead, bullish analyst coverage and upbeat expectations. We originally pegged it to rise to $95 and we're sticking with that price target. With more huge contracts to come, a solid book of business top to bottom, no cash flow problems, and a great business overall the future looks great for Boeing."
While BA didn't quite pan out like we had anticipated rising only 3.55% over the past six-months, it doesn't mean we have lost faith in the company overall. We are still firm supporters of BA going forward and the majority of the analysts covering the stock hold this same opinion.
Of the 25 analysts covering BA, 80% hold a BUY Rating or higher, 55% have BA pegged at a STRONG BUY. The 25 analysts breakdown like this: Strong Buy, 9 Buy, 4 Hold, and 1 Underperform.
If we're looking at a 12-Month Price Target, expect BA to finally make its strong push very similar to when they jumped 40% from 2010 to 2011. We expect BA shares to be trading around $100 per share come one year from now, a total yield of 36%. Tag on a 2.60% dividend and you have a total net yield of 38.6%!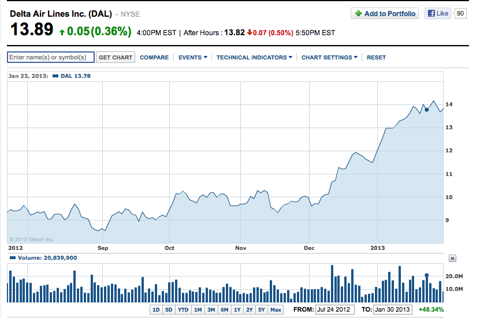 Delta Air Lines ⇧48.34%
Delta Air Lines has not just been one of the best airline stocks over the past 17 months, they have been one of the best stocks period. After soaring +56% the previous year many expected the stock to slip-up or stay situated, heck even we did.
In our previous July 24th article we wrote:
"They are one of the great success stories making such a strong comeback after their shaky past history dealing with bankruptcy and restructuring problems and failing to become relevant. Well they are relevant now! Don't expect the stock to duplicate it's amazing past performance nevertheless we're still confident investors will see nice steady gains."
DAL did the complete opposite of what everyone had expected, soaring another 48.34% over the next 6-months making their total net gain of +104% in a 17-month period. The famous trader, Peter Lynch would call this a ten-bagger.
Going forward you would expect the good times to be over for DAL right? Nope, in fact analysts couldn't be more bullish about the stock as 93% of the analysts currently covering DAL issuing a BUY rating or higher. Breaking it down, of the 15 analysts covering DAL; 5 Strong Buy, 9 Buy, & 1 Hold.
If that doesn't sell you then maybe this will. DAL holds a PEG Ratio of 0.20, a P/S of 0.32, and they have over $3.2 Billion in the bank. After panning out as our trendy pick in 2011, we went away from the fundamentals and as a result it cost us from capitalizing on DAL's second big rally. Luckily we have learned from our mistakes and are fully set to ride out another great run by DAL.
If we're looking at a 12-Month Price Target, expect DAL to be trading around $20 per share, a total yield of 44%.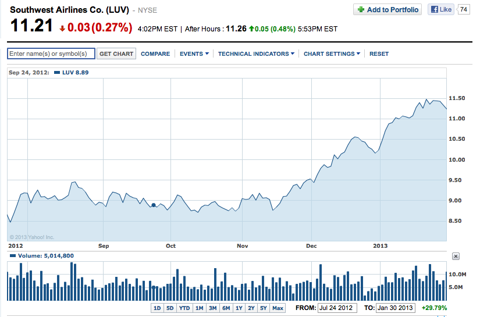 Southwest Airlines ⇧29.79%
Southwest is a proven winner, year in and year out the stock continues to perform. LUV continues to be America's leading discount airline, a title that has made them a revenue machine and a great investment.
In our previous July 24th article we wrote:
"If you currently own the stock we recommend you to hold onto LUV but new investors don't be jumping out to buy this one as we'd rather see you invest in Delta Air Lines. Nevertheless expect LUV to rebound and make a strong run."
How has LUV performed since we wrote that? Quite well, up 29.79% so for the investors who stayed put they did quite well. When you compare LUV 30% rally to DAL's 48% jump it doesn't look as impressive but LUV still proved to be a solid investment.
Going forward we're still holding onto LUV however new investors shouldn't be jumping out to buy new shares unless they drop significantly. We like LUV's 0.42 PEG Ratio, their 0.48 P/S, and the fact they have $2.97 Billion in cash. We don't like the fact analysts aren't that bullish about LUV as more analysts have a HOLD rating out for LUV than a BUY.
Nevertheless LUV is a great company from top to bottom and if we're looking at a 12-Month Price Target, expect LUB to be trading around $14.50 per share, a total yield of 30%.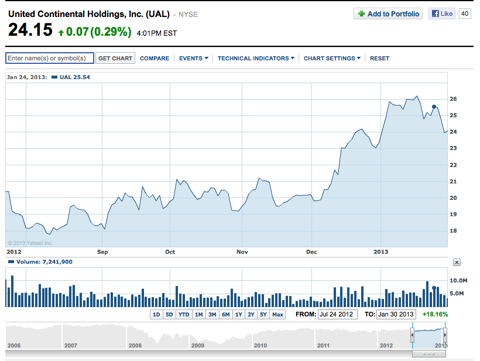 UAL Corp ⇧18.16%
After an exceptional run of over 42% in 2011 and 2012, many questioned whether UAL Corp could keep up the trend. Not for one second did we doubt that UAL would continue to deliver steady returns.
In our previous July 24th article we wrote:
"Like Delta Airlines, they were another stock working through some bankruptcy restructuring issues and having troubles with becoming relevant in the industry. They have done a fabulous job reinventing themselves and becoming relevant again. With the worst of their problems behind them and strong analyst coverage along with upbeat expectations expect UAL to continue to perform well throughout this year and into next."
UAL once again delivered with a return of +18% over 6-months. Looking ahead it may be time to be cautious and shareholders should consider taking their profits after a 17-month run of 60.42%.
We recommend new investors to only buy UAL on a dip. Current shareholders hold UAL however don't be hesitant to sell off your shares if UAL peaks. This isn't to say UAL is not an attractive investment but more of being a cautious investor in what some say are turbulent times for the market going forward.
There are still some major factors that we like about UAL, for instance a 0.44 PEG Ratio, 0.22 P/S, 6.68 Billion in Cash, and the fact 11% of shares are held by Insiders. Analysts are mostly favorable towards UAL with 66% of the 15 analysts covering the stock issuing a BUY Rating or higher. The analyst breakdown is: 4 Strong Buy, 6 Buy, 4 Hold, & 1 Underperform.
Looking at a 12-Month Price Target, expect UAL to be trading around $32.50 per share, a total yield of 35%.
Disclosure: I am long UAL, LUV, DAL, ALGT, BA. I wrote this article myself, and it expresses my own opinions. I am not receiving compensation for it (other than from Seeking Alpha). I have no business relationship with any company whose stock is mentioned in this article.