For years now investors have been willing to ignore meager earnings, or a total lack thereof, at Amazon (NASDAQ: AMZN) in the name of maximizing long-term competitiveness. It is one of the only publicly traded companies where quarterly earnings numbers do not accurately predict how the stock price reacts in the marketplace. Case in point: Amazon's fourth quarter earnings were 20% short of Wall Street estimates, but the stock rallied 5% on the news. Name another company that can say that. And Amazon's forward twelve-month P/E ratio is 180. Again, in a class by itself.
Perhaps what I found most interesting in Amazon's fourth quarter earnings report was the sales growth deceleration of its core business of selling goods to customers. The only reason earnings don't seem to matter to investors is that sales growth has been extraordinary for over a decade. In fact, Amazon's sales have compounded at over 40% per year for the last 14 years (see chart below).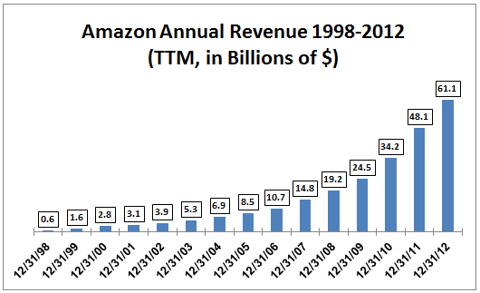 As a result, it stands to reason that sales deceleration is the most logical catalyst for a hiccup in the bull market for Amazon shares. For some reason, however, investors have not picked up on the fact that Amazon's core retail business is slowing quite dramatically already. Look at the company's product sales growth over the last five quarters (year-over-year growth rates are shown):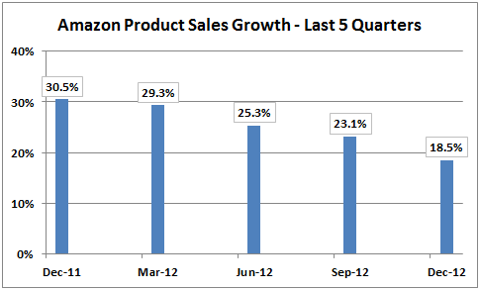 If this trend continues in 2013, Amazon's retail business could see year-over-year growth of just 10% in this year's all-important holiday quarter. How will investors react to that?
Well, we have recently seen how they reacted to another tech darling, Apple (NASDAQ: AAPL), when its growth rate slowed. The stock fell from over $700 to below $450 as the company reported an actual year-over-year decline in earnings per share. And Apple shares traded at a market multiple prior to that slide, whereas Amazon trades at insanely high levels.
Now, the bulls on Amazon will likely point to the company's services business as a reason to care less about decelerating sales growth in the core retail division. The services segment includes third party commissions and Amazon Web Services. Investors assume that division has higher margins, which coupled with faster growth fuels their enthusiasm for the stock. However, Amazon does not break out the profit margins for the services business by itself, so we have no idea how profitable it really is. In fact, Amazon prices its web services offerings under the competition to spur demand, so it could very well have weak margins just like the retail side of the company. Lastly, Amazon's product sales represented 85% of total company revenue in 2012, so the services side, while fast growing, is a very small slice of the overall pie.
The bottom line for me is that Amazon's stellar sales growth has propelled the stock for years in the absence of strong earnings. If the company's product sales growth continues to decline at the same rate it is now, investors may begin to realize that Amazon's business is maturing in many respects, and they might stop paying 180 times earnings for the stock. Investors should take note.
Disclosure: I am long AAPL. I wrote this article myself, and it expresses my own opinions. I am not receiving compensation for it (other than from Seeking Alpha). I have no business relationship with any company whose stock is mentioned in this article.