Boeing (NYSE:BA) has been selling more planes each year. That's easy to see. The company gives you those numbers at the end of every year. I've lumped together all deliveries: commercial, defense, space and security under "planes":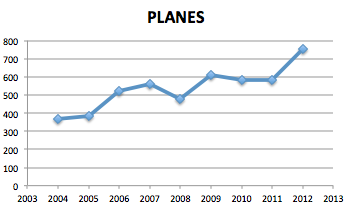 I'm giving Boeing an A for increasing volume. Even after the gigantic problems getting the 787 off the assembly line, the company doubled deliveries in eight years. I like that.
Yet, how much did Boeing actually make off of each aircraft? Boeing isn't going to give anybody that info. No way. Too proprietary. Yet, it's easy to derive.
The magic formula: Operating income divided by the number of deliveries. That gives you Boeing's unit profit per delivery. Operating income is easy to find. And as we noted above, Boeing tallies its deliveries at the end of each year.
For 2012: 601 commercial planes and 154 defense, space, and security deliveries. Grand total = 755.
Plugging the delivery total into our equation: $6.311 billion operating income per 755 deliveries = $8.39 million dollars a plane. $8.39 million is a lot of money to make (before taxes, of course -- after, it's not quite as much).
Let's run those Boeing unit profits over the last seven years: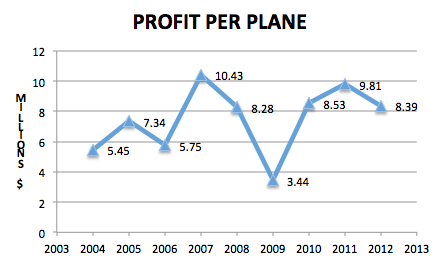 I think we can throw out 2009. That was the craziest year: economic disasters and hideous mechanic striking. Kick that out. What we're left with is a unit profit that is trending downward -- just a little. Still, $8.39 isn't bad compared to 2004 and 2006 and the nasty 2009 (but I promised not to mention that, didn't I?).
Let's drill down and look at each of the last five quarters to see if this is an unpleasant trend: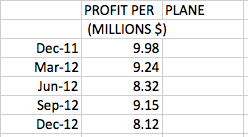 Oops. Profits per plane have been falling for the last five quarters. The trend going into 2013 does not look good from a unit profit point of view.
With the Dreamliner battery woes and sequestration on its way, this may be the tip of the iceberg. Unit profits dropped even before the 787 battery problem. We can expect that declining unit profits are coming as Boeing tries to find a battery fix. ANA, Japan's largest airline group, has lost $15 million so far, a bill that will probably land on Boeing's desk. Looks like it's going to be a challenging year for Boeing.
Disclosure: I have no positions in any stocks mentioned, and no plans to initiate any positions within the next 72 hours. I wrote this article myself, and it expresses my own opinions. I am not receiving compensation for it (other than from Seeking Alpha). I have no business relationship with any company whose stock is mentioned in this article.
Disclaimer: The opinions in this document are for informational and educational purposes only and should not be construed as a recommendation to buy or sell the stocks mentioned. Past performance of the companies discussed may not continue and the companies may not achieve the earnings growth as predicted. The information in this document is believed to be accurate, but under no circumstances should a person act upon the information contained within. We do not recommend that anyone act upon any investment information without first consulting an investment advisor as to the suitability of such investments for his specific situation.