On January 30, I wrote an article found here citing that Opko Health's (OPK) CEO Dr. Phillip Frost paused his ongoing buying spree for an atypical time period. With today's filed Form 4 found here, the CEO of the growing diagnostics and drug development company has now officially resumed his insider purchases of the company's stock. Despite having seized his purchases over a week prior to the announcement of a recent private offering of convertible senior notes found here, it now appears as if the lengthy pause was indeed correlated to the closed offering as some readers were quick to point out.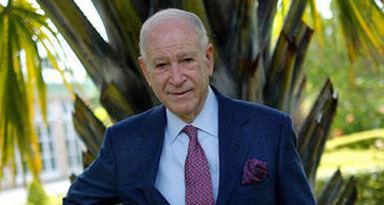 Why this matters in both the short- and long-term is largely due to the symbolic nature of Frost's purchases. As I described in my article written here on October 1, 2012, Dr. Frost's ongoing buying represents a very unique situation for investors. The CEO carries a net worth of $2.4 billion as of September 2012, a valuation larger than the current $1.98 billion market capitalization of Opko Health. His excessive purchasing power combined with an incessant will for the last 5 years to buy large tracts of shares (often on a daily basis) has enable the company with a driving market force irregardless of whether the current valuation is reflective of current operational performance.
After all, with the company working through its cash at a rapid pace (thereby inevitably needing the now closed offering to sustain the company's growth), it would seem difficult to justify the current market capitalization. In December 2011, Opko held $71.5 million in cash and cash equivalents. In September 2012, this number had fallen to $23.4 million. On paper, the company carries a price-to-book ratio of 13 and a whopping price-to-sales ratio of 52. These numbers have only spurred on short sellers who as of January 15 were effectively shorting 23.9 million shares, or 17.5% of the company's float according to Yahoo! Finance. Yet the company's long-term potential has always shown through, and it's validation has always been reflected in the persistent buying of one Dr. Phillip Frost.
As the most notable insider in the company, Frost's continual purchases into Opko have strongly supported the share price of the company's stock. With the latest purchase, Frost now indirectly owns 135,859,800 shares of common stock. Since beginning his tenure as the CEO of the company on March 27, 2007, the company's stock has risen over 80%. Yet since its bottom lows amidst the Great Recession, the stock has climbed nearly 1000% from $0.61 on March 9, 2009 to the current February 1, 2013 intraday price of $6.70.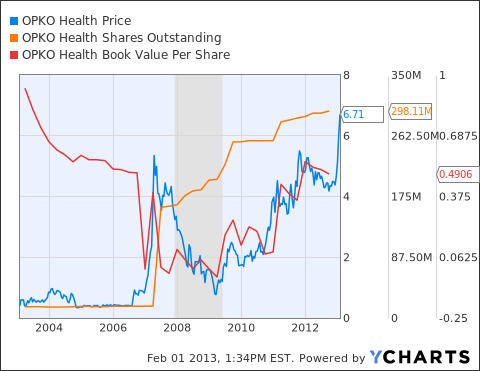 The above graphic illustrates a few key points. Since arriving as the CEO of Opko Health in 2007, Frost has largely helped to build value into the company. The only major decline in stock performance was largely due to the Great Recession as defined by the shaded gray section. More importantly, Frost's arrival to the company also marked a turnaround in the trend of book value per share. Despite ongoing dilution used to sustain and grow the company, book value per share began a steady increase as did the share price.
Whether this value trend can indeed be attributable to Frost himself or not, the one thing that is becoming ever clearer to see is the immense potential that is being assimilating into the company's pipeline. Following the company's recent acquisitions, fellow Seeking Alpha contributor Josh Ginsburg asserted his estimates of a possible $8.3 billion in annual revenues for Opko as stated in his article found here. Previously, contributor John H. Ford also asserted an estimate of $1.8 billion in annual revenues being derived solely from the company's 4KScore product, which scheduled for a US introduction in the coming months.
Conclusion
Today's filed Form 4 represents a likely continuation of a trend that has beneficially carried the share price of a rapidly growing company found in Opko Health. As Frost's latest transaction jumped from a relative purchase price of $5.70 to yesterday's $6.46, it's clear that the continued spike in share price makes no difference to the CEO. Despite having share prices climb nearly 50% in the last 3 months alone, Frost continues to steadily buy large volumes of shares. In doing so, he makes an overt statement that he believes the company remains undervalued even at these levels. In an interview on June 30, 2012 found here, Frost was quoted as saying the following:
"Other people are investing in [Opko Health] and I want to align myself with them," said Frost in a phone interview last Thursday with Barron's. "Besides which, I think it's a good investment." Frost said that he's often encountered short sellers when building his businesses. Opko's mix of assets may look complicated, he acknowledged. "But I've never been connected with a company that has so many valuable assets as Opko," Frost said.
Confidence builds confidence, and no clearer is this picture being witnessed than in the case of Opko's stock. It may be hard for conventional investors to watch this stock rise as fast as it has, believe in potential that could very well never be realized, and still wonder if there's more room to go. Yet the fact remains that one of the most visible and trusted indicators of the company's valuation found in Dr. Frost's purchases just began another round of investing. The closed private offering has answered the question of liquidity and the company's products are also beginning to launch around the world. As long as Dr. Frost continues to buy, it would appear that those with a short position can not rest easy.
Disclosure: I am long OPK. I wrote this article myself, and it expresses my own opinions. I am not receiving compensation for it (other than from Seeking Alpha). I have no business relationship with any company whose stock is mentioned in this article.