Some stocks go up for years and never look back, while other stocks have not produced any appreciation for investors for a decade or more, even while their fundamentals get better and better.
Microsoft is but just one example of such a stock. It has more cash in the bank than ever before, more sales and a wider Eco footprint and an all time low P/E, yet its stock has been a big disappointment for over a decade now.
Today I want to point out what you have to look for, to avoid such stocks, no matter how good they seem, no matter how much they grow per year they and no matter how much analysts say they should be worth.
As a side-note, this article is mainly intended for long term investors who buy and hold and don't really trade often. Please note that being a long term investor is not bad, if you have a crystal ball and can see the future price of the stock. If you don't, please consider what I have to say today, because you might invest in a company that does great year after year, but if you fall into the Price/Sales trap, chances are that you will probably not make any money over the long term.
There is a big difference between buying a good company at a good price and a good company at a ridiculous price. When you pay for a stock at "through the nose" valuations, don't expect to make extraordinary returns in the long run. The only way for that to happen is if you get lucky. And since we can not factor in luck, it's a good idea to try to buy companies that are reasonably valued. The problem however with "reasonably valued", is that many times it is misleading and other times non conclusive.
There are many ways to value a company and there is no fixed formula for doing so. But no matter what method you use, I have found it necessary to encompass the Price/Sales ratio in all cases.
Let me start by showing you some charts: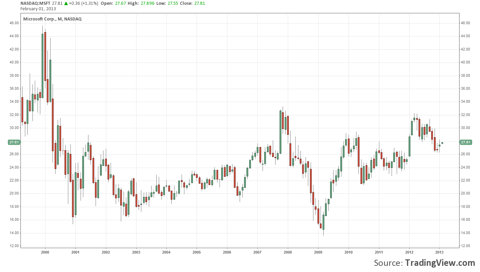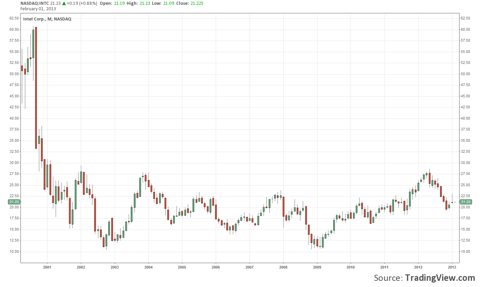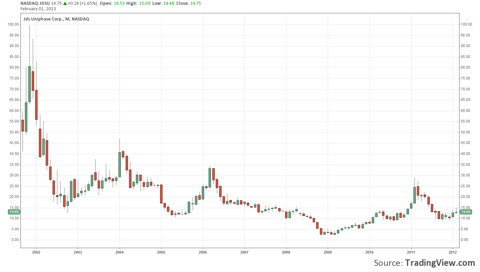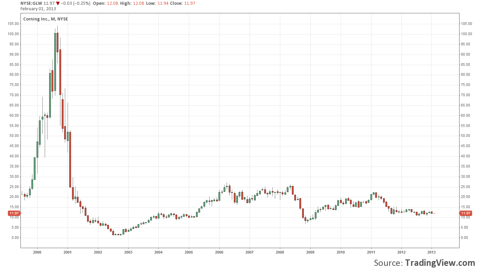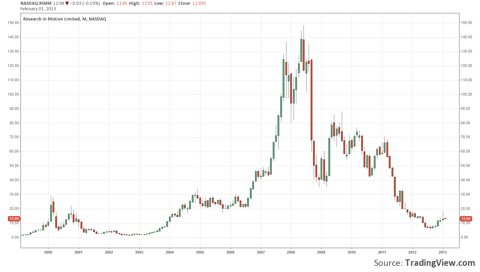 And my personal all time favorite ...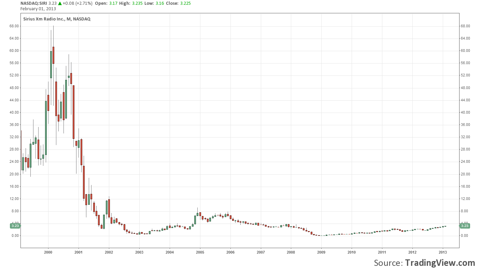 Do you know what all these stocks had in common, except an extremely high P/E in their glory days? Take a look at the chart bellow: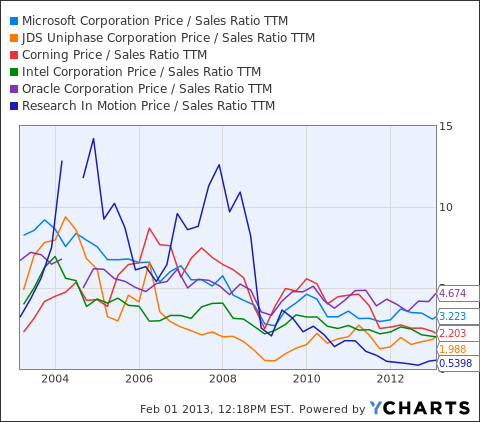 MSFT Price / Sales Ratio TTM data by YCharts
And for my personal favorite - I had to put it on a different chart because it was off the scale: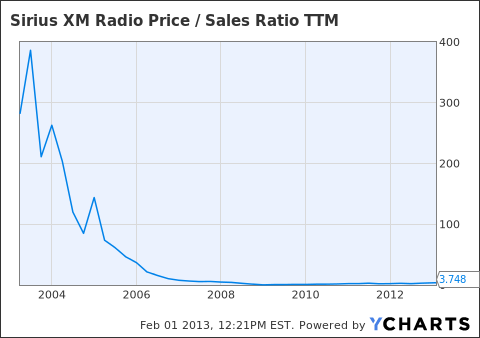 SIRI Price / Sales Ratio TTM data by YCharts
All the above stocks, Microsoft (NASDAQ:MSFT), Intel (NASDAQ:INTC), JDS Uniphase (JDSU) Corning (NYSE:GLW), Research In Motion (RIMM) and my personal all time favorite Sirius XM Radio (NASDAQ:SIRI) all had an extremely high Price/Sales ratio one time or another.
From my experience, a high Price/Sales ratio with a high P/S spells trouble anyway you look at it. Even if the company performs good and grows every year, the chances that you will make money with a buy and hold strategy are slim to none. I mean you might just get luck and make money, but the odds are against it.
Please note this is not a sell or short recommendation for the above stocks. In fact today almost all of the above are more than reasonably valued and I could probably recommend most of them.
The issue at hand is what to look out for in the future, in order not to be trapped in a stock over the long term that will lose you money, even if it seems a great company and even if analysts say it's the best stock since sliced bread.
So are there stocks today that also fall in this category? Of course there and there are plenty to go around.
As a sector, I think almost all stocks in the SaaS space fall in this category -- meaning high Price/Sales ratio and high P/E. Among others are: Cornerstone OnDemand (NASDAQ:CSOD), NetSuite (NYSE:N) , Ultimate Software (NASDAQ:ULTI), and Salesforce.com (NYSE:CRM).
| | | | | |
| --- | --- | --- | --- | --- |
|   | Price/Sales | P/E | Forward P/E | Price/Book |
| CSOD | 15.9 | N/A | N/A | 33.4 |
| N | 17.5 | N/A | 152 | 33.6 |
| ULTI | 8.8 | 282 | 73 | 23 |
| CRM | 8.58 | N/A | 90 | 11.73 |
I think investors should avoid the above stocks as well an any stock that falls in this category, irrespective of sector. Yes you could probably make money if you are a short term trader or investor, but if you indent to buy and hold, the only way you are going to make money buying these multiples is by pure luck.
Disclosure: I have no positions in any stocks mentioned, and no plans to initiate any positions within the next 72 hours. I wrote this article myself, and it expresses my own opinions. I am not receiving compensation for it (other than from Seeking Alpha). I have no business relationship with any company whose stock is mentioned in this article.