By David Urani
Break out the bubbly, the Dow just touched 14,000 which for many is a milestone and an indicator of how far we've come since 2009 when we touched below 7,000. A lot of you may be saying that, considering employment (still at 7.9%) and GDP (Q4 fell to -0.1%), the U.S. economy is far from past glory and not deserving of being this close to the all-time highs. It's an understandable viewpoint, so it's worth delving into how the Street is valuing the market right now.
First off, I prefer to look at the S&P 500 than the Dow, which at 1512 is still 4% below the all-time high (the Dow is just over 1% away). S&P is kind enough to give us a running total of reported earnings for the whole index and consensus forecasts for earnings over the next year via their website, along with price-to-earnings (P/E) ratios so let's take a look.
When the markets last hit these levels back in Q4 2007, the S&P traded at a trailing P/E of 17.8. That was actually just below the 18.8 average P/E since 1988. If you ask me, when you take into account the tech and housing bubbles, maybe a "normal" level should be considered as somewhere below 18.8, perhaps in the mid-teens.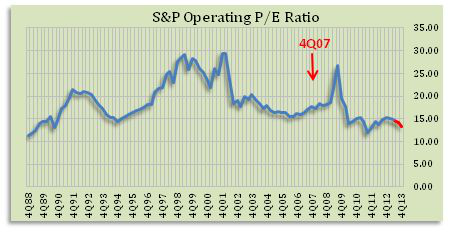 Now turning to current valuation, P/E is standing at 15.4 on a trailing four-quarter basis and at 13.4 on a forward four-quarter basis (expected 2013 earnings). So, compared to 2007 you could actually say the market is trading at a discount. Total S&P 500 operating earnings themselves are on pace to hit $23.83 for Q4 2012 whereas they stood at just $15.2 in Q4 2007 (in fairness, though, the market was probably basing prices more on Q3 2007 levels of $20.87). So corporate earnings are actually higher now than they were then, and are expected to go well into new all-time highs at $29.63 by Q4 2013.
Of course, stock prices account for not only earnings but expected growth, and it's fair that the market would be discounting stocks based on lukewarm economic trends. Back in Q3 2007, the economy was running at a 3.0% pace of GDP, although it fell to 1.7% in Q4 2007. As we saw earlier this week, Q4 2012 GDP was -0.1%, while economists are forecasting for 2013 to trend somewhere around 2%.
So then, considering past performance you could actually make a case that the current valuation of the S&P 500 is fair. Total earnings are close to all time highs (the record was Q2 2012 at $25.43), and are expected to grow by 24% this year. Thus it would make sense that the S&P 500 index itself would be near record highs as well. Yet, considering there are still speed bumps in the economy one would be prudent to discount its value a little bit based on growth expectations, and the market still is.