In this article, I'd like to write on something that I'm very excited about: dividend stock investing. Dividend stocks make up the majority of my portfolio because I am a long-term investor. I recently wrote an article that lists four dividend stocks (link at bottom), which all offer over 5% interest yield. In this article, with the exclusion of the 5% yield, I would like to add three stocks to that list. With the growing demand of dividend stocks in investors' portfolios, I find these lists to be helpful to those who don't have time to do the extensive research themselves. First, I'd like to offer some insight explaining why I believe dividend investing can be a highly lucrative and secure way to invest in a mercurial market.
Investing for the Long Term: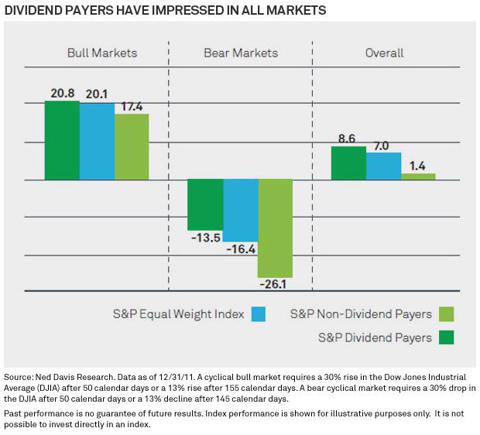 Source: Blackrock Chart of the Week
The chart above displays a timely example of how lucrative and safe dividend investing can actually be. This chart was based on a study of the bull, bear and overall market from 1/31/72 to 12/31/11, and dictates that a portfolio heavily invested in good dividend stocks averaged a better return in all situations. According to Blackrock, "A 'Société Générale study found dividend growth was the single-largest contributor to nominal returns across key developed markets over the past 40 years, providing more return than valuation moves." Also, over the past 10 U.S. bull markets, dividend payers afforded investors an average of over 3% more per year. Usually, a dividend investment portfolio will lag behind the short-term spikes associated in the overall market, but over the long term, Mr. Market seems to reward those companies that are fundamentally sound with less volatility through tough times.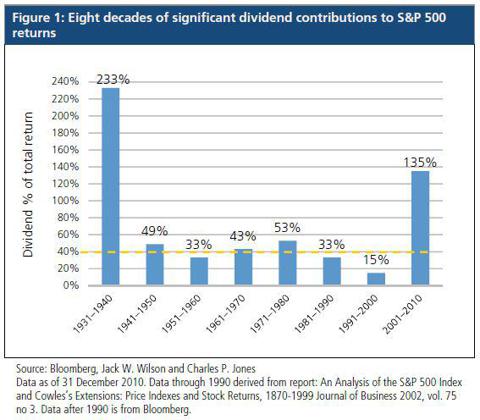 Source: PIMCO Retirement Solution
This chart speaks volumes about the capacity in which our market has been dependent on the returns of dividends. Since 1931, the total return from dividends average around 42%, making dividends a critical component of revenues. According to research by PIMCO, dividend investing provides solutions to three of the biggest risks that equity investors face planning for retirement: Scare return, capital loss, and the corrosive effect of inflation. This chart substantiates that allocating your assets in dividends for retirement planning is, historically, a proven method.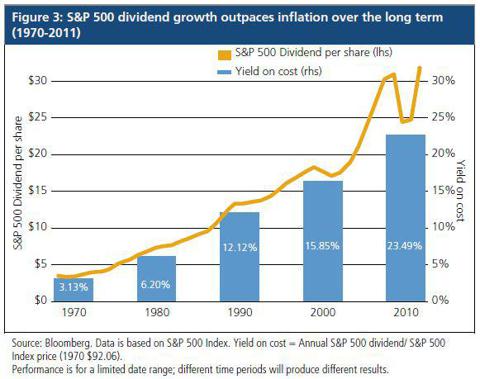 Source: PIMCO Retirement Solution
The last point I'd like to address before revealing the list is the growth potential in dividends. As the chart states, in 1970, the S&P 500's average share price was $92.06, offering a 3.13% yield on cost. Over the next 40 years, both the S&P 500 average price per share and yield on the original cost grew significantly to 23.49%. Over this period of time, inflation grew at a yearly rate of 4%, while the dividend growth grew at 5%. One of the biggest issues that dividends can mitigate is inflation. The best way to preserve your purchasing power is by investing in something that has historically outpaced inflation.
In the article, I wanted to bring a new perspective to my criteria that I didn't include in my last. As we are dividend investors, we are investing in a company long term, therefore, we are looking for a company that has good growth potential and can "stick it out" through most economical cycles. I want companies that will sell their products through any bear market. We can call these stocks recession proof, if you may. All three of the companies that I have chosen for my selection have had their fair share of bull and bear markets, and possess real sustainability in our economy. Let's take a look at these companies:
1) AT&T
Two of the biggest, most debated stocks in telecom investing are AT&T (NYSE:T) and Verizon Wireless (NYSE:VZ). Overall, both of these companies have tremendous growth potential and yes, the town is big enough for the two of them. Neither of these companies is going anywhere and honestly, I think that investors that like to argue about which company is better aren't seeing the big picture. It's almost like trying to argue that the NFL possesses more sustainability and potential market growth than MLB. Both companies will continue to be profitable, and both will continue to be powerhouses of the telecom industry. That being said, they both offer good yields with great profits, so what's holding you back from investing in both? There aren't rules that subject you to one company in a sector. But for simplicity's sake, we'll stick to AT&T for now. A reason I like AT&T is because its profit per customer is so high in comparison to other companies in its industry. From October-December 2012, around 60% of iPhone users paid more than $100 a month on their wireless plan, with 10% paying over $200 per month. Only 6% of their customers paid under $50 a month. For Android users, around 57% paid over $100 per month, and 7% over $200. Simply stated, people don't pay more for products when they are cheaper elsewhere. According to the American Customer Satisfaction Index, AT&T scored a 69 out of 100, a 5% increase from the prior year. Since 2009, Verizon has decreased from 74% to a current 70%. Sprint is on top with a 71%. No doubt, Apple's iPhone customer satisfaction of 83% has a lot to do with this. Yesterday, the stock closed at $34.79. According to CNNMoney, the forecast high is $42.00, with a median of $36.50 and a low of $31.10.
Since I am a DG investor, AT&T has an automatic appeal to me. Prestigious presence in the industry and in the world, a 5.17% dividend yield (highest in the DOW), 29 years of increasing payouts, 5.4% Q4 revenue growth compared to Q4 2011, and many more technical things, but one of the biggest appeals that AT&T has is its passion for innovation. AT&T claims that it revolutionizes products based on the evolution of society, and is always thinking about what's next in terms of customer demands. For example, AT&T's U-Verse: The industry's first integrated wireless receiver, which is currently receiving over $9.5 billion in annual revenue stream. From 100k customers in 2007 to 4.3 million in 2012, and around 198,000 TV subscribers, AT&T's U-Verse is the nations fastest-growing TV provider in the nation. Second place goes to Verizon FiOS at 119,000, adding more justification to own both stocks.
Therefore, the case for this dividend stock is not just in its growth in selling cell phones and tablets, but its growth in its other innovations such as U-Verse. With AT&T's current dividend yield of 5.17.%, history of dividend growth, and a great payout consistency, you can assure yourself of timely and lucrative dividend payments to supplement your portfolio.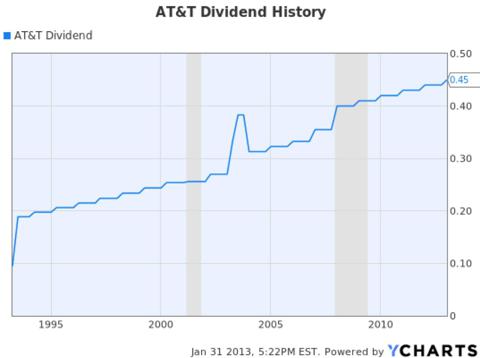 2) Kimberly-Clark
Kimberly-Clark (NYSE:KMB) is not only a great prospective dividend stock, but also a great company. Kimberly-Clark is a personal care product company specializing in four global businesses: Personal Care, Consumer Tissue, Health Care and K-C Professional and other. For long-term investments, current technical analysis may be considered useless, so I want to hit directly on the strong fundamentals on this great company. Let's list some statistics:
58,000 employees in 36 countries
Brands sold in over 175 countries (with #1 or #2 in brand share in over 80)
$21.1 billion in sales for 2012
DJSWI first place in personal care for 5 straight years (2005-2009)
140 years in business
Not all of us have heard of Kimberly-Clark, but we most certainly have heard of its leading brand names, such as:
Kleenex: $1 billion business
Huggies: $4.7 billion business
Scott: $2 billion in annual sales
Pull-ups: Leading brand in a $2 billion global market
Now, I don't want to bore you with too many straightforward facts, but I'd like to appeal to the investors who'd like to know this as a part of their own fundamental analysis. Anyone who doesn't care for the statistics of the balance sheet can scroll down past it. 2012 was a strong year for Kimberly-Clark.
Full-year 2012 sales reported $21.1 billion up 1%
5% Organic growth sales
9% increase in K-C international
Q4 Adjusted earnings was $1.37 compared to $1.28 the prior year
Cost for key materials down 15%
YTD operating profit increased 10%
Cash provided by Q4 was at an all-time high of $1,119 million, which is an increase of 116% to the year prior
38.20% gross profit margin
I want to provide these facts for fundamental reasons. The company is looking stronger year-over-year, but besides the facts, my biggest reason for choosing this stock is because of how critical it is to our economy. No matter how bad our economy gets, people will still need Kleenex. Of course, there are other companies similar to this, such as Procter & Gamble (NYSE:PG) and Johnson & Johnson (NYSE:JNJ), and just like those companies, this is a business for society. Both nationally and globally, its products are deemed a necessity, and that's why I call it a recession-proof stock. While there are concerns about KMB's presence in the European market, it is reorganizing and re-marketing a better strategy to mitigate this situation. That's another reason this company makes it on this list. Good management. The management is smart enough to cut their losses in Europe and restructure for a different approach. After 140 years of bull markets, bear markets, and every other market in existence, KMB stands tall as one of the must-have dividend growth investments.
As I said, there are other companies similar to KMB, but I feel as though this one provides the best dividend stability. Yesterday, the stock peaked at its 52 week high at $89.60 with a 25% gain over the year, and a dividend yield of 3.31%. For 78 years, it has paid a dividend, and increased it for the last 40 years. Since 2003, KMB's price per share has increased 88%, which is great numbers for a dividend stock. Also, the company expects to increase its dividend in April 2013, representing the 41st annual increase. In addition to that, a stock repurchase of $1.0 to $1.2 billion is anticipated in 2013.
3) Walgreens
Walgreens (WAG) is the nation's largest retail drugstore with 8,516 stores positioned in convenient locations with more 24-hour and drive-thru pharmacies than any other national chain. With a 2.75% yield and 37 years of annual dividend increases, WAG deserves a top spot in any dividend investment portfolio. As you may know, WAG was having some payment issues with a very important business proxy, Express Scripts (NASDAQ:ESRX). When the two businesses cut ties, WAG's customer base diminished as a result. Now that the two businesses have set aside their differences, in July, the two companies reinstated a multi-year contract and on September 15, WAG began getting return customers at a rapid pace, picking back up where it left off. Let's look over some 2012 milestones:
Net sales of $71.6 billion with earnings of $2.1 billion
$1.2 billion in share repurchases
$787 million in dividend payments
Acquired 45% stake in Alliance Boots
Introduced Balance Reward Program, which 45 million customers have already signed up for
The most powerful accelerant of all Walgreens' growth strategies was the partnership with Alliance Boots. This partnership will spawn the world's first pharmacy-led health and well being enterprise. Personally, this is what I believe will help Walgreens experience explosive growth. Not only am I advising this to be a great dividend stock at a 2.75% yield, but of the three stocks discussed, I feel this stock will offer the most share price appreciation. And it has everything to do with the strategic partnership with Alliance Boots. Together, Walgreens and Alliance Boots have the largest pharmaceutical wholesale and distribution network in the world, with more than 370 distribution centers delivering to more than 170,000 pharmacies, doctors, health centers and hospitals in 21 countries. This acquisition also results in the world's largest single purchaser of prescription drugs, and one of the largest global buyers of health, beauty and other products. This acquisition is critical to a strong position in Europe and growth in key emerging markets. Together, the companies will have more than 350,000 employees and over $100 billion in revenues in 26 countries.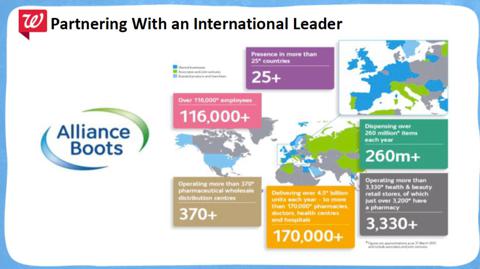 Here, you can see how strong of an acquisition Walgreens has made, exposing it to a massive market in Europe. Over the next three years, WAG has the option to purchase the other 55% of Alliance Boots. This is Walgreens' ticket to international expansion. As you can see, Boots has a strong presence in the European market. WAG will soon gain exposure to this same market, resulting in substantially increased profits. In your next few stops at Walgreens, be aware of the new product brands from this company.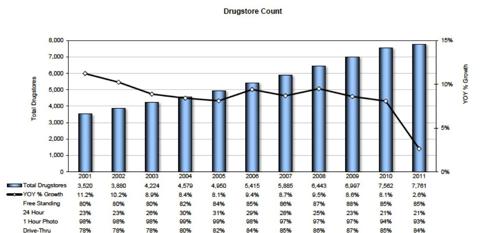 In 2007, WAG's primary focus on growth was in the expansion of its drugstore count. So much that, on average, every 17 hours, a new ribbon was cut. While still focusing on growth in stores, Walgreens' primary focus is currently on the expansion and growth in different markets and planning new ways to reach the demands of its customers. Alliance Boots is a pivotal part of this equation.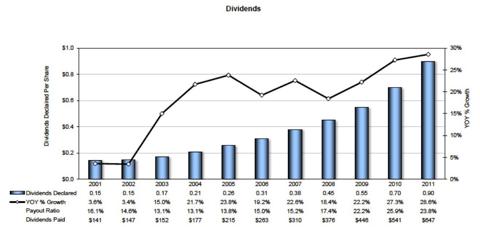 Recently, WAG declared a regular quarterly dividend of 27.5 cents per share, a 22.2% dividend increase from the prior year. On record, Walgreens has consistently paid a dividend for an astonishing 321 straight quarters (over 80 years), and has increased its dividend 37 years in a row. Over the last five years, Walgreens' annual dividend rate has increased from 38 cents per share to $1.10 per share, resulting in a compound annual growth rate of nearly 24 percent. And that is the sign of a great investment.
If you would like to see the other four dividend stocks that I have selected, you can find them here.
Disclosure: I have no positions in any stocks mentioned, and no plans to initiate any positions within the next 72 hours. I wrote this article myself, and it expresses my own opinions. I am not receiving compensation for it (other than from Seeking Alpha). I have no business relationship with any company whose stock is mentioned in this article.