INTRODUCTION:
Microsoft's (NASDAQ:MSFT) stock has been range bound for the last decade while revenues and EPS more than doubled. During the five-year period covering 1996-2001, the topline was growing at a CAGR over 20%. In 2001, the P/E was about 40, much too high for a company whose growth rate was trending down. The next five years, the growth was cut in half. The stock traded sideways as EPS continued to rise, offset by a declining P/E. The growth story was no more.
In light of new product cycles what, if anything, is wrong with Microsoft? Is it a value trap or value stock? We'll break down the discussion as follows in an attempt to find answers:
Performance
Catalysts
Financials & Valuation
Conclusion
PERFORMANCE:
Microsoft announced Q2-FY2013 results on January 24. We'll touch on each division with a focus on operating income, overall results and FY guidance.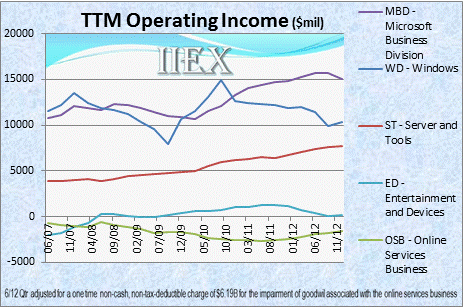 The ST (Server & Tools) segment is showing strong growth. With a five-year operating income CAGR of 14% (15% for the trailing twelve months -- TTM) this division could surpass Windows in about three years. It is already larger from a revenue perspective, pushing Windows to third. Operating income for both the quarter and TTM ($2.1B and $7.7B) are records for this division.
ST quarter highlights vs. the corresponding quarter last fiscal year:
Operating income increased, primarily due to revenue growth
Product revenue increased $560 million, or 8%
Enterprise Services revenue grew $226 million, or 12%
Bookings grew 15%
Hyper-V share gains
System Center revenue grew 18%
SQL Server revenue grew 16%, outpacing the market
ST guidance: Product revenue (80% of the total) to grow low-double digits for the full fiscal year. Enterprise services to grow mid-teens for the fiscal year.
MBD (Microsoft Business Division) operating income dropped 2% over the last quarter, in part due to a changing business model and a slowdown that is typical in a pre-launch quarter. This is the largest division in terms of revenue and operating income, with five-year CAGRs approaching 5%. The business is trending toward an annuity model vs. one-time licensing fees, although the consumer can still choose.
MBD guidance: Multi-year licensing revenue, (60% of the total), to grow low double-digits for the fiscal year. The remaining revenue should outperform the x86 PC market for the fiscal year.
MBD quarter highlights vs. the corresponding quarter last fiscal year:
Business revenue up 4% to $196 million
Consumer revenue decreased $815 million or 67%, driven primarily by the Office Deferral
Multi-year licensing revenue grew 10%
Exchange, SharePoint, and Lync (revenue) collectively grew double digits
Lync revenue grew at a rate of 35%
Kurt DelBene, MBD president, will present at the "Morgan Stanley Technology, Media & Telecom Conference" on February 26. The webcast can be accessed here.
WD (Windows Division) Windows operating income was up 100% over the last quarter to $3.3B with the launch of Windows 8. Windows operating income was approximately 62% of the total in 2007, dropping to about 40% over the last 12 months as MBD has become the largest contributor, with ST starting to challenge.
Tami Reller, Windows CFO, made the following comments at the JPMorgan Tech Forum at the 2013 International CES on January 8, 2013:
As we think about Windows 8, it certainly is what we would describe as a big, ambitious change. …It's the biggest endeavor; it's the biggest project since Windows 95.
Most would agree this is a huge change. That said, Windows 7 continues its momentum in the enterprise space with over 60% of enterprise desktops and growing. Let's face it, isn't the primary goal of Windows 8 to bridge the gap between the PC and post-PC devices? Considering Windows 8 market share for tablets is close to non-existent today, IDC projects modest share gains to 10.3% in 2016; estimated at approximately 30 million units.
Windows 8 was launched in October, but very few devices took full advantage of the operating system. This is rapidly changing, and the next two quarters should provide a better measure of acceptance. New windows 8/RT devices can be found here.
Due to the current lack of visibility, this is probably why no meaningful full-year guidance was given.
WD quarter highlights vs. the corresponding quarter last fiscal year:
Revenue increased due in part to the recognition of a net $622 million of revenue related to Windows Deferral, sales of Surface and Windows 8 upgrades
Sold 60 million+ Windows 8 licenses to date
60%+ of enterprise desktops worldwide on Windows 7
OEM revenue grew 17%
Non-OEM revenue grew 40%
EDs (Entertainment & Devices) rebounded this quarter after struggling over the previous three quarters. Revenue is projected to grow low-single digits for the fiscal year.
ED quarter highlights vs. the corresponding quarter last fiscal year:
5.9 million consoles sold, down 28%
Video game revenue decreased, primarily due to $380 million of revenue deferred associated with the Video Game Deferral
Xbox live members >40 million
Skype call minutes up 59%
Windows Phone revenue increased $546 million, including patent licensing revenue and increased sales of Windows Phone licenses
Operating income increased, due mainly to lower cost of revenue and sales and marketing expenses
OSB (Online Services Division) is showing major improvements in operating income on both a sequential and TTM basis, becoming less of a drag on results over the previous three years.
OSD quarter highlights vs. the corresponding quarter last fiscal year:
Advertising revenue up 15% to $823 million
Operating loss improvement of $176 million or 38%
Bing U.S. market share up 16%; including Yahoo! Properties 26%
Operating loss was reduced by higher revenue and lower cost of revenue and sales and marketing expenses
The last performance measure is the overall metrics, shown below: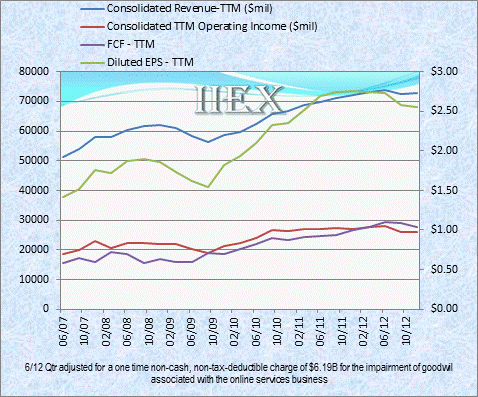 The company continues to generate massive amounts of cash, easily supporting annual dividend increases and has shown solid growth over the years.
Detailed past and present quarterly data used in this article can be found here.
CATALYSTS:
WD: The proliferation of Windows 8 devices hitting the market, along with the Surface Pro, available February 9.
MBD: New product cycle with Office 2013 launched 1/29. Transitioning to a recurring revenue model (Office 365 Home Premium), although one-time licensing fees are still available.
ED: New product cycle with Xbox 720 rumored to be released around Q3, along with IllumiRoom. New partnerships are emerging with Samsung (OTC:SSNLF) and possibly Qualcomm (NASDAQ:QCOM) to develop new phones for business and emerging markets.
ST: Curt Anderson, ST-CFO, laid out what will continue to fuel the growth over the next several years at the UBS Global Technology Conference on November 15, 2012:
So, a massive number of devices coming into the market, a significant amount of data (Over 80 exabytes of data created by 2015), a significant amount of apps, all that spells that need for more and more server capacity and compute capacity to fuel all this demand.
FINANCIALS & VALUATION:
We'll examine trends based on management's financial track record to highlight longer-term trends. The annual data used in this analysis can be found here.
EPS TRENDS: The following graph for EPS and cash trends are arrived at by calculating the statistics for a trend line using the "least squares" method. This determines the line that best fits the historical data and consensus estimates.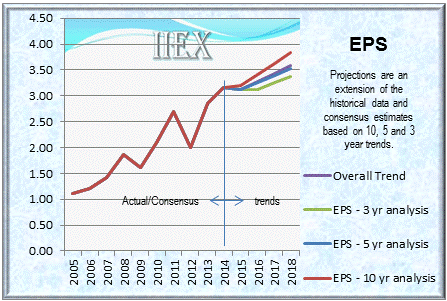 The above represents the following trends:
| | |
| --- | --- |
| Analysis Period | Trend |
| 3 year | 3.1% |
| 5 year | 4.3% |
| 10 year | 7.5% |
| Long term used | 4.7% |
CASH TRENDS: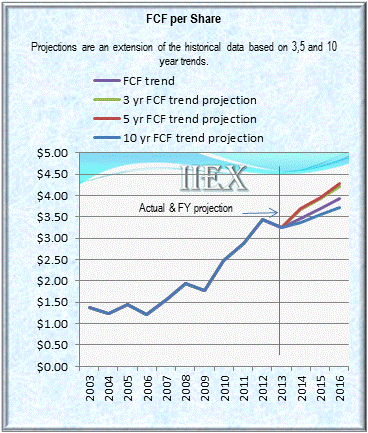 The above represents the following trends:
| | |
| --- | --- |
| Analysis Period | Trend |
| 3 year | 8.9% |
| 5 year | 8.5% |
| 10 year | 11.9% |
| Long term used | 6.6% |
VALUATION: The following fair value analysis is based on management's longer-term financial performance as measured by the previous data. Fair values are based, in part, on the following: Discounted cash flow, a modified Graham's intrinsic value formula and a P/E analysis. The valuation model consists of two parts.
The discounted cash flow and the modified Graham's intrinsic value are blended to arrive at a fair value.
A P/E analysis based on historical adjusted values.
Fair value used is the minimum value of the two parts.
Part 1: Discounted cash flow and the modified Graham's intrinsic value.
An estimated long-term EPS growth rate of 4.7% and long-term FCF growth rate of 6.6% were calculated from the data described above. Analysts are more optimistic, according to data presented at Nasdaq.com, projecting a five-year EPS growth rate of 9.9% as of this writing.
Running these projections through our pricing model, excluding the P/E analysis, produces a fair value of $38. Needless to say, the result is sensitive to changes in the growth rates, as illustrated below.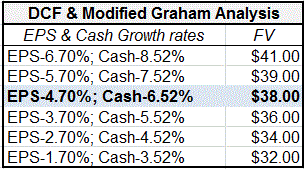 Part 2: P/E Analysis
The model looks at growth plus current and past periods to calculate a limiting P/E value. This produces a maximum allowable P/E of 13.5, yielding a fair value of $36. The result is sensitive to any earnings revision, as illustrated below.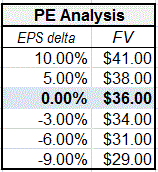 Final fair value is the minimum of the two methods, or $36.
CONCLUSION:
The stock closed at $27.45 on Thursday, January 31, 2013, trading at a 23.7% discount to fair value. However, there is another attribute that adds value - the dividend, along with the dividend history, as shown below.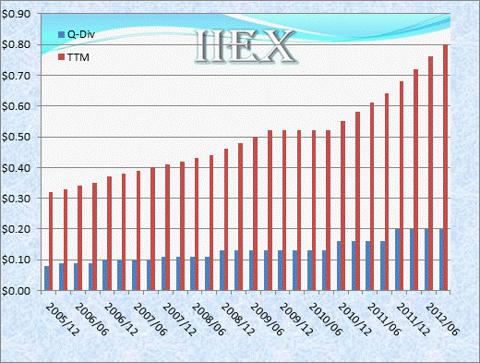 The company generates enough cash ($30.5B for the TTM) to support capital expenditures, dividends, share repurchases, plus the occasional large acquisition.
So what is wrong with MSFT? Nothing, based on the fundamental analysis and growing dividend presented above. It's more reflective of a value stock with a dividend growth story attached. Headwinds are low expectations and the current lack of visibility for Windows 8 tablets and other devices. While Windows garners all the publicity, other divisions are quietly growing and passing Windows in size.
Forward overall growth of mid-single digits is not exciting for many, but MSFT will be a cash machine for the foreseeable future, supporting continued dividend increases and stock appreciation.
Other Sources: 10-Q
Disclosure: I am long MSFT. I wrote this article myself, and it expresses my own opinions. I am not receiving compensation for it (other than from Seeking Alpha). I have no business relationship with any company whose stock is mentioned in this article.