Remember all the hype before the Facebook IPO, and then how everyone was concerned about its ability to monetize mobile, which sent the stock tumbling after it started trading hands?
Well, social networking giant Facebook (NASDAQ:FB) announced solid fourth-quarter earnings Thursday afternoon. Revenue surged 40% year-over-year to $1.6 billion, easily exceeding consensus expectations. Earnings were also better than anticipated, jumping 13% year-over-year to $0.17 per share.
Advertising revenues grew 41% year-over-year to $1.3 billion, driven mostly by mobile. Payments revenue increased 8% sequentially, but was flat year-over-year when adjusted for accounting changes. We believe this segment will be less material to the firm's overall revenue mix going forward, so we aren't too worried about this segment's performance.
The real story of the quarter was mobile (shown below). Mobile monthly average users (MAUs) surged 57% year over year and 13% sequentially -- and the daily active users (DAU) for mobile exceeded desktop DAUs for the first time. Mobile advertising revenue totaled 23% of total advertising revenue, or approximately $306 million -- which represents quite a ramp considering Facebook didn't even sell mobile ads just a year ago (Image Source: FB Earnings Presentation).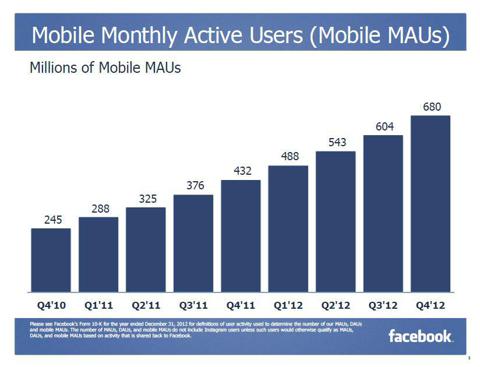 CEO and founder Mark Zuckerberg provided some particularly interesting color about mobile, revealing its incredible popularity, saying:
"Just last week, comScore put out a report saying that Facebook is now 23% of all time spent on apps in the U.S. And one of the next biggest apps is Instagram at 3%. So put together we're now more than a quarter of the time spent in apps. Today there's no argument. Facebook is a mobile company."
Facebook has yet to even monetize Instragram, and our research suggests that it is only growing in terms of stickiness.
Zuckerberg also provided some insight into the company's relationships with Google (NASDAQ:GOOG) and Apple (NASDAQ:AAPL). Since Google is one of Facebook's primary competitors, and Facebook recently attacked search with its new Graph Search function, we could assume the two firms weren't on the best footing. Here are his comments on Android:
"…Android is a very kind of dynamic and open platform as long as Google keeps it that way. There's actually -- even though our relationship with Google isn't one where the companies really talk…"
So Facebook applications support Android… for now, but we could see the two breaking apart if the search battle continues to escalate. Zuckerberg also fired shots at the way Google does search, saying:
"Our whole product [Graph Search] is people in structured connections to other people and content and things that they like whereas traditional Web search is the exact opposite. It's completely unstructured."
As for Apple, we already know that the legendary Steve Jobs had a fondness for Zuckerberg, and Zuckerberg returned some not-so-veiled praise for Apple, saying:
"On iOS because it's a more lockdown system, the way that you can do deeper integrations is by working directly with Apple, right? And they've been a great partner for us so far and we're really excited about doing more there and people enjoy the integration that we have with them today to be able to share photos and share web pages from anywhere across the experience when you're on your iPhone or iPad and we're really happy with it. So, I don't think that there is any meaningful numbers to share there but qualitatively, I think it's a really good experience and I'm really happy with the partnership that we have with them."
In the near-term, we doubt Apple will move for an exclusive mobile partnership with Facebook. As much as both Facebook and Apple may compete vigorously with Google, and vice-versa, all of these companies depend on each other to improve products and user experiences.
ARPU continues to diverge on a regional basis, with the U.S. and Canada easily outpacing the rest of the world. We think other countries will make relative gains against the U.S. and Canada, but we do not see the gap narrowing in the near term (Image Source: FB Earnings Presentation).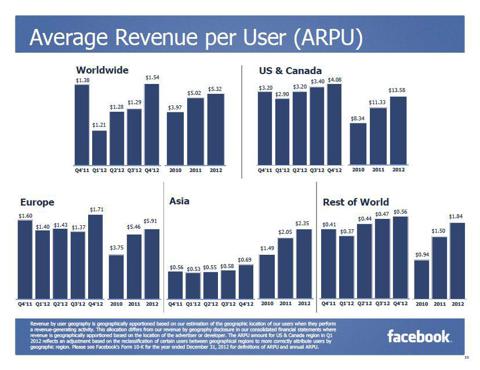 Overall, we really like what we saw during the fourth quarter, especially on the mobile side. Newer ad initiatives such as the Facebook Exchange (known as FBX) could help drive revenues, and we remain bullish about the possibilities of monetizing Instagram. The company achieved 33% operating margins during the fourth quarter, and we're optimistic that the firm can maintain strong operating margins going forward.
We've raised our fair value estimate for the company, and we continue to be interested in adding the name to the portfolio of our Best Ideas Newsletter (at the right price). We believe Facebook's best days are still ahead of it, and we're not sure if it is fair for the company to be trading below syndicate (its initial offer price), now that it has found the answer to mobile.
Disclosure: I have no positions in any stocks mentioned, and no plans to initiate any positions within the next 72 hours. I wrote this article myself, and it expresses my own opinions. I am not receiving compensation for it (other than from Seeking Alpha). I have no business relationship with any company whose stock is mentioned in this article.
Additional disclosure: Some of the firms mentioned in this article are included in our actively-managed portfolios.