Now that some of the initial volatility of Amazon (NASDAQ:AMZN) resulting from the quarter ending December 31, 2012, earnings announcement has subsided, a review of the ongoing lackluster performance is in order. For quite some time, fundamentals have not mattered - only the hope of tomorrow has. Amazon is about high volume sales that ultimately do not reach the bottom line and earnings per share. Accordingly, the shareholders do not benefit from this massive amount of transactions, and dollars, churning at Amazon from the effort of 88,400 employees. This may be the eighth wonder of the world.
The most recent Q4 2012 GAAP earnings per share were $0.21 or a mere $97 million in net income on a whopping $21.27 billion net sales. This is a peak annual performance due to the holiday fourth quarter, i.e., this is as good as it gets until Q4 2013. This results in an earnings per share jump of +135% from the prior quarter loss of -$0.60 but a drop of -45% from the prior year earnings peak of +$0.38. The chart below is not the stuff of legend or encouraging to shareholders.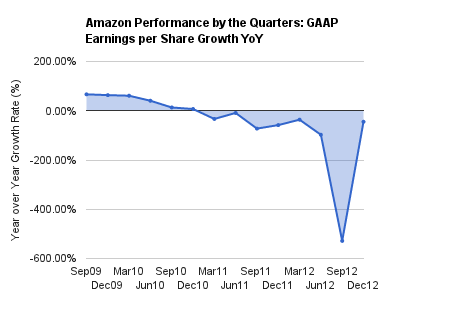 The four quarters of 2012 added up to a net loss per share of -$0.10 or -$0.09 on the annual income statement. Amazon lost ground in 2012. Actually earnings per share reached a record peak at Q4 2010 of $0.91, dropped to $0.38 at Q4 2011, and are now down to the $0.21 at Q4 2012. Amazingly, this is on ever higher and higher net sales. These incredible net sales generate a substantial amount of cash temporarily, until the suppliers and vendors are paid. Due to the razor thin margins, not much is left after settlement of accounts payable.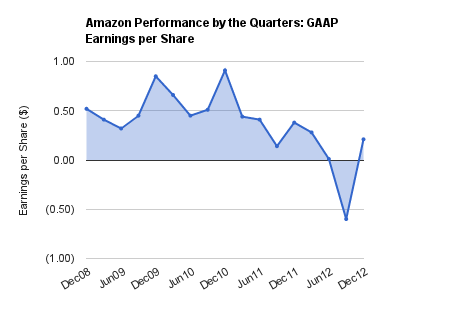 Quarterly net sales were a record high $21.27 billion and were the largest increase in history quarter over quarter (+$7.46B). Operating income and net income did not fare so well. Operating income was a slightly encouraging $405 million, an 8-quarter high. Net income was a flimsy $97 million. The next two charts show the thin margins in graphic form.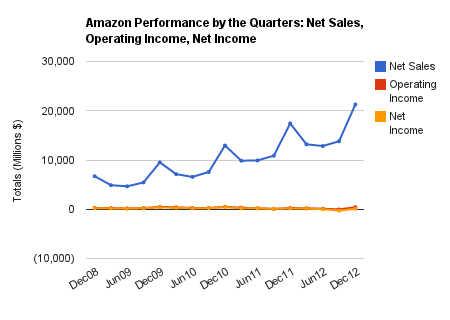 The gross (24.1%), operating (1.9%), and net (0.5%) margins are the aforementioned razor-thin effort. The long-term 17-quarter averages are 23.2%, 3.0% and 2.1%, respectively. If Amazon could have attained their average net margin, which they did not, and all the calculations are made, that would result in roughly $0.98 earnings per share at Q4 2012. That would most likely be as good as it possibly gets.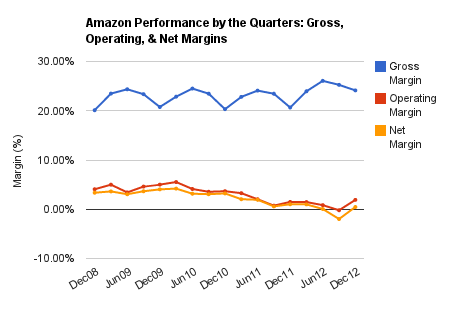 So this is retail sales on steroids and in a hyper competitive online market which destroys margins. Year over year net sales growth peaked in the quarter ending June 2011 at 50.97%. A downtrend has ensued to the current quarter ending December 2012 dropping to +22.01%.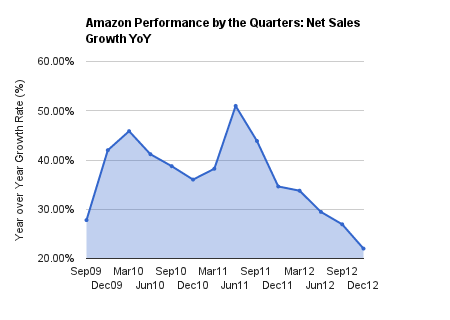 Next is quarter revenue guidance, Q1 2013, is $15.0 billion to $16.6 billion, which is +14% to +26% growth over the prior year Q1 2012, the only comparable quarter. Everyone knows revenues will drop from the peak Q4 holiday quarter.
Now for the tough part - management estimates operations to range from an operating loss of -$285 million to perhaps operating income of +$65 million. This is a plunge of -248% to -66% over the prior year March 2012 quarterly net income of $192 million. Net income and earnings per share will suffer accordingly.
Amazon is liquid but working capital, which peaks in December each year, is on the downtrend. The capital/assets ratio has also trended downwards. This has necessitated adding $3.08 billion of long-term debt in Q4 2012. Amazon cannot make money and is now taking on debt.
Hello, my name is Skeptical, and I am an Amazon Bear. Once this AMZN stock popularity contest fades, the downward price action will be significant. I expect the November 2012 low of approximately $220 to at least be tested, if not broken, in 2013.
Disclosure: I have no positions in any stocks mentioned, and no plans to initiate any positions within the next 72 hours. I wrote this article myself, and it expresses my own opinions. I am not receiving compensation for it (other than from Seeking Alpha). I have no business relationship with any company whose stock is mentioned in this article.