ASML Holdings NV (NASDAQ:ASML) is one of the world's largest makers of specialized machinery for the semiconductor industry. Headquartered in the Netherlands, the company has a market capitalization of $34B, recent yearly revenues over $6B, and employs more than 9,000 people.
In this article, I will look at the impressive competitive position that ASML has built over the past few decades, where it now has a market dominating position in the highly specialized niche market of photolithography systems. Currently the company is trading at near 52-week highs and is not that cheap in terms of financial valuation. I will give an overview of the company's prospects and potential catalysts to keep an eye on, and if the company dips in price in the coming months after the recent run up, then I would recommend considering to take a position.
Note: Unless otherwise stated, financial figures are sourced from the latest annual report, Q4 2012 conference call, or Yahoo Finance.
Business Overview
ASML is the world's largest maker of photolithography systems for the semiconductor industry. These machines are highly specialized high-tech systems which are essential for making all integrated circuits, including CPUs, DRAM memory, and flash memory chips. Photolithography is a process where optical images are used to print complex circuit patterns on silicon wafers. The patterns created are then further imprinted with electronic circuits by other machinery. Virtually all chips manufactured today will have wafers that have undergone this lithography process.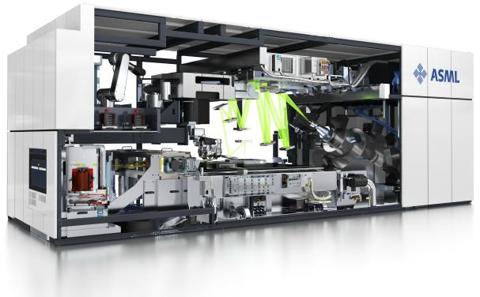 As of 2010, ASML was reported to have as much as 67% market share for this highly specialized industry. The main competition comes from the traditional Japanese imaging companies Canon (NYSE:CAJ) and Nikon (OTC:NINOF), which between the two of them have virtually all of the remaining market share.
Seen in the image here, lithography machines are extremely expensive. In 2011 the company sold only 222 units - but for an average selling price of a whopping 22 million euro each ($28m).
ASML sells its machines to customers who are constantly looking to make chips ever smaller, faster, and less power consuming. Moore's law, which states the number of transistors on a chip doubles every 18 months, also impacts directly a company like ASML. They need to keep up pace with R&D spending in order to deliver the next generation lithography machines which can imprint the patterns for increasingly more microscopic chips. The following table shows the current product portfolio of Step & Scan systems as of early 2012. The newest Extreme Ultraviolet (EUV) systems now can go down to resolutions near 20nm: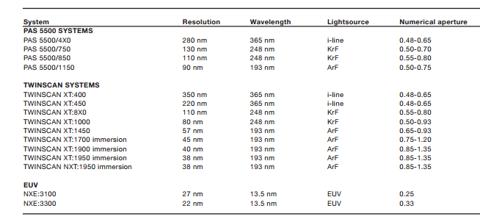 The company believes that EUV systems will be the way of the future in the coming decade as the industry looks to move to resolutions less than 20nm.
In July 2012, ASML invited key customers to invest in the business in order to help fund R&D in order to be able to address these technological challenges quicker. Intel (NASDAQ:INTC) responded first and invested more than $4 billion for a 15% stake in the company. Intel is hoping to speed up the next generation of chips by as much as 2 years. Shortly after this, in August, Samsung (OTC:SSNLF) announced it was taking a 3% equity stake and also investing 276 million euros as part of the program. Taiwan Semiconductor (NYSE:TSM) also announced that it would also invest 276 million euros and take a 5% equity stake. In total 3 of the major foundry customers of ASML agreed to take a combined 23% ownership stake in the company in order to further drive innovation in EUV lithography development and to ensure a faster transition to sub 20nm chips.
Business Prospects & Competitive Advantages
ASML seems to be widening the gap with competition on the further development of EUV systems. As stated in this article from the EE times, ASML's market share has grown from a minority player only a few years ago to a dominant position in 2011. Pre-production EUV systems were already installed early in 2012 and production systems are expected for full ramp up in early 2014 as stated in the recent Q4 conference call. The company expects to ship between 8 and 12 NXE:3300 systems in Q1 2014. Also further to the table shown above, which is 1 year old now, they have recently achieved imaging down to 14nm, and are working on the increased wafer/hour production speed which should be ready for the full 2014 rampup. Nikon has already publicly stated that its equivalent EUV system won't be ready for shipment until late 2014 or 2015, according to the EE times article. In addition, the article states how ASML's market share in the immersion 193nm and EUV systems is significantly higher than the 67% stated earlier - more than 80%. The company should maintain strong sales and profits for the coming few years as its near monopoly position will allow it to command very high prices.
2012 has not been a particularly good year for the semiconductor industry in terms of growth. ASML management has forecasted that 2013 will have flat growth overall compared to 2012. Gartner forecasts that semiconductor manufacturing equipment spending will continue to fluctuate wildly in the coming 5 years along with the cycles in the industry:
Worldwide Semiconductor Manufacturing Equipment Spending Forecast, 2011-2016 (Millions of Dollars)
| | | | | | | |
| --- | --- | --- | --- | --- | --- | --- |
| | 2011 | 2012 | 2013 | 2014 | 2015 | 2016 |
| Semiconductor Capital Spending ($M) | 65,754.4 | 60,937.4 | 63,042.4 | 66,863.6 | 62,540.2 | 67,894.4 |
| Growth | 16.3% | -7.3% | 3.5% | 6.1% | -6.5% | 8.6% |
| Capital Equipment ($M) | 44,041.6 | 38,926.6 | 43,030.4 | 46,293.1 | 42,862.6 | 46,474.4 |
| Growth | 8.4% | -11.6% | 10.5% | 7.6% | -7.4% | 8.4% |
| | | | | | | |
Source: Gartner (March 2012)
The average CAGR over this 5-year period for capital equipment spending is only about 1%. However, in the coming 3 years, industry experts such as Berstein analyst Pierre Ferragu have stated that although the overall growth of industry CapEx will be minimal, lithography equipment sales will rise from about 11% to 17% of CapEx. The reason for this is simply because as chips become smaller and move towards the new 20nm and then 14nm standards, there is an exponential growth in the need for lithography. The move from 28nm to 20nm is estimated as 1.7x more intensive assuming the size of wafers do not increase. There is a move now to increase wafers to 450mm, but that will not be in full production until 2018 according to recent estimates by ASML.
This level of growth in CapEx spending on lithography implies a minimum of 15-20% CAGR of sales could be expected for ASML in the coming 3-5 years. The company is also buying back shares at a modest rate which should continue to decrease the share count by as much as 5% per year. If you combine this with other positives, including even further increases in EUV and immersion market share and cost savings in the supply chain as a result of the recent Cymer acquisition, I think that an earnings growth rate of about 20% per annum is the likely scenario in the next 5 years.
Not only are growth prospects strong, but ASML is definitely a solid business in terms of investor returns. Clearly ASML has good business economics and proprietary technology that allows it to earn superior returns on shareholder equity and tangible capital. On this basis, investors can be assured that this is a good business. When looking at the 5 year averages, ASML has a return on capital of 22% and return on equity of over 30%. These are impressive numbers for an industry that is often driven by price based competition where margins are notoriously low. The industry return on capital average is only 4.9%. Similarly, gross margin, operating margin, and net margins have consistently been well above industry averages. The net profit margin is 24%, which trounces the industry average of about 6%. The margins have been quite durable over the past 10 years, (except for the cyclical downturn in 2008-2009), and in fact over the past few years have gotten even better.
In short, the durability of ASML's consistently high returns and profits seems strong as the technology is extremely proprietary and the sheer costs and complexities involved for building these machines make the barriers to entry very high.
Shareholder Friendliness
As mentioned above, ASML has consistently repurchased shares. The company completed its buyback program of 1.1 billion euros in Q4 2012, and hinted it will announce another one probably in February 2013 after the vote on the Cymer acquisition.
In addition, the company plans to increase the dividend 15% to 0.77/share in 2013. The yield is currently around 0.90%. Although not very high, the payout ratio is only 19%, and with strong sales and earnings growth expected to continue in the coming years, I would expect further dividend increases and heightened share buybacks.
Catalysts for 2013
I see 2 main catalysts for 2013 that could drive the share price higher:
A slowing of the decline in PC sales.
The company is guiding very conservatively assuming that demand in 2H 2013 only takes into account capacity rampup for 20nm from 1 logic customer. Likely the competition will not want to be left behind.
For PC sales, these have been weak for some time now. This is hurting demand especially from memory customers. DRAM sales have been hit significantly by the PC sale decline. NAND flash memory is used in tablets and smartphones which continue to grow exponentially. However, memory is still one of the more expensive components, and it is often the main difference in cost between tablets which for example have 32GB or 64GB of memory. As more and more lower cost devices are put on the market with smaller amounts of memory, this is an issue for these companies. Logic customers benefit either way, as their chips are present in all sizes of devices with similar margins. The PC industry is forecasted to drop in sales another 4% in 2013. However, this is far from certain to happen, I think especially with the broad roll out of Windows 8. Any positive surprise here, including a slower decline than expected could propel ASML higher.
This being said, PC demand is for sure weak and there is no certainty that sales will improve. I think the stronger of these 2 potential catalysts is the 2nd one, where the company has given very conservative guidance. Intel is pushing ahead fast with superior process technology and is driving initial demand for the capacity rampup of 20nm. Intel has a lot to lose if it doesn't win this race, as the company has struggled the past few years to compete with ARM Holdings (NASDAQ:ARMH) for mobile and tablet chips. The company has plans to make a serious push into this market with lower power consuming chips going beyond 20nm. Don't expect the main competition to stand still, just like they didn't after Intel's huge stake in the co-investment program. TSMC and Samsung will almost certainly want to stay as close as possible in this race and they should increase demand for ASML in 2H 2013 allowing the company to beat its guidance.
Investment Risks
I see a few main risks with ASML that should be considered and taken into account by anyone looking to invest in the company.
Reliance on contract manufacturers for increasingly complex components
As much as 85-90% of the components which make up a lithography system are produced by contract manufacturers of ASML. The company itself designs the machines and only manufacturers the very core components of these tools. As such it has to keep a very tight control on more than 100 key suppliers. The sub-components are built and shipped from all around the world to the ASML headquarters in Veldhoven, The Netherlands for assembly. In addition, some suppliers are also providing highly specialized technology where it is a risk to ASML if they cannot deliver as there are very few (if any) other companies who could readily fulfill that demand. The biggest example of this is CarlZeiss SMT AG ("Zeiss"), which is the only supplier of lens and other optical components. ASML and Zeiss however have agreements in place that neither party would terminate the relationship without 3 years notice. Also the partnership is a long standing one, with this official agreement existing already for more than 15 years, so I don't think this is a particularly high risk. However, any investor in ASML should watch any changes in its relationship with suppliers very carefully. Remember that as the company sells only a very small number of units per year (222 in 2011), any supply shortage or delay causing a lower number of machines to be shipped will have a very large impact on the revenues and net income of the company.
Highly Cyclical Semiconductor Industry
This is a general point, but one that should not be taken lightly in this industry. Semiconductors are always cyclical and likely always will be. ASML's stock has a beta of 1.78, and sales and earnings have at times fluctuated wildly. Particularly during economic downturns investment from chip manufacturers slows greatly. In the great recession of 2008-2009, ASML saw sales cut by more than 50% and the company cut 1000 jobs. The company even asked the Dutch government for assistance to avoid laying off more workers. Although this was the worst recession since the 1930s, it serves the point to highlight how volatile ASML's stock can be. It is therefore not a company which should be invested in for the short term unless one is speculating. I think longer term the company's competitive moat, consistently high returns on capital, and industry growth prospects will drive positive shareholder returns in the coming 5 years. Investors should just not be surprised if the ride is a bumpy one.
Valuation - What is ASML Worth
ASML currently has a trailing P/E over 21 and an EV/EBITDA over 18. This is a bit more expensive than I normally like to pay for any company. It should be noted that there is an attractive PEG ratio of 0.84 and the forward P/E is only around 15.
With this as a starting point, it is a good idea to look at a DCF. As stated above in the business prospects section, I expect earnings to grow at a rate of about 20% per annum in the coming 5 years. Using the recent full year 2012 results of EPS at about $3.6/share as a starting point I have modeled 3 scenarios below.
DCF Analysis
Optimistic Scenario

Likely Scenario

Pessimistic Scenario

Current EPS

$3.60

$3.60

$3.60

Earnings Growth Rate Next 10 years

20%

15%

5%

Terminal Growth Rate

3%

3%

3%

Years of Terminal Growth

10

10

10

Discount Rate

10%

10%

10%

Intrinsic Value

$120.86

$86.16

$44.15

Probability of Occurrence

20%

60%

20%

Weighted Average

Intrinsic Value

$84.70
Although I expect the likely scenario is about 20% growth in the coming 5 years due to the sheer strength of ASML's position, anything longer than 5 years is very uncertain in the world of high tech. Therefore looking at a 10 year growth horizon I've been more conservative and assumed the average growth over the entire period is 15%. The optimistic scenario assumes this level of higher growth is maintained, and the pessimistic assumes growth drops drastically. The resulting intrinsic value of $84.70 implies there is only a small margin of safety of about 12% from current prices. If we consider the cash per share of about $7.72, this would increase the intrinsic value to about $92 and provide a safety margin closer to 20%.
Conclusion
ASML is clearly a very good business operating in a highly specialized market. The competitive moat is strong and the company has a near monopoly market share in high end lithography machines and should maintain this share for the coming few years at least. No business is worth an infinite price however, and I believe the company is currently only moderately undervalued. I like to see a bigger margin of safety, in this case I would look for 30% as a minimum, which by my intrinsic value estimate (factoring in cash on the balance sheet) this implies a buy price of about $64/share. I recommend to watch the company closely for any signs of weakness in the share price in the 1st half of 2013, especially as the company expects revenues to be soft in this period. With several catalysts for later in 2013 and beyond, any sign of share price weakness in the near term coming down off the 52 week highs will be a good time to buy in.
Disclosure: I have no positions in any stocks mentioned, and no plans to initiate any positions within the next 72 hours. I wrote this article myself, and it expresses my own opinions. I am not receiving compensation for it (other than from Seeking Alpha). I have no business relationship with any company whose stock is mentioned in this article.